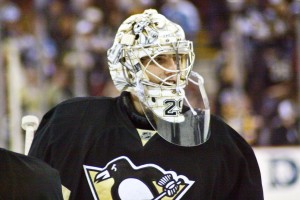 Marc-Andre Fleury is a scapegoat for a reason. He is not an elite goaltender. He never has been and he never will be. He collapsed down the stretch last year, failed spectacularly in the playoffs, and his save percentage this year is an abysmal 0.897 – but that's not why I'm writing this article.
I'm writing this because Marc-Andre Fleury has been a disappointment throughout his entire career. His recent performance is not an aberration, and now that the Pittsburgh Penguins have Tomas Vokoun, a more-than-capable replacement, it's time to make a switch.
Matter of Perception
Fleury gets an undue amount of respect from the Penguins faithful, and to be fair, it may not have been the best idea to bench him when the other option was Dany Sabourin or Brent Johnson. Also, he did win the Stanley Cup. I can see why there is an emotional attachment there. But if you take a step back and look at the big picture, the numbers speak for themselves.
In the NHL right now, there are 48 goalies that have started 100 or more regular season games. And out of that group Fleury's career goals against average (2.67) ranks 28th overall. His save percentage (0.909) is even worse at 30th overall.
Think about that for a second.
In terms of career numbers, Fleury ranks in the bottom half of all active NHL goalies. He has the same career save percentage and GAA as Dan Ellis. What about that makes him elite?
Tomas Vokoun, on the other hand, has the 8th best career save percentage in the league, tied with Carey Price and Jonas Hiller. Vokoun's 2.55 GAA is also better than Fleury's, and 19th overall against the same peer group.
Head to Head Stats
Fleury does have a higher winning percentage than Vokoun, but a team metric like that is an unfair measure of goalie's individual performance. Vokoun never previously had the luxury of playing behind players like Evgeni Malkin and Sidney Crosby. Fleury also has more Stanley Cups than Vokoun, but so do Cam Ward, Chris Osgood, Antti Niemi and Jean Sebastien Giguere.
To get an idea of how Vokoun and Fleury stack up against one another, let's look at their even strength save percentage numbers side by side since the year the Penguins won the cup. By focusing on even strength save percentage we can look at how well they did individually, and try to control (somewhat) for factors outside their realm of influence, like the quality of their teammates or the efficacy of their team's penalty kill. (For the overall comparisons, I'm only counting goalies that started in 40 or more games for the 2008-2012 seasons and goalies that have started 4 or more games this year.)
2008-2009
Vokoun:  0.935 (3rd overall)
Fleury: 0.922 (15th overall)
2009 – 2010
Vokoun: 0.937 (1st overall)
Fleury:  0.908 (25th overall)
2010 – 2011
Vokoun: 0.919 (20th overall)
Fleury: 0.925 (13th overall)
Note: this is the only instance that Fleury outperformed Vokoun.
2011-2012
Vokoun: 0.927 (12th overall)
Fleury: 0.915 (24th overall)
2012-2013 (so far)
Vokoun: 0.952 (4th overall)
Fleury: 0.907 (26th overall)
The Answer Is Clear
So what does this tell us? Vokoun is getting old and might not long term solution the Penguins need, but it's pretty clear he's still better than Fleury. Vokoun's production has dropped-off in recent years and he is no longer the dominant force he once was. But Fleury has only had one better season than Vokoun since 2008-2009. And this year's numbers, though premature, are strongly in Vokoun's favor.
In a shortened season like this one, with many more back-to-back games than normal, it makes sense to roll both goaltenders like Bylsma has done so far. But when it comes to crunch time, and Penguins really need a win, it's obvious that Vokoun should be the #1.