by Eldon MacDonald (edited by @ChrisRalphTHW)
This is the third of four posts highlighting the top 120 prospects for this year's entry draft in June in Newark, New Jersey – the 2013 NHL Draft Rankings: War Room May Edition.
U18 World Championship in Sochi, Russia
Well, I think it's time to talk about the elephant in the room, the U18 World Championship in Sochi, Russia. Usually, the U18's do not have a major effect on rankings because the hockey season is mainly over and scouts have seen these guys many times by now. Not so this year. I thought it might be because Canada won, but I think it has more to do with certain players addressing their weaknesses or just highlighting their strengths, taking full advantage of the spotlight. Here are some of the big winners and losers from the U18s: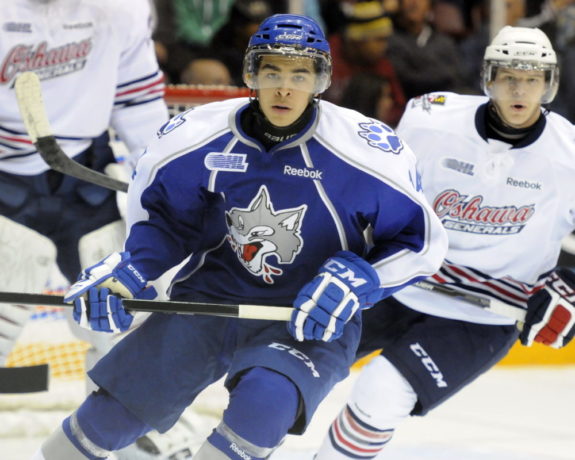 Rising Stock
Round 1 – Frédérik Gauthier, Rimouski – #MojoBack – Freddy rediscovered his mojo just in time to become Canada's dominant player on offense, defense, PK, faceoff and last minute play. In the last two games of the U18's, when it counted most, it was all Freddy!
Round 1 – Josh Morrissey, Prince Albert – #DuncanKeithesque – Can a moderate-sized defenseman be a big success in the NHL? If you play like Duncan Keith and your name is Josh Morrissey, a lot of teams will be betting yes.
Round 1 – Samuel Morin, Rimouski – #Charaesque – The guy with the biggest growth in his game this year by far. Tall, mean, good skater, good passer, decent offense – every team wants one like him. The sky is the limit in terms of potential and draft pick number.
Round 1 – Steve Santini, USA NDTP U18 – #ThickAsABrick – A brick wall back there on the blueline, dominant against all comers, defenseman MVP for the tournament. This is the shutdown D-man that your team should covet.
Round 1 – Laurent Dauphin, Chicoutimi – #BigGameHunter – In the three biggest games of the year for draft eligible players, Laurent Dauphin has been his team's MVP in two of them (Top Prospects game and the U18 gold medal game).
Round 1 – Madison Bowey, Kelowna – #MyMan – A favourite of mine throughout the season; still a favourite of mine after a solid U18 Tournament.
Round 2 – Michael McCarron, USA NDTP U18 – #Hulk – If you like 'em big and hulk-like with decent skills, Michael is your man – could easily slip into the first round.
Round 2 – Tommy Vannelli, USA NDTP U18 – #MrImprovement – Love how his game improved and evolved since he joined the Team USA squad. Makes you wonder, if he had joined the squad at the beginning of the year, would he now have a gold medal in his pocket instead of silver?
Round 2 – Nick Baptiste, Sudbury – #Surprise – My biggest surprise of all the players at the U18; loved his ingenuity, compete, results.
Round 3 – Philippe Desrosiers, Rimouski – #Hero – Philippe's season can be described as "Hero – Zero – Hero". After a woeful end of season and QMJHL playoffs, Philippe arose from the ashes to give Canada its first solid goaltending performance in just about anything in a long time, in capturing gold. And yes, he is just as likely to go in round two as in round three.
Round 3 – Tyler Motte, USA NDTP U18 – #Competitor – Led Team USA offense with five goals as well as being a top penalty killer. Skills, compete, offense, defense – likely to make it in spite of his modest size (5'9, 184 lb).
Round 4 – Peter Cehlárik, Luleå – #SlovakianStar – Late season call-up to the Elitserien; looked good there, looked even better as Team Slovakia's best player at the U18 Tournament.
Round 4 – Gage Ausmus, USA NDTP U18 – #Afterthought – Yes, there are bigger name players on Team USA but Gage Ausmus is a player your team should not overlook. Over 20 minutes a game, played against the other team's top lines and best players, showed enough size (6'1, 211 lb.) and physicality that he should get some respect on draft day – would not be surprised if he goes in the 3rd round.
Stock Drop
Round 1 – Valeri Nichushkin,  – #NoCompete – The scouts will go easy on you for a lot of your foibles; "compete level" is not one of them. Listen for the sound of the drop; wait a little, you will hear it in New Jersey during the month of June.
Round 2 – Robert Hägg, MODO – #Struggled – Robert Hägg probably will still be a good defenseman but he sure struggled in this tournament. Compete and engagement level just did not meet spec.
Round 3 – Keaton Thompson, USA NDTP U18 – #GluedToTheBench – I felt sorry for Keaton. I don't know what was wrong: a nagging injury or he just wasn't as good as I thought he was. In any case, Keaton was just pitiful out there; got beaten to the puck, got beaten off the puck, left the puck behind. His coach must have agreed with my assessment, as Keaton was glued to the bench for periods at a time. 
Gangs of New Jersey
Up to 1: Last month, I wrote that nobody except Samuel Morin was knocking on my door to put them in round 1. Well, some of the prospects, must have been listening because this month a whole gaggle of them not only knocked on my door but broke it down. Here is who squeezed in:
Samuel Morin, Defense, Rimouski
Mirco Muller, Defense, Everett
Laurent Dauphin, Centre, Chicoutimi
Madison Bowey, Defense, Kelowna
Up to 2: These players were ranked in round 3 last month. With the exception of Diaby, these group made it to round two based on their U18 performances.
Tommy Vannelli, Defense, USA NDTP U18.
Jonathan Ismael-Diaby, Defense, Victoriaville
Adam Tambellini, Left Wing/Centre, Surrey, BCHL
Zack Nastasiuk, Right Wing, Owen Sound
Nick Baptiste, Right Wing, Sudbury
Hudson Fasching, Right Wing, USA NDTP U18
Down to 2: These are the players relegated to round two in my rankings. However, there is very little separating the players ranked 26 to 40 so movement could go either way in the actual NHL Draft in June.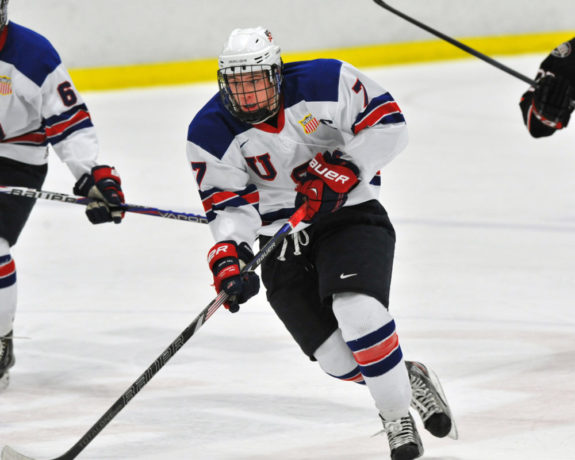 Robert Hägg, Defense, MODO
Ian McCoshen, Defense, Waterloo
JT Compher, Centre, USA NDTP U18
Artturi Lehkonen, Wing, KalPa, SM-liiga, Finland
Down to 3: These players were relegated to round three in my rankings. For Martin, Roy and Arnesson, it was simply a matter of other players passing them. For Sorensen, it was another injury which combined with two previous major injuries is starting to make scouts think that this player could be a bit brittle. For Kostalek, it was a lack of growth during the year combined with a so-so playoff. For Thompson, as mentioned above, it was due to a sub-par performance at the U18's.
Spencer Martin, Goaltender, Mississauga
Eric Roy, Defense, Brandon, WHL
Linus Arnesson, Defense, MODO J20, Sweden
Nick Sorensen, Right Wing, Quebec
Jan Kostalek, Defense, Rimouski
Keaton Thompson, Defense, USA NDP U18
Historic Success Rate
The historic success rate for players ranked 30 to 45 is around 33% while rankings 46 to 60 only carry a 24% success rate.
Other Rankings
NHL – Combined rankings of the NHL Central Scouting's segregated final rankings
Bob MacKenzie – Mid-season poll of NHL scouts at TSN
Chris Ralph – Top 100 mid-season rankings – The Next Ones (Final rankings to be released early June)
Other Posts in This Series
2013 NHL Draft Rankings – War Room May Edition (Round 2: 31 – 60)
31. Bigras, Chris
#24, Owen Sound, OHL, D, L, 6'1, 189 lb.
Orillia, ON, 22-Feb-95
Other rankings – NHL 20, Bob MacKenzie 31, Chris Ralph 41
WJC U18: 7g 3pts +8
Playoffs: 12g 2pt -6
YTD: 68g 38pts +35
Twitter A/C: @Chris_Bigras
Can't beat the feeling of winning #gold for your country #CanadianPride #u18

— Chris Bigras (@Chris_Bigras) April 28, 2013
Quote: Daniel Girard at TheTorontoStar.com, "A solid two-way defenceman with a good first pass and readiness to jump up on offence, Bigras is a key reason Owen Sound ranked second in the OHL standings behind defending champion London heading into weekend action. He leads the team in scoring among defencemen, having already eclipsed his points total from his entire rookie season. He's also has a stellar plus-20 despite logging big minutes and facing the other teams' top line."
32. Klimchuk, Morgan
# 18, Regina, WHL, LW, L, 5'11, 180 lb.
Regina, SK, 2-Mar-95
Other rankings – NHL 33, Bob MacKenzie 32, Chris Ralph 24
WJC U20: 7g 8pts +4
YTD: 72g 76pts -1
Twitter A/C: @morganklimchuk
World champion. Words cannot describe how amazing this feeling is. #gold #u18 #worldchamps

— Morgan Klimchuk (@morganklimchuk) April 28, 2013
Quote: Ryan Pike at THW, "Klimchuk is a smart positional hockey player on both sides of the puck. He's a savvy skater in the offensive end, but he's very underrated in his own zone. In situations when the Pats are hemmed into their own zone by the opposition – and that has happened a lot this season – Klimchuk is adept at reading the play and intercepting passes to the point to clear the zone. He doesn't have break-neck, high-end speed in terms of his skating, but he has smooth acceleration and gets up to speed quickly. He never really looks like he's exerting a lot of energy on the ice, but he's almost always in the right spot when he needs to be."
33. Hägg, Robert
#7, MODO J20, SWE J20, D, L, 6'2, 203 lb.
Uppsala, Sweden, 8-Feb-95
Other rankings: NHL 29, Bob MacKenzie 29, Chris Ralph 16
WJC U18: 5g 4pts +1
Playoffs: 1g 0pts +0
YTD: 27g 1pt -3
WJC U20: 5g 2pts -1
Twitter A/C: @Robbanhagg
 Quote: Ryan Kennedy at TheHockeyNews.com, "Incredibly mature for his age, Hagg has a great frame and can pass the puck at an NHL level already. Scouts want to see more passion, but there's no denying the two-way ability he brings every night."
34. Theodore, Shea
#17, Seattle, WHL, D, L, 6'2, 182 lb.
Aldergrove, BC, 3-Aug-95
Other rankings – NHL 17; Bob MacKenzie 36, Chris Ralph 31
WJC U20: 7g 5pts +5
Playoffs: 7g 2pts +1
YTD: 71g 50pts -24
Twitter A/C: @stheodore17
Feels amazing to win another gold medal while representing my country!! #teamcanada #u18

— Shea Theodore (@stheodore17) April 28, 2013
Quote: Seattle Thunderbirds Coach, Steve Konowalchuk, via TheProvince.com, "He has that one-on-one ability that's pretty rare. He can make something out of nothing. With the puck, he can change the tempo of the game."
35. Fucale, Zach
#31, Halifax, QMJHL, G, L, 6'1, 181 lb.
Rosemère, QC, 28-May-95
Other rankings – NHL 22, Bob MacKenzie 22, Chris Ralph 39
Playoffs: 12g 2.02 .903
YTD: 55g 2.35 .909
Twitter A/C: @Fucale31
Halifax's Zach Fucale and Tri-City's Eric Comrie are 1-2 amongst North American goalies.

— Bob McKenzie (@TSNBobMcKenzie) April 24, 2013
Quote: Ben Kerr @ LastWordonSports.com, "However it is Fucale's skill at the backend that allows the Mooseheads to play their all out offensive style, as he is always there to make the save when a breakdown occurs.  He really is the backbone for Halifax and we rate him as the best goaltender available in the draft."
36. McCoshen, Ian
#3, Waterloo, USHL, D, L, 6'3, 207 lb.
Fairbault, MN, 5-Aug-95
Other rankings – NHL 33, Bob MacKenzie 32, Chris Ralph 36
Playoffs: 5g 4pts -2
YTD: 53g 44pts +35
Twitter A/C: ijmccoshen3
#BCHockey recruit Ian McCoshen isn't even 18, but he's a seasoned USHL pro and top NHL prospect. @BlckHawksHockey http://t.co/E2AB2sczuB

— Conte Confidential (@conte_confident) April 10, 2013
Quote: Dakota Case at THW, "While the kid plays some great offense, it's his defense that especially stands out. He's a big, smooth and highly mobile defender that can munch a lot of minutes and can play in all situations. He makes a great first pass out of the defensive zone and excels in clearing up traffic in front of the net".
37. Bailey, Justin
#95, Guelph, OHL, C/RW, R, 6'3, 183 lb.
1st year draft eligible – 2013
Other rankings – NHL 52, Bob MacKenzie 37, Chris Ralph 40
Playoffs: 10g 3pts -2
YTD: 57g 36pts +22
Twitter A/C: @justinbailey95
https://twitter.com/JustinBailey95/status/331882380845522944
Quote: NHL Central Scouting's Chris Edwards@ NHL.com, "He's a big guy, skates well and handles the puck well. He's gotten used to the OHL game and adjusted well after starting out slow. He was hit harder than any time last year, but that made him a stronger player. He definitely has upside."
38. Compher, JT
#7, USA NDTP U18, USHL, C, R, 5'10, 178 lb.
Northbrook, Il, – 8Apr-95
Other rankings – NHL 48, Bob MacKenzie 30, Chris Ralph 26
WJC U18: 7g 7pts +2
YTD: 55g 49pts +12
Twitter A/C: @Jcomph7
Not how the season was supposed to end. Love my boys more than anything and couldn't have asked for a better 2 years #USA #Mems 🇺🇸

— Jcomph (@Jcomph7) April 28, 2013
Quote: Chris Peters at TheUnitedStatesofHockey.com, "Compher is a good skater who competes and plays with a lot of grit. He uses his speed to create and has good enough puck skills to generate offense. His shot is heavy and accurate. Compher is very much a complete hockey player."
39. Carrier, William
#28, Cape Breton, QMJHL, LW, L, 6'2, 198 lb.
LaSalle, QC, 20-Dec-94
Other rankings – NHL 25, Bob MacKenzie 42, Chris Ralph 29
YTD: 34g 42pts -14
Twitter A/C: None found
 Quote: Derek Leblanc at DobberSports.com, "Carrier is a power forward who will go through you if he cannot get around you. He has a long reach and uses it effectively to protect the puck. He plays a simple game and is not afraid to go to the net. Carrier has improved every year and has Hockey Canada pedigree."
40. Lehkonen, Artturi
#62, KalPa, SM-liiga, Finland, LW, L, 5'11, 163 lb.
Piikkiö, Finland, 4-Jul-95
Other rankings – NHL 39, Bob MacKenzie 40, Chris Ralph 28
WJC U18: 7g 9pts +2
Playoffs: 4g 3pts -2
YTD: 45g 30pts +12
WJC U20: 6g 4pts +5
Twitter A/C: @arsilehkonen
FIN prospect Artturi Lehkonen 2+1 when Kalpa outplayed Assat 5-0 in the 4th quarterfinal. Assat still leading, 3-1 in games.

— Goran Stubb (@goranstubb) March 25, 2013
Quote: Ryan Pike at THW, "Artturi Lehkonen is a very good hockey player for his age, with the ability to play strong minutes and contribute offensively in the professional ranks already. The main concerns surrounding him are in regards merely to his physical stature, not his hockey abilities. If he can add some size between now and his arrival in North America, he'll be a very useful addition to any team."
41. McCarron, Michael
#24, USA NDTP U18, USHL, RW, R, 6'5, 227 lb.
Maccomb, MI, 7-Mar-95
Other rankings – NHL 49, Bob MacKenzie 49, Chris Ralph 80
WJC U18: 7g 5pts +0
YTD: 59g 37pts +7
Twitter A/C: @MacAttackUSA93
We have no regrets because we left it all out there. I I've you boys

— Michael McCarron (@MacAttackUSA93) April 28, 2013
Quote: Chris Peters at TheUnitedStatesofHockey.com, "A revelation in the tournament, McCarron should continue his rise up many draft boards. At 6-5, 225, he doesn't have to do much to be noticeable, but it seemed he was doing something every time out. Not just a bruising forward, McCarron showed terrific skating and puck skills. He was incredibly difficult to out battle along the boards and while he didn't throw his weight around a ton, he showed he can be physical. McCarron has elite puck skills for a player of his size and showed both a willingness to distribute and a lack of fear of his shot, which is quite good. His footwork is solid enough and improving."
42. Lodge, Jimmy
#21, Saginaw, OHL, C, R, 6'2, 165 lb.
1st year draft eligible – 2013
Other rankings – NHL 30, Bob MacKenzie HM (61 to 70), Chris Ralph 88
Playoffs: 4g 3pts -4
YTD: 64g 67pts +4
Twitter A/C: @JimmyLodge21
#hockey Jimmy Lodge – The Next Ones: 2013 NHL Draft Prospect Profile http://t.co/qRnV0A1EEr

— The Hockey Writers (@TheHockeyWriter) March 27, 2013
Quote: Carl Maloney at THW, "A talented playmaker and hard working, Lodge still has much room to grow, but with his second half and a good playoff performance he can raise his draft stock considerably. He has already put NHL scouts on notice with his finish to the season, now he has to remain consistent to stay on their radar.Thought to go somewhere in the mid-2nd, early-3rd round of the draft, he has raised his status to an early 2nd round pick."
43. Duclair, Anthony
#10, Quebec, QMJHL, LW, R, 5'11, 182 lb.
Pointe Claire, QC, 26-Jul-95
Other rankings – NHL 79, Bob MacKenzie 35, Chris Ralph 22
Playoffs: 11g 8pts +0
YTD: 55g 50pts +23
Twitter A/C: @aduclair10
Anthony Duclair @aduclair10: #THW Combine NHL 2013 Draft War Room Prospect Profile http://t.co/J30OpErZ @quebec_remparts @LHJMQ #QMJHL #CHL

— chris ralph (@ChrisRa1ph) November 20, 2012
Quote: Shawn Reznik at THW, "Speed is Duclair's forte.  He's beaten many defenders with his quick acceleration and consistent top speed.  He isn't a big player, so he's figured out other ways to use his size effectively.  His puck control is a key asset and slick stick work allows for him to find openings all over the ice and use his heavy wrister.  The Quebec native's accuracy behind the shot may need a touch of work, but he certainly packs a punch with the amount of power behind each shot."
44. Comrie, Eric
#1, Tri City, WHL, G, L, 6'1, 170 lb.
Edmonton, AB, 6-Jul-95
Other rankings – NHL 38, Bob MacKenzie 38, Chris Ralph 44
YTD: 37g  2.62 .915
Twitter A/C: @ericcomrie1
 https://twitter.com/ericcomrie1/status/313169944504332288
Quote: Ryan Kennedy at TheHockeyNews.com, "Comrie knows all about pros; his half-brother Mike Comrie was an NHLer for a decade, but now it's Eric's turn to shine. The netminder brings energy, athleticism and great reflexes to the crease, but doesn't just rest on his physical tools."
45. Petan, Nicolas
#19, Portland, WHL, C, L, 5'9, 163 lb.
Vernon, BC, 22-Mar-95
Other rankings – NHL 45, Bob MacKenzie 48, Chris Ralph 35
Playoffs: 15g 22pts +11
YTD: 71g  120pts +68
Twitter A/C: @petan19
Good chat tonight with @petan19 He & his Portland mates have a few more hills to climb, but back in the WHL championship series 1 more time

— Kirk Luedeke (@kluedeke29) April 30, 2013
Quote: NHL Central Scouting's BJ MacDonald @, NHL.com, "Petan has really improved even from the start of the year. The difference from last year is that he is playing with much more confidence and has gained a step, which allows him to drive to net. He has improved his quickness. He is beating defensemen out of the corners with his quickness. He's improved his overall play in handling the puck and distribution to linemates. The biggest difference, though, is he has turned into a take-charge guy. He is leading his team — the team goes as he goes."
46. Dickinson, Jason
#11, Guelph, OHL, LW/C, L, 6'2, 176 lb.
Georgetown, ON, 4-Jul-95
Other rankings – NHL 42, Bob MacKenzie 24, Chris Ralph 33
WJC U18: 3g 1pt +3
Playoffs: 5g 2pts +0
YTD: 66g 47pts +19
Twitter A/C: @jdickinson_11
More than excited to be representing team Canada at the u18 tournament in Russia

— Jason Dickinson (@jdickinson_11) April 5, 2013
Quote: Dominic Tiano @ "InTheRadio.com, "It's been an up and down season for Dickinson which has been reflected in his bouncing around on this list from time to time. A solid first half statistically had people excited but a second half drop has raised some questions. He has some very noticeable skill with good size – although he needs to fill out, a very good skater with a good shot and some very noticeable leadership qualities. Dickinson is able to play any role and in any situations. He's shown flashes of brilliance at times. He's loaded with potential but needs to find the heart and competitiveness to do it on a consistent basis. It's there, he has to want it and now, it's up to him."
47. Heatherington, Dillon
#2, Swift Current, WHL, D, L, 6'3, 196 lb.
Calgary, AB, 9-May-95
Other rankings – NHL 43, Bob MacKenzie 54, Chris Ralph 93
WJC U18: 7g 1pt +2
Playoffs: 5g 3pts -2
YTD: 71g 27pts +25
Twitter A/C: None found
Dillon Heatherington has been a stud one on one so far today. Stripping pucks from very talented Swedish forwards. Just drew a penalty too.

— Ross MacLean (@rossmaclean) April 23, 2013
Quote: Cody Nikolet at WHL From Above, "Heatherington is a great skating defensive defenceman with size and the ability to make a good outlet pass.  He has a low panic threshold and he's been one of my most improved prospects over the last 12 months.  I have him rated as a 1st rounder, which is likely higher than what many other people think."
48. Jarry, Tristan
#30, Edmonton, WHL, G, RL 6'2, 181 lb.
Vancouver, BC, 29-Apr-95
Other rankings – NHL 46, Bob MacKenzie HM (61 to 70), Chris Ralph 61
Playoffs: 1g 0.00 1.000 – Perfect
YTD: 27g 1.61 .936 – Almost perfect
Twitter A/C: @tjarry35
#2013NHLDraft Tristan Jarry led the #WHL in GAA (1.61) & SV% (.936) and recorded 6 SO for the #OilKings. @WHLFromAbove, better than Comrie?

— Brendan Ross 🇨🇦 (@RossyYoungblood) March 20, 2013
Quote: Justin Goldman, Director of Goalie Scouting for McKeen's Hockey @ Yahoo! Sports Canada, "I love his ability to compete," says Goldman. "I like that he's a non-robotic butterfly goalie in a world where bigger goalies are more robotic than ever before. I like that he can make dynamic saves, like reaching a leg pad along the goal line, catching pucks by his ear and just over his shoulder, or getting pieces of elevated shots with his stick paddle. He has good natural athleticism and flexibility to go along with a solid frame."
49. Subban, Jordan
#14, Belleville, OHL, D, R, 5'9, 185 lb.
Toronto, ON, 3-Mar-95
Other rankings:  NHL 75, Bob MacKenzie HM (61 to 70), Chris Ralph 62
Playoffs: 17g 5pts +10
YTD: 68g 51pts +22
Twitter A/C: @jordansubban
https://twitter.com/jordansubban/status/329054729030217729 
Quote: Belleville Bulls Coach, George Burnett @ NHL.com, "Jordan's game has developed significantly over the past season. He came into Belleville with much higher expectations than his two older brothers since he was a first-round pick (No. 5 in the 2011 OHL Draft). But his ability to make the big plays and do so in an up-tempo style makes him one of the best young defensemen in the OHL."
50. Vannelli, Tommy
#5, USA NDP U18, USHL, D, R, 6'2, 170 lb.
Minnetonka, MN, 26-Jan-95
Commit: U of Minnesota
Other rankings – NHL 59, Bob MacKenzie 60
WJC U18: 7g 3pts +0
YTD: 20g 5pts +2
Twitter A/C: @Vannelli5
https://twitter.com/Vannelli5/status/328630414040240129
Quote: Micheal Sonday @ McKeensHockey.com, " .. smooth skater and methodical two-way defender with an offensive flair .. always has his head on a swivel, demonstrating exceptional awareness and hockey sense .. impressively keeps the game in front of him – does an excellent job surveying the ice and seeking out potentially dangerous situations .. excels at the transition game – can fuse himself into the rush and also has the ability to recovery quickly .."
51. Dano, Marko
#14, Bratislava, KHL, C, L, 5'11, 183 lb.
Eisenstadt, Austria, 30-Nov-94
Other rankings – NHL 57, Bob MacKenzie 47, Chris Ralph 27
Playoffs: 4g 0pts +0
YTD: 37g 7pts +4
WJC U20: 6g 9pts -1
Twitter A/C: @DanoMarko (not used)
Marko Dano, Seth Jones highlight FC's #2013WJC draft eligible All-Star Team! http://t.co/rqskQJwh

— FCHockey (@FCHockey) January 21, 2013
Quote: Russ Bitely @ Examiner.com, "Perhaps the one 2013 NHL prospect who made the most splash (at the WJC U20 Tournament) was Slovakian, Marko Dano. He finished tied for 5th in scoring for the tournament as he put up four goals and five assists in just six games. He is a well-balanced skater who is agile and shifty on his boots. He displayed some great offensive thoughts in Ufa and with that type of production in a short-term tourney it is hard not to go unnoticed."
52. Diaby, Jonathan-Ismael
#3, Victoriaville, QMJHL, D, L, 6'5, 231 lb.
Blainville, QC, 16-Nov-94
Other rankings – NHL 51, Bob MacKenzie HM (51 to 60)
Playoffs: 9g 1pt -2
YTD: 67g 26pts +12
Twitter A/C: @Jonathan_Diaby
https://twitter.com/Jonathan_Diaby/status/322186323005960192
Quote: From Momentum.Hockey.com, "In 67 games played this season, the Tigres' alternate captain showed great leadership and toughness, but also added some good numbers with 4 goals, 26 points and 117 penalty minutes, including 10 fights this season. Already well known for his robust physical play, the shutdown big d-man shows surprising skating ability and wants to improve his decision making to become an even more complete pro player. Diaby played a solid shutdown role when the No. 11 seeded Victoriaville Tigres upset the No. 6 seeded Moncton Wildcats in the first round of the QMJHL Playoffs."
53. Tambellini, Adam
#9, Surrey, BCHL, C/LW, L, 6'4, 177 lb.
Edmonton, AB, 1-Nov-94
Other rankings – NHL 656, Bob MacKenzie HM (61 to 70), Chris Ralph 99
Playoffs: 17g 18pts
YTD: 52g 55pts
Twitter A/C: @atambo9
Watch Adam Tambellini's OT winner with my call here: http://t.co/H6W0F1Uut7 #smarthockey #DefendTheNest @SurreyEagles

— Brendan Batchelor (@BatchHockey) April 22, 2013
Quote: Surrey Eagles Head Coach and General Manager, Matt Erhart at www.canada.com, "He's a pure sniper, he's got that big-league shot and release. He's a power forward, he's still a little bit slight, but he's going to fill out and mature. He's a quiet kid but he's a very determined kid and a real good teammate . . . and he plays hard and practices hard every day. He wants to be a hockey player."
54. Nastasiuk, Zack
#27, Owen Sound, OHL, RW, R, 6'3, 210 lb.
Barrie, ON, 30-Mar-95
Other rankings – NHL 19, Bob MacKenzie 54, Chris Ralph 75
WJC U20: 7g 4pts +4
Playoffs: 12g 11pts +2
YTD: 62g 40pts +21
Twitter A/C:  @ ZNasty27
I like the way Zach Nastasiuk plays the game. Big body, physical, sets table for line mates, can finish plays >> http://t.co/vixPMzlk54

— Kris Baker (@SabresProspects) May 1, 2013
 Quote: Brock Otten @ OHLProspects.Blogspot.ca, "First thing that shocked me was the aggressiveness with Nastasiuk's ranking (NHL Central Scouting's Final Rankings) . Quite frankly, I like it. I've been a big supporter of the kid since he joined the league and he was amazing the final few months of the season (and has continued that on to the Under 18's). He's firmly in my top 10 for the league too."
55. Baptiste, Nick
Sudbury, OHL, RW, R, 6'1, 190 lb.
Ottawa, ON, 4-Aug-95
Other rankings – NHL 84, Chris Ralph 89
WJC U18: 7g 8pts +6
Playoffs: 9g 4pts +0
YTD: 66g 48pts -1
Twitter A/C: @NickBaptiste
https://twitter.com/AJonSports/status/328558275396247552
Quote: Brock Otten @ OHLProspects.Blogspot.ca, "I've been really impressed by what I've seen of Baptiste this year. He's already a very well rounded player and I really like his size and speed combination. For a big guy, he really moves well."
56. Fasching, Hudson
USA NDTP U18, USHL, RW, R, 6'2, 214 lb.
Apple Valley, MN, 28-Jul-95
Other rankings – NHL 97; Bob MacKenzie 53, Chris Ralph 71
WJC U18: 7g 6pts +4
YTD: 66g 35pts +15
Twitter A/C: @Hfasching22
U.S. NTDP's Hudson Fasching has added motivation to make most of gifts. http://t.co/xxzVqfvVbs #2013nhldraft

— Mike Morreale (@mikemorrealeNHL) April 17, 2013
Quote: USANTDP U18 Coach, Don Granato @ NHL.com, "He's a power forward with very soft hands. Very good hands in tight and around the net. … He's very instinctive about using the body to shield and protect pucks [going] to the net. He's slippery even though he's a big guy. Good offensive and net area instincts."
57. Hayden, John
#15, USA NDTP U18, USHL, C, R, 6'3, 210 lb.
Greenwich, CT, 14-Feb-95
Commit: Yale
Other rankings – NHL 41, Chris Ralph 72
WJC U18: 7g 2pts +3
YTD: 55g 33pts +11
Twitter A/C: @hayds51
Love all my #NTDP brothers. #family

— John Hayden (@hayds51) May 2, 2013
Quote: Brendan Ross at THW, "John Hayden, a forward blessed with great size (6-3, 216) and physical strength, has shown a willingness to win battles and employ an effective net drive. The Americans will utilize Hayden's power forward game while he attempts to show scouts that his soft hands and offensive skills are worthy of being drafted into the National Hockey League."
58. Hurley, Connor
#16, Edina HS, HS MN, C, L, 6'0, 180 lb.
Eagan, MN, 15-Sep-95
Other rankings – NHL 60, Bob MacKenzie 55, Chris Ralph 42
USHL playoffs: 3g 0pts -1
USHL YTD: 11g 8pts +1
YTD High School: 25g 43pts
Twitter A/C: @Cswaggs95
Quote: Edina High School Coach, Curt Giles @ NHL.com, "The neat thing about him is he can go at full speed, and he can see the play and read the play. He's deceptively strong and can do everything. He can pass, shoot and he can skate."
59. Bjorkstrand, Oliver
#27, Portland, WHL, RW, R, 5'11, 167 lb.
Herning, Denmark, 10-Apr-95
Other rankings – NHL 50, Bob MacKenzie 52, Chris Ralph 57
Playoffs: 15g 15pts +9
YTD: 65g 63pts +38
WJC U20 D1A: 5g 8pts +4
Twitter A/C:
Looking forward to playing the home opener tomorrow night! #Winterhawks #pumped

— Oliver Bjorkstrand (@OBjorkstrand) September 21, 2012
Quote: Bill Kellett @ DobberSports.com, "Oliver Bjorkstrand definitely has all the tools to be a high draft pick, the issue is his size and he is not overly physical, but has good scoring prowess. Bjorkstrand could do with some added weight and muscle to his meager frame. He has not had trouble fighting through the tough areas in junior hockey but pro could be a whole different animal."
60. Pesce, Brett
#22, University of New Hampshire, Hockey East, D, R, 6'3, 175 lb.
Tarrytown, NY, 15-Nov-94
Other rankings – NHL 54, Bob MacKenzie HM (61 to 70), Chris Ralph 77
YTD: 38g 6pts +6
Twitter A/C: None found
unforgettable year #thankyouseniors

— Brett Pesce (@brettpesce22) March 31, 2013
Quote: Kirk Luedeke @ The New York Hockey Journal, "Pesce is best described as a two-way defenseman who has the size and grit to be a physical, shutdown presence in his own end. How much he will rise up NHL draft boards in June will largely depend on how much the offensive element of his game develops and how teams assess his long-term potential in the pro ranks."
Other Posts in This Series
Chris is THW's senior draft/prospect analyst and a Managing Editor. Watch for "The Next Ones" Prospect Profile series, exclusive rankings, mock drafts, as well as the annual THW NHL Entry Draft Guide. Follow @ChrisRalphYQ on Twitter as he infiltrates, dissects and analyzes all happenings of hockey prospects and the NHL entry draft. Email: cralph[at]thehockeywriters[dot]com