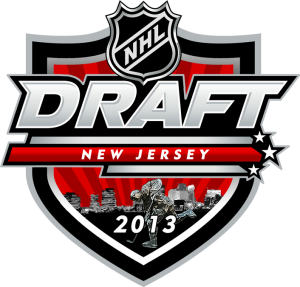 Last night, while I was covering the Waterloo Black Hawks/Sioux Falls Stampede game, it turned into an all-out route as the Hawks, led by top 2013 draft eligible prospects Ian McCoshen and Cal Petersen, dominated the Stampede by a final score of 7-1.
After an impressive performance by McCoshen, I couldn't help but wonder how this kid doesn't go in the first round of June's NHL Entry Draft.
Last year, the draft was full of high-end blue line talent, with 13 defenseman drafted in the first round, including eight in the top ten picks. This year, there's a good variety in the list of draft eligible prospects, and it's looking to be one of the deepest drafts ever—possibly as deep or deeper than the epic draft of 2003. However, there is an interesting amount of big, elite defensemen available in this draft, including Seth Jones, Rasmus Ristolainen, Darnell Nurse and Nikita Zadorov among others in the top end of the draft rankings.
McCoshen has also been among this list, slipping in and out of the projected first round depending on who's making the list. Central Scouting had him ranked 21st overall amongst North American skaters in their mid-term rankings.
This season, I've been able to get a good glimpse at McCoshen on two occasions, during which he's scored a goal and three assists. He is a big, NHL-sized defenseman at 6'2" 207-pounds and uses his body well to separate opposing skaters from the puck. McCoshen uses his big wingspan to poke the puck off the stick of attacking forwards, and it also comes in handy whenever he needs to retrieve a stray pass in either zone. Another one of his assets is how well quarterbacks the power play unit. He is especially good at cycling the puck down to his forwards from the left point and also has a great point shot. Both McCoshen's slap and wrist shots are quite heavy and he always finds a way to create scoring chances while playing a defensively responsible game. His wrist shot is deceptively accurate and will catch a goalie off guard if not careful.
While the kid plays some great offense, it's his defense that especially stands out. He's a big, smooth and highly mobile defender that can munch a lot of minutes and can play in all situations. He makes a great first pass out of the defensive zone and excels in clearing up traffic in front of the net.
McCoshen isn't a player who's destined to be a career bottom-pairing NHLer—everything about him, and his style, screams top-four defenseman. A Boston College commit, a few years developing while playing college puck will go a long way in preparing him for the pace and competitiveness of the NHL game.
The fact of the matter is that, if he keeps performing at the elite level he has been, it would not surprise me one bit to see him drafted late in the first round of the 2013 NHL Entry Draft. Whoever snatches up Ian McCoshen in June is getting an elite prospect that will likely have a long and prosperous NHL career.
All USHL/NHL fans should be keeping their eye on this kid—he's going places.