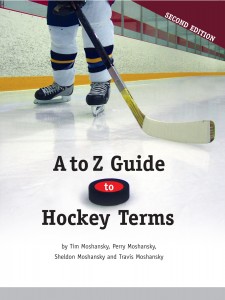 Moshansky, Tim, Perry Moshansky, Sheldon Moshansky, and Travis Moshansky. A to Z Guide to Hockey Terms. Vancouver: First Wave, 2010. Print.
Books that fit in your pocket can be useful. One can pull them out in the car, maybe the mall, or even the ridiculously-long line at the grocery store. Better yet, there's one book you can quickly pull out at the rink, and this it it.
The A to Z Guide to Hockey Terms was put together by the four Moshansky brothers: Tim, Perry, Sheldon, and Travis. To give you the gist of it: it's called the ultimate pocket-sized hockey reference book.
It's filled with over 800 definitions, diagrams, illustrations, and photos, all with the purpose of helping "new and old fans understand everything that is important about the game." Though it's one of the smallest books you'll ever read – it sizes in at about 5.5″ x 4.25″ – A to Z Guide to Hockey Terms will teach even the most passionate fans something they never knew before.
Terms such as donnybrook, sieve, waxed, and zilch find homes in this book, and though many fans have heard them, only the most die-hard fans can really explain them.
That's why this book is special: words that one never knew actually existed can be found in it. Guaranteed, every reader will learn something new.
There are also some fun facts that will leave readers with new knowledge, famous hockey quotes, and visual explanations of penalty calls. And they can all go in the pocket of your track pants.
Check out what some hockey icons have had to say about A to Z Guide to Hockey Terms:
"Strategies sometimes employed by 'cerebral brainiacs' can over-complicate the great game of ice hockey. Tim Moshansky's fun book of Hockey Terms will enlighten the casual to the most ardent fan by striding through the basics enjoyed from pond hockey to a lengthy playoff run in a quest for the Cup. It will become your rule book for hockey terms!"
Kerry Fraser, Former NHL Referee

"I think we need to start selling this book down here a lot."
Phil Esposito, Hockey Legend – Tampa Bay, Florida
Now, this book isn't meant to be an entertaining thriller, and it won't have you falling off your rocker with laughter, but if you're ever trying to figure out what a hockey person's trying to tell you, this book will be what you need. If you're a newbie, it would certainly be in your best interest to take a peek inside.
Even for lifelong hockey fans, A to Z Guide to Hockey Terms is one of those books you need in your bookshelf. One never knows when it may come in handy.
___________________________________________