The New York Rangers will go as far Henrik Lundqvist can carry them.
That is why the Rangers' 4-5-0 record after the first nine games was reflective of their franchise goaltender's statistics. Entering the Blueshirts' contest with the Islanders on February 7th, the reigning Vezina Trophy-winner had a 3-5-0 record with a 2.83 goals against average and a .900 save percentage.
Lundqvist certainly is not the sole reason why the Rangers stumbled out of the gate. The special teams have struggled, and as head coach John Tortorella said before the Rangers-Islanders game, there are a number of players who have not played up to par.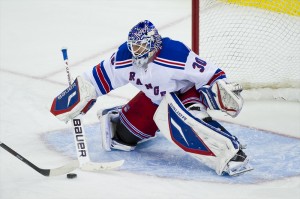 If there was one player who did not benefit from the abbreviated training camp — and no preseason games — it was Lundqvist.
"Every year, I never feel good during the preseason," Lundqvist said. "It usually takes three or four games for me to find my rhythm and get comfortable.
"I don't see it as an excuse. I just have to keep pushing myself to get to where I should be."
The Rangers' netminder has displayed flashes of dominance early in the season, such as a highlight reel save against the Bruins on opening night.
But it was the Rangers' 4-1 victory over the Islanders where the reigning Vezina Trophy-winner played his most complete game of the season.
Not only did Lundqvist stop 27 out of 28 shots, but the saves he made were key in determining the outcome of the contest.
One sequence where Lundqvist stood tall came during an Islanders power play early in the first period. Lundqvist made three saves, including a stop on Matt Martin's backhander from just outside the crease, to preserve the Blueshirts' 1-0 lead.
A few minutes after the Rangers killed off the penalty, Marian Gaborik scored to extend the lead to two.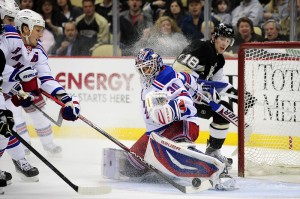 With two minutes left in the second period, with the Rangers clinging to a 2-1 lead, the Isles' Michael Grabner had a breakaway while his team was shorthanded. Lundqvist made a right pad save to rob Grabner of what would have been his sixth goal of the season.
Before the power play expired, the Rangers scored to regain the two-goal advantage.
"The last four or five games, I've been doing the right things," Lundqvist said after the Rangers' win. "The difference between making the big save or not is really small so I have to stay confident and keep doing what I'm doing.
"If I do that, things will turn around."