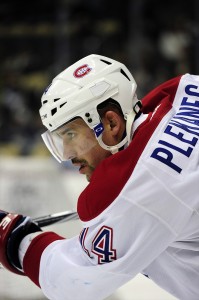 Ten games into the season and sitting at 6-3-1, the Montreal Canadiens have so far been one of the season's most surprising young teams. After finishing 19th in overall goal scoring last year, and without having made any significant offensive upgrades via trade or free agency, most experts had predicted another anemic output from a club that was seen as little more than a one-trick pony for most of the 2011-12 season.
But the 2013 version of the Canadiens have not only managed to find secondary scoring from the unlikeliest of sources, in the form of rookie sensations Alex Galchenyuk and Brendan Gallagher, they have also also begun to rely upon a few workhorses who have been inside their own stable all along. For Habs fans, the timing couldn't be better, given that last season's thoroughbred combination of Cole-Desharnais-Pacioretty has yet to find any real chemistry this year, owing mainly to Pacioretty's emergency appendectomy just a handful of games into the season.
When the wheels do start rolling again for last year's top trio, Montreal's top nine is poised to become one of the deepest forward units in the league. Through the first fifth of the season, the Canadiens currently sit seventh in offensive production per game, posting just north of three goals each time they take the ice. Factoring in steady contributions from a trio that combined to light the lamp on 84 occasions last year, the Habs' offense could very well become the surprise of the year in the Eastern Conference.
Although having names such as Andrei Markov and Raphael Diaz near the top of the team's scoring leaders is a wonderful luxury, the real difference maker for the Canadiens so far has been the consistent play of three players who, for various reasons, were anything but consistent in 2011-12.
Following up on back-to-back 27 goal campaigns with the Calgary Flames, newly acquired winger Rene Bourque struggled mightily down the stretch, posting just 8 points in 38 appearances with the Canadiens last year. Only after the season was it revealed that Bourque had been playing with a torn abdominal muscle since well before the trade that saw vocally disgruntled ex-Hab Mike Cammalleri return to Calgary. Back at full-speed for the first time, Bourque has enjoyed a rejuvenated start to the season, and is already just one point shy of his total production for the Canadiens in 2012.
Centre Tomas Plekanec, despite remaining healthy for the majority of last season, was the victim of uncertain circumstances, skating alongside no less than twenty-five different line combinations, and most often flanked by at least one American league call-up. The result was a campaign that saw the Czech centre post just 17 goals, his first sub-20 season in more than six years. So far in 2013, he leads all Canadiens' scorers with 6 goals and 4 assists, for a total of 10 points in 10 games.
Of course, the final piece to the Canadiens' offensive puzzle thus far has been the healthy return of often-overlooked captain Brian Gionta. After missing the majority of last season with two separate injuries, Little Gio appears to back at top speed, consistently driving the net and creating disturbances along the boards down low. For his efforts, he's been rewarded with nearly nineteen minutes of ice-time per game, second only to Plekanec among Canadiens' forwards.
After combining for just 30 goals between them last season, the trio of Gionta-Plekanec-Bourque has already accumulated 23 points over the first ten games of this young season. While Plekanec appears to have been the main benefactor of Michel Therrien's new groupings – skating at a point-per-game pace since finally finding consistency among his line-mates – Bourque and Gionta are both nearing full capacity as well, meaning the Canadiens have developed a top-six that is quickly becoming the envy of the Northeast Division.
Assuming the Cole-Desharnais-Pacioretty combination is able to find its groove again quickly – and based on last season's chemistry, there's no reason to believe they won't – the Canadiens will find themselves in the unique position of possessing two lines, if not three, that are capable of skating with any in the league. They may not have the ability to load up the power play with all-star offensive firepower, a la the New York Rangers, but with eight to ten players with 50-60 point potential, each of whom is capable of taking over a game on any given night, they do create a match-up nightmare for opposing coaches. Whereas most teams possess a clear hierarchy among their forward ranks, the Habs have the luxury of rolling their scoring lines with a '1A and 1B' (and sometimes 1C) mentality.
In a shortened season, there is no time to mask inefficiencies up front; the goals are either there or they are not. With injury and fatigue playing such critical roles in a condensed schedule, depth will likely be the key to success for whichever team comes out on top when it is all said and done…and from that perspective, you have to like what we've seen from the Canadiens so far.