The NHL Entry Draft is little more than a month away, and as usual there is a flood of interest in 2013 mock drafts, player profiles and NHL team needs.
Most of the talk centers around the consensus top prospects and big name talents.
Just how good will Seth Jones be? Will Nathan MacKinnon and Jonathan Drouin be franchise cornerstones? Who will roll the dice on Valeri Nichushkin?
With goaltenders there is still plenty of exposure and interest, but it is far harder to predict where they will go in the draft or what their future may look like.
The position itself takes much longer to develop, and there is a far higher percentage of late bloomers than any other position.
Here's a look at some of the draft eligible goaltenders for 2013 and an idea of where they may fit in.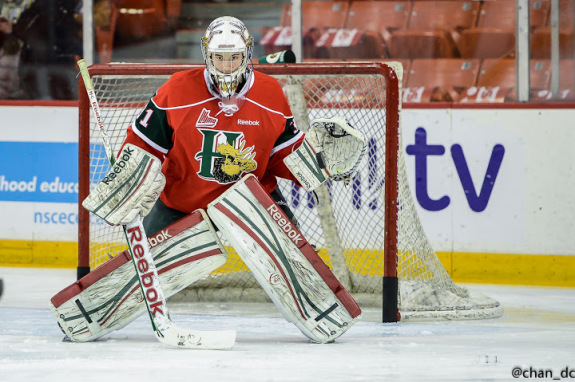 QMJHL
Zach Fucale, Halifax Mooseheads
The top ranked goaltender going into the draft, Fucale has been ranked anywhere from 10th overall to 40th.
As is usually the case with goaltenders, there is often more of a differing of opinion as to where they will go as opposed to forwards or defencemen. Of all eligible goaltenders he is the only one with a good chance of being picked in the first round.
Fucale is a goaltender with a great mental makeup and attitude. He plays a calm and controlled game and rarely appears shaken. He is very athletic but also positionally sound.
It would be a big surprise if he isn't the first goaltender off the board.
Antoine Bibeau, PEI Rocket
Has continued to impress as the year has gone on. Playing behind a suspect defence corps, Bibeau has gotten better with each start. He took over the starter's role from Maxime Legace part way through the year and never looked back.
He's a big netminder at 6'2″ 210lbs, but moves very well in the net for a bigger goaltender. Positionally very sound.
Philippe Desrosiers, Rimouski Oceanic
A goaltender whose stock is trending up, Desrosiers is just coming off backstopping Canada to a U18 gold medal in Russia.
He's extremely athletic and quick and has improved his positioning and rebound control. Ranked 7th among North American goalies, but could end up going higher.
OTHER DRAFT ELIGIBLE GOALTENDERS: Alexander Belanger (Rouyn-Noranda), Louis-Philp Guindon (Drummondville), Stephane Vielleux (Victoriaville), Eric Brassard (Gatineau), Philip Trudeau (Val d'Or)
OHL
Spencer Martin, Mississauga Steelheads
Desrosiers U18 teammate this year, Martin was also impressive in his starts in Sochi, Russia.
He has had a somewhat up and down year in Mississauga but is still one of the higher rated goaltenders entering the draft.
He has excellent quickness and mobility and challenges well. He works extremely hard and has a very high compete level. Will be the first OHL goaltender taken in June.
Michael Giugovaz, Peterborough Petes
A bright spot in a disappointing season for the Petes, Giugovaz has impressed more and more as the season has gone on. With the team outshot on many nights, Giugovaz saw a lot of pucks even in limited games as the backup in Peterborough to Andrew D'Agostini.
He works hard to get better and competes even harder on the ice. Giugovaz is still a work in progress and somewhat undersized, but he has the work ethic to get better and better each year.
OTHER DRAFT ELIGIBLE GOALTENDERS: Jordan DeKort (Windsor), Jake Patterson (London), Frank Palezzese (Sudbury), Charlie Graham (Belleville), Jacob Blair (Ottawa)
WHL
Tristan Jarry, Edmonton Oil Kings
Playing in the shadow of Laurent Brossoit in Edmonton, Jarry has put up impressive numbers on his own for the Oil Kings. He had six shutouts even though he played less than a third of the team's games.
He plays with confidence and has gotten better with each start. He is very strong positionally and has excellent rebound control for a young goaltender.
Jarry is projected to go somewhere in the second round. He is ranked third overall going into the draft, right on the heels of Tri-City's Comrie.
Eric Comrie, Tri-City Americans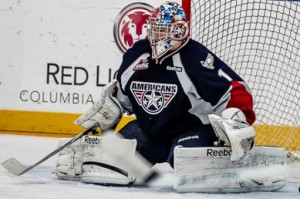 Plays with a very high compete level and never gives up on a play. Comrie is very quick and athletic and moves well laterally.
He's aggressive challenging shooters and has the ability to steal games. A hip injury that kept him out for a large part of the season may be a minor concern for some teams.
Comrie is the second ranked draft eligible goaltender overall behind Fucale and is predicted to be an early second round pick.
Austin Lotz, Everett Silvertips
Lotz has seen a lot of pucks in front of a young Everett squad, he's shown to be a tough competitor and has kept his team in many games this year. He's aggressive challenging shooters and has good size and quick reflexes.
Still gets caught out of position at times and can be over aggressive, but is steadily improving in all areas.
He could be a late round steal of the draft.
Patrik Bartosak, Red Deer Rebels
Put up impressive numbers this season in Red Deer (33W, 2.26GAA, .935S%) and was even better in the playoffs for them (1.94GAA, .941S%).
Plays a somewhat unorthodox style, but is athletic and battles hard. Still raw as a talent but has the natural ability to steal games.
OTHER DRAFT ELIGIBLE GOALTENDERS: Brendan Burke (Portland), Mackenzie Skapski (Kootenay), Eetu Laurikainen (Swift Current), Mack Shields (Calgary), Jackson Whistle (Kelowna), Brett Zarowny (Prince George), Taran Kozun (Kamloops)
USHL
Calvin Peterson, Waterloo Blackhawks
Incredibly quick and athletic, Peterson has great net coverage and goes side to side with ease. He has good size and competes extremely hard. Could go somewhere in the first half of the third round, possibly earlier if a team is willing to take a chance.
Eamon McAdam, Waterloo Blackhawks
McAdam is the opposite of teammate Peterson who is the athletic flashy goaltender. McAdam is a technically sound, positionally strong goaltender. Rarely caught out of position and plays the angles well, he makes saves look easy. Both Waterloo goaltenders shouldn't be taken too far apart.
Petersen is quick and flashy and McAdam is more a positional, get-your-body-in-front-of-the-shot kind of keeper," Jensen said. "Petersen has phenomenal quickness, good size (6-1.25, 175) and offers good low net coverage. His wingspan is great, so he covers a lot of the net and is capable of coming up with big games. – Al Jensen, NHL CS
OTHER DRAFT ELIGIBLE GOALTENDERS: Charlie Lindgren (Sioux Falls), Sean Romeo (Youngstown), Evan Cowley (Wichita Falls, NAHL)
EUROPE
Juuse Saros, HPK Jr. (Finland)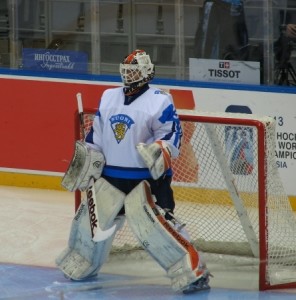 Saros put up impressive numbers this seaosn for HPK (1.86, .933) and won the Jorma Valtonen Award as the SM-liiga Jr. A's best goalie. He was also the best goaltender at the recent 2013 IIHF World Under-18 Championship in Sochi, Russia.
Undersized at 5'10" but is very quick and moves well in the crease.
He is the top ranked European goaltender by a fair margin. Should go somewhere in the middle rounds. Not at the level of a Fucale, Jarry or Comrie, but could be a steal later in the draft.
Ebbe Sionas, AIK Jr. (Sweden)
The second ranked European goaltender on the board, Sionas has gained plenty of exposure as he has represented Sweden at every level internationally. Expected to be the starter at this year's U18 championships, he was outplayed by Jonas Johanssen and had a mediocre tournament.
Expected to be a late round selection in June.
Marcus Hogberg, Linkoping Jr. (Sweden)
Possesses good size at 6'4″ and is positionally very sound. Squares up to shooters and plays angles very well.
Joined Linkoping in the Elitserien and in three games did not look out of place.
OTHER DRAFT ELIGIBLE GOALTENDERS: Luka Gracnar (Salzburg, Austria), Ivan Bocharov (MVD Balashikha, Russia), Ville Husso (HIFK Jr., Finland)
 A look at a few projections….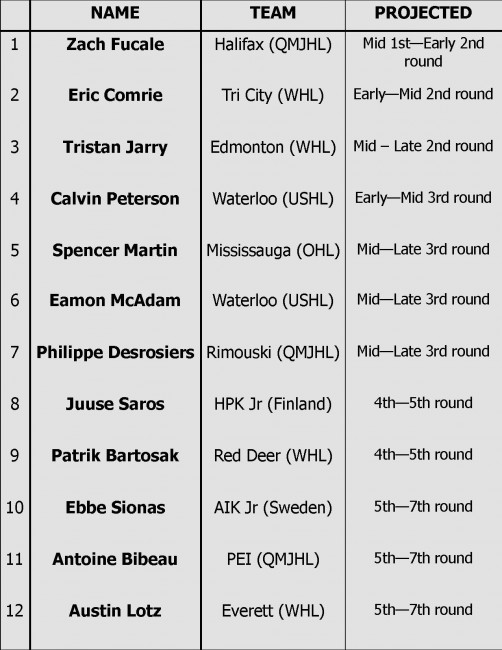 Carl covers the Edmonton Oilers for THW as well as providing additional prospect coverage. Follow him on twitter @carlTHW, connect on Facebook or contact at carl.maloney@hotmail.com for questions, comments or if you're interested in him writing for you.