The Detroit Red Wings were going to have their hands full in round 2 against the Chicago Blackhawks. Game 1 emphasized that, and more. Chicago took the lead in the best-of-7, Western Conference Semi-Final with relative ease, winning by a score of 4-1. If this game was a preview of what we are going to see more of in this series, then Detroit will have to improve their play in a couple of areas.
Limiting Shots and Scoring Opportunies
Through 7 games in the playoffs thus far, the Blackhawks are averaging just over 35 shots per game. They had 42 shots in game 1 against Detroit. Jimmy Howard was essentially left for the dogs, stopping only 38 of those 41 shots (one goal was an empty-netter). The Blackhawks are a high-powered, offensive team that will crash the net and throw anything towards the opposition's net. The Anaheim Ducks were more of a physical team in the first series, who's skill and scoring was based throughout their first two lines, and not as high-powered as Chicago's team. Detroit was essentially dominated by this style in game 1, and will need to improve it's play for game 2 and beyond.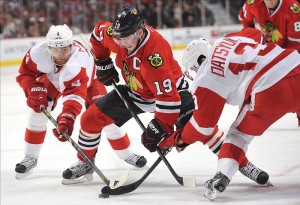 We knew Detroit's defence was questionable (aside from Kronwall and Ericsson) coming into these playoffs. With only two reliable defence-men (maybe 3 if you include Kindl), it may be extremely difficult for the Red Wings to limit the scoring depth of the Chicago roster. Not only do you have to fear the obvious (Toews, Kane, Sharp, and Hossa), but players like Bryan Bickell, Marcus Kruger, and Brandon Saad have been constant scoring threats all season and in the playoffs. In game 1, Hossa and Sharp were the only ones from the big 4 that registered a goal. Look who scored the third goal…
The Blackhawks are receiving scoring support from all over. They outshot the Red Wings by 21 last night, and if they continue to shoot the lights out, this series may be over very quickly. Don't get me wrong, Jimmy Howard is a fantastic goaltender, and his play in the first round kept Detroit in many games, and was a big reason why the Red Wings were able to advance.
This does not mean Detroit should just let Chicago takes thousands of clappers at Howard. The Red Wings cannot afford to give up so many shots and scoring opportunities, mainly because of their suspect defence. The Red Wings' defence corps is not the deepest, meaning the forwards will have to back-check harder than ever to stop the Blackhawks. Otherwise, Mike Babcock will have to continue to shuffle the deck, that is the defensive pairings, hoping to find two more consistent pairs that will complement the already-steady, Kronwall-Ericsson pairing. Brendan Smith and Jakub Kindl have shown flashes of chemistry in the past, and perhaps this pair might be a factor in limiting the Blackhawks opportunities, giving the Red Wings a better chance to win.
Responsibility with the Puck
This is a must for every team, but the Red Wings were not good at all last night with possession of the puck. They had 6 give-aways, compared to Chicago's two. Just ask the Toronto Maple Leafs…when you give up the puck as many times as they did, your opponents will make you pay. Chicago's first goal was just that last night…
Let's break down this play a bit. We see after the Chicago dump-in, Red Wings' defence-man Kyle Quincey retains possession of the puck in the corner. Instead of playing it back behind his net, he plays it up the boards to defence partner, Brendan Smith, who happens to be way out of position as well. Smith carelessly loses it to of all people, Jonathan Toews, who slides the pass over to Hossa for the one-timer finish. So a few mistakes here. First was Kyle Quincey not reversing the play away from the crowded area. Two is Brendan Smith's positioning; if he was in front of or behind the net, he may have been open as an outlet to Quincey. Third is the carelessness by Smith (I'll throw Cory Emmerton in there as well because he was beside Smith along the boards), essentially handing the puck to Toews. If Detroit is to win this series, these sorts of defensive mis-cues cannot happen. With Chicago's depth, any give-away in or out of the defensive zone can become costly to not just the game, but to the series.
Detroit's ability to do anything with the puck was non-existent last night. They only had 21 shots on net, and only managed to get one by Crawford (it was a flukey goal given Brunner's resilience to keep hacking at the puck, plus Crawford's poor rebound control on the goal). You know your team doesn't have many scoring opportunities when NHL.com has majority of the save highlights on Jimmy Howard and only a few on Crawford. Detroit needs to start making something happen with the puck. We know they can score, and they have multiple sources for points (Datsyuk, Zetteberg, Abdelkader, Franzen, Brunner, etc.) There are so many guys who can make things happen!
WIth game 2 looming on Friday night, only one thing is for sure, you can expect that Detroit will be throwing everything at Corey Crawford every chance they get.