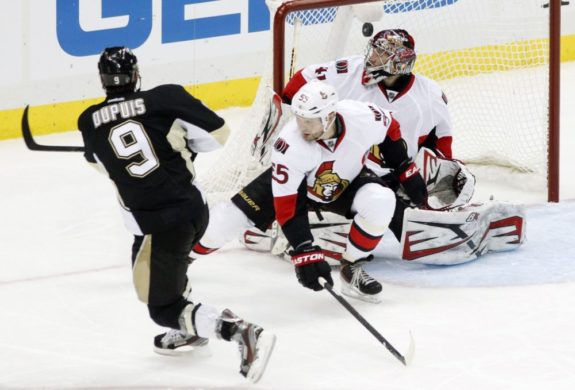 Certain moments define every successful Stanley Cup run. They aren't always evident at the time, but one bounce, one save, or one battle in the corner can transform a series.  A transformed series leads to the next round and no one remembers the moment until they watch the postseason DVD over the summer and think 'what if that didn't happen?'.
I've been waiting for that moment with the 2013 Pittsburgh Penguins.
They've got the talent to win a Cup.  Heck, they oftentimes decline to use James Neal (led the NHL in powerplay goals last year) and Jarome Iginla (ten straight 30 goal seasons) on their top powerplay unit, yet are still clicking at an unbelievable 36-percent success rate.
But any hockey fan knows that talent only takes a team so far in the playoffs.
Where are those magical moments?
Maybe the entire series against the New York Islanders could qualify as a moment?  The Penguins were outplayed in approximately 12 of 18+ periods in the first round and still escaped with a series win.  Marc-Andre Fleury and Tomas Vokoun came up with huge saves in two overtime games that ripped the life out of the Islanders.  And playoff overtimes against the Islanders don't normally go the Penguins' way — as David Volek so kindly reminds us.
But there was one situation in Game 1 against Ottawa that caught my eye.
An injury.
With 10:43 left in the third period, the Penguins were up 3-1.  Pascal Dupuis came down the right side and fired a shot high over Craig Anderson.  Ottawa defenseman Chris Phillips grabbed Dupuis on the way by and spun him into the boards.  Dupuis' right ankle crumbled underneath him: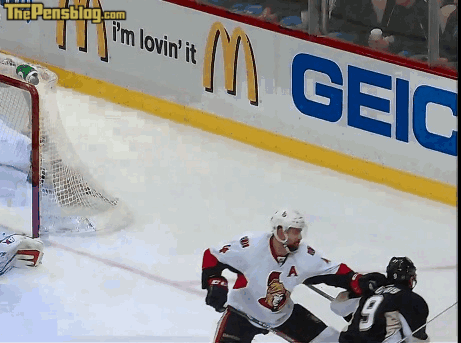 Dupuis was in obvious pain and managed to drag himself to the bench.
At the time, a best-case scenario seemed like James Neal's ankle injury. Light sprain, maybe a few games off to recover.
But a high-ankle sprain or break in his lower leg could've put Dupuis' playoff status in jeopardy.  His loss would be huge for the Penguins.
There aren't many players in the league making $1.5 million per year that you could make that statement about — especially when you consider Dupuis has the 20th highest cap hit on the Penguins' NHL roster right now.  Dupuis has been a big part of his team's playoff success though.  He leads the league in playoff goals with six and plays an important role in Pittsburgh's dominant penalty-kill unit as well.
In fact, just a few minutes after Dupuis' injury, the Penguins were forced to kill off James Neal's self-admitted 'stupid' penalty.  With a two goal lead and ten minutes to go, this was when they really needed Pascal Dupuis.  He and Craig Adams are normally the first pair on the ice for the penalty kill, but Brandon Sutter hopped onto the ice instead.
Where was Pascal Dupuis?
How bad was he injured?
Was Ottawa about to mount a furious comeback and steal Game 1?
Nope.  Late in the penalty kill, Dupuis actually returned to the ice.  He forced Milan Michalek to shoot wide on a scoring opportunity, and then took off on a 2-on-1 when Erik Karlsson's (really really) lazy pinch backfired:

This was one of those moments.
Dupuis not only shakes off the leg injury, but then he rips a shorthanded goal past Craig Anderson to lock up the win.  If the Senators score on the powerplay, they maybe win Game 1 and the story of the Penguins' supposed dominance of Ottawa is a bit different.
This afternoon, 36-hours after the game, I Googled Pascal Dupuis and Ankle to see if anyone even acknowledged the incident. I could only find one article, the Pensblog's recap:
Dupuis went down behind the Sens' net, and it had high-ankle sprain written all over it. Everyone wondered if he was gonna be okay. The answer would be coming shortly.
Even if only a handful of fans noticed Dupuis' courageous act, you can be sure his teammates did.
Penguins coaches and management did too.
"We're not looking for just 87 [Crosby] or 71 [Malkin] to win us a hockey game or carry the load or be the main focus," coach Dan Bylsma said after the game.  "I love the way our team came out and played that game.  We're not counting on just one guy to pull the load. Throughout our lineup tonight, the penalty kill came up very big for us and then you see Pascal Dupuis coming up big for us as well."
This summer, GM Ray Shero will have to decide how much the unrestricted free agent Dupuis' leadership and abilities are worth.
Dupuis could have easily left Pittsburgh two years ago as a free agent when the Florida Panthers were handing out four-year, $16 million contracts to every player who answered their call.  Instead, he stuck with Pittsburgh and took a discount at $1.5 million for two years.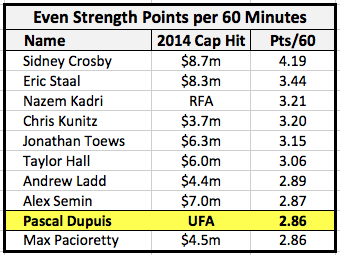 $1.5 million won't get it done this time.  Shero knows that.  Dupuis scored 59 points last year and was on a 65 point full-season pace this year.
"It goes well beyond playing with just good players," Bylsma said of Dupuis.  "He's been a guy who for a long time has been 'the winger who we need to replace on Crosby's line'.  But over the years, the number of even strength goals he's scored is right up there in the top few in the league with star names.  He's done that as well without [Crosby] being in the lineup for long periods of time."
Of players who played more than 30 regular season games this year, Dupuis ranked ninth from an even strength points per 60 minutes perspective.  Andrew Ladd, Chris Kunitz and Max Pacioretty are the only players on the list who have a cap hit under $6 million next season.
It's easy to see how another team with significant cap space might be willing to pay the 34-year-old Dupuis upwards of $5 million per year to shore up their top line and penalty kill.
Listen to Winnipeg Jets GM Kevin Cheveldayoff address the media at the end of the season and you'll hear him describe his need for a Dupuis-like player:
"You're still looking to people that fit your criteria, fit your mold, and fit the different opportunities that are there for you. We talked about at the trade deadline that I would've loved to have found a speedy right winger that could fit in both with Evander [Kane] for the short-term and the long-term. I wasn't able to find that. Will that be something that gets drafted over the course of time, gets traded for, gets signed in free agency? Those are all the things that we're going to evaluate [with] the opportunities that are out in front of us."
Later in the press conference, Cheveldayoff admitted that finding that perfect free agent fit is sometimes easier said than done.
"Players don't get to free agency with as much frequency and if they do it's by their choice and they have designs in mind with maybe what they want to have happen. That doesn't say you don't seek them out and try to find a way to bring them into your organization if they fit, but at the end of the day, free agency means they get to make their choice, whether it's monetary, whether it's family, whatever."
Those comments are why I think Dupuis ends up staying with Pittsburgh on a multi-year deal for somewhere between $3m and Kunitz's $3.7m per season.
A few years ago, I saw Dupuis in the offseason with his wife and four kids and realized why he took a discount to stay in Pittsburgh and why Max Talbot or Ryan Malone chased the money in free agency.
Dupuis knows what it's like to play in front of a few thousand fans in Atlanta.  He knows what it's like to miss the playoffs year after year.  He knows what it's like to move to a new city, find a place to live, and get kids into new schools.
Talbot and Malone didn't have those responsibilities and they also hadn't seen the 'other side'.  They were drafted as Pittsburgh Penguins and spent their entire career with the same team.  Free agency not only offered them more money, but it offered them something new and unknown.  It's human nature to wonder what it's like on the other side of the fence, especially when someone will pay you a few extra million to make that jump.
But Dupuis has already seen the other side.  He doesn't mind leaving a few dollars on the table and I get the sense he almost enjoys hearing the cries for 'Crosby needs a new winger', as Bylsma alluded to.  It motivates him to train like a demon in the offseason and outwork everyone on the ice to prove the critics wrong.
Dupuis is as modest as they come, but after every big goal he happily answers questions with a smirk that says, "keep doubting me, keep forgetting about me, my teammates appreciate what I do."
If the Penguins win the Stanley Cup, the postseason DVD might even mention how he battled through an ankle injury to lock up Game 1.
At least that's one of the moments I'll remember.
___________________________________________