The dust has settled on the 2013 season for the Vancouver Canucks and the second round of the playoffs has begun with the Canucks again sitting at home.  There are a lot of questions about what the Canucks need to do in the off-season, and who should be at the helm to make the changes.  Although significant changes are possible, it is more likely that the Canucks make some tweaks to the bottom part of their lineup and hope for another division title (whatever their division ends up being called).  Understanding the status of each of the Canucks is the first step to determining the future, and a great guide can be found here.  What changes can (and should) be made to return excitement to Rogers Arena?
The Coach
Speculation is rampant that Alain Vigneault has coached his last game with Vancouver.  Conventional wisdom was that the Canucks had to win at least one round in the playoffs for Vigneault to keep his job, and they didn't manage to win a single game, let alone a series.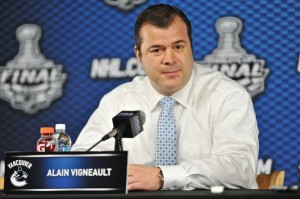 I believe it is time for a new man behind the bench to reinvigorate this franchise in what might be the last big push of the Sedin era.  There are certainly many reasons to questions Vigneault's decision making over the past two years, but it is undeniable that he has had great success in Vancouver.  But at some point, a change is needed to try to get more out of the players provided by Mike Gillis.
Inevitably the players start to tune out the coach when they hear the same voice year after year, and a fresh perspective might be just what this team needs to correct its downward trajectory.  The choice Gillis makes to guide Vancouver in 2013-14 could be the key to saving his own job (in addition to the outcome of attempts to finally trade Roberto Luongo).
Goaltending
There is an almost zero chance the Canucks change course and trade Cory Schneider instead of Luongo.  Although Schneider would bring more return in the trade market, he is younger, cheaper, and his skills are still growing.  Discard the rough time he had in the playoffs; Schneider was rusty and likely still slowed by a groin injury.  His play was stellar during most of the season.  He finished fourth in the league in save percentage and seventh in goals against average, and he was the main reason Vancouver won their division.
The bigger question will be about the return Gillis is able to get for Luongo.  He had a solid season as a backup and played two strong games in the postseason.  But teams will be nervous about taking on the big salary commitment, and that will reduce the value Vancouver is able to achieve in any deal.
Another question is who will backup Schneider next season.  The Canucks will be reluctant to rely of Eddie Lack, who is coming off an injury, or Joe Cannata.  Neither of these prospects has played an NHL game, and the team will want them developing in the AHL (at a location still to be determined).  Expect Vancouver to find a cheap veteran to play the few games Schneider does not start next year.
Forwards
Vancouver forwards need to generate more goals if the Canucks are to have any hope of making a deep playoff run next season.  The number of goals scored by Vancouver has steadily declined since 2009-10, from 272 to 262 to 249 to a pro rated 217 in the lockout shortened 2013 season.  The Sedins are not going anywhere, and Alex Burrows is underappreciated and needs to be kept in the fold.  Ryan Kesler is also a lock to return, as are the relatively cheap Jannik Hansen and Chris Higgins. Zack Kassian is still learning and will receive more time to develop his game before his future is decided.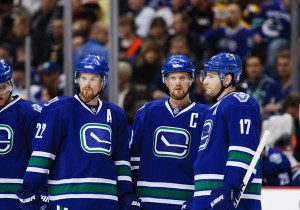 The only other forward under contract for next season is David Booth, and there has been a lot of talk about a possible buyout of his $4.25 million salary.  I think the team needs to give Booth a chance to return to action next season.  His 16 goals in 56 games with Vancouver in 2011-12 were solid, and although he didn't score much in his few games this season, he looked strong on the ice.  With the Canucks desperate for size and skill, it makes sense to give the big guy another chance.  Yes, it would be nice if his salary were smaller, but like Luongo last year, it doesn't make sense to let an asset like Booth go for nothing.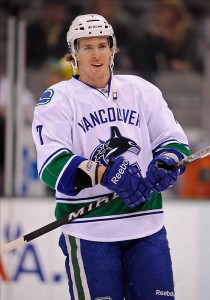 The rest of the forwards are free agents, and only a couple are likely to return.  The Derek Roy experiment was a bust, and Mason Raymond seems to have finally run out of chances to turn the corner (at least in Vancouver).  Dale Weise is a solid fourth-liner who can kill penalties, and worth bringing back at a low price.  Jordan Schroeder is still developing, and showed enough flashes early in the season to be worth a return.
The gaps that need to be filled are a third line center, unless Schroeder fills that role, which is questionable since he doesn't have the size to be on a checking line, and a second-line forward to complement Kesler and Booth/Higgins/Kassian.  David Clarkson, who scored 30 goals in 2011-12 and was on a 26 goal pace this year, is one possibility, but the options are not great.  Youngsters like Nicklas Jensen, Kellan Lain, and Brendan Gaunce are probably another year away from making meaningful contributions.
Defense
The situation on defense is a bit more settled heading into the off season.  The Canucks top four defensemen (Alex Edler, Dan Hamhuis, Kevin Bieksa and Jason Garrison) are all locked up in long term contracts at decent terms.  Hamhuis was very steady all year and Garrison got better and better as the year went on and he got used to playing in Vancouver and trying to live up to his big money deal.  Bieksa had his usual ups and downs, but the team was much more successful when he was healthy and in the lineup then when he was scratched.
Probably the biggest question about the top four is whether Edler is going to live up to his new deal and/or if it might be worth exploring a trade to fill a need up front.  I think that is an avenue worth exploring, though it might be hard to move him with the dollars involved.  The Canucks have a couple youngsters who look ready to take on more responsibility in Chris Tanev and Frank Corrado, and an asset like Edler might be worth a scoring forward from a trade suitor.  Although Tanev is a restricted free agent, the Canucks should be able to bring him back, unless another team significantly ups the ante, which doesn't happen often.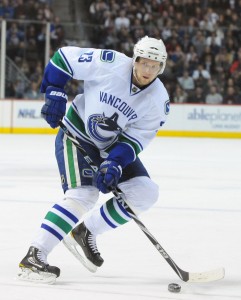 Unlike David Booth, a buyout of Keith Ballard looks like a pretty safe move.  He is being paid too much to serve as a third-paring defenseman, and the Canucks have the depth to fill his spot.  The $4.2 million he is due to be paid the next two years definitely can be better spent elsewhere.
As for the rest of the depth defensemen, Andrew Alberts may come back for a reasonable price, but the Cam Barker era is likely over.
Conclusion
Yes, the Canucks need to undergo a bit of a "reset," but looking at the commitments they have to many players, the noose of the salary cap, and the unwillingness of other teams to part with prize assets, the Canucks are looking at making some moderate fixes and possibly listening to a new voice and a new approach in the dressing room.  It is not impossible that these changes will make enough of a difference to return the Canucks to playoff glory, but much of the team's success next year will be determined by the productivity and health of the key cogs already in place.