How much do you know about the men that will be wearing the striped sweaters for tonight's game?  One is a Boston native and the other was called "a terrible official" by Rangers' coach John Tortorella.  Does that make you nervous, Rangers fans?
Game 1 of the Eastern Conference semi-finals matchup between the New York Rangers and Boston Bruins will be officiated by Chris Rooney and Brad Meier. Tonight marks the first time this duo has worked together for a playoff game this season.
Chris Rooney (#5)
Rooney came into the league in 2000.  A Boston native, he has donned the stripes for 710 regular season games including the 2010 Winter Classic. He has officiated 35 playoff games, including last season's Stanley Cup Finals.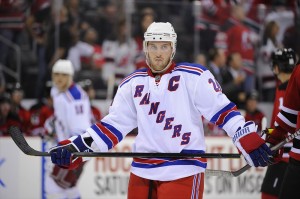 Rooney has worked six games in the postseason, including two for Rangers/Capitals and once for Bruins/Maple Leafs. In those games – a game 1 loss to the Caps and the game 7 series clincher –  the Rangers went 1-1 (average of 8.0 minor penalties per game).  The Bruins defeated Toronto 5-2 in Rooney's only game of that series, Game 3 in Toronto, calling 12 minor penalties in the game.
In the regular season, the Rangers went 3-0 in games officiated by Rooney, including a 4-3 overtime win against Boston.  The Bruins, for whatever reason, struggled in Rooney-refereed games, going 0-4 in the regular season.
One of those Rangers' wins came in the game that formally eliminated the Devils from playoff contention. Rooney's presence was a factor in that game, according to David Garrison over at Pucks and Pitchforks:
The referee that made all of the bad calls was Chris Rooney. Rooney is notorious for favoring teams and blowing games. He also has many websites with all of the bad calls he makes, just search his name. I never like to blame refs, they are an easy scapegoat for the team losing, but this time it got in the heads of the Devils and they could not play the game to their best ability.
Rooney called an average of 7.5 minor penalties per game in the regular season and 9.3 in the playoffs, a number likely inflated by his officiating partner. He opened the first round paired with the less-tenured Steve Kozari.  The two racked up some mileage on their whistles, averaging 12 minor penalties called per game over their first four games.  Since then, Rooney has shared the ice with some more experienced referees, namely his partner for last year's Cup Finals Dan O'Rourke and veteran Wes McCauley.  In those two games, calls dropped to an average of just four per game.
Brad Meier (#34)
Like Rooney, Meier is a veteran zebra, having joined the league in 1999.  He has 810 regular season games under his belt, along with 32 playoff games. He's officiated five games this postseason, including one overtime game in each series that led to this matchup.   He officiated the Rangers' Game 5 overtime loss to the Capitals as well as the Bruins' Game 6 overtime loss in Toronto.  Both we called tight, with penalties split closely down the middle.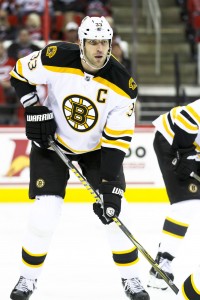 In five postseason games, Meier is averaging 6.2 calls per game.  This is down from his regular season average of 7.5 penalties per game.  In the regular season, the Bruins went 1-2 and the Rangers were 1-3 in games officiated in part by Meier.
We can only hope Meier doesn't remember the comments John Tortorella made back in 2002 when he was behind the bench in Tampa.  After a late penalty resulted in a game-tying power play goal, Torts said of Meier, as reported in the St. Petersburg Times, "He's a bad referee, plain and simple. He has got no feel for the game.  It's not the reason we lose the game, but to me it's an awful call. He's a terrible referee."
I'm not sure about you, but I'm going to guess that Brad Meier hasn't forgotton about this exchange.  Let's hope he's professional enough to not let it show in his officiating.  But if there's that one critical call at one key point that just might decide a game…?  Nevermind. I'll leave the referee conspiracy theories to someone with a little more time on his hands.
What Does It Mean?
Tonight's game will be managed by two veteran officials who have been here before.  While some games in the first round had lots of power play opportunities – thanks in part to younger officials a bit more whistle-happy – expect these two to let them play.   Aside from the obvious calls that result in loss of scoring chances or the unavoidable puck-over-glass penalties, Rooney and Meier will likely have their whistles in their pockets.   If things start to get rough, watch for matching minors to both sides to try to retain order, a technique both have used in this year's playoffs.
Look, neither team is particularly powerful on their respective power play.  The Rangers went 2-for-28 (7.1%) in the first round, while Boston netted only one more goal with the man advantage, going 3-for-20 (15.0%). New York has taken the second fewest penalties in the postseason (6.0 PIM-per-game) and was the least-penalized team in the regular season (9.2 PIM-per-game).  Boston's been a bit less disciplined, picking up 9.1 PIM-per-game in the playoffs and 12.2 PIM-per-game in the regular season, both around the middle of the pack.  All those factors point to the fact that special teams will not play as large a part in this series as they did for the Rangers against the Capitals.  A timely power play goal could tip the scales in an otherwise close game, but that's not what this matchup is about.
This is a series that will be played out – and won – based on even strength play.  That's something that Rooney and Meier are likely to ensure plenty of in tonight's game…  along with maybe even a voice-crack or two: