Arturri Lehkonen THW Close-Up
Date of Birth: July 4, 1995
Place of Birth: Piikkiö, Finland
Ht: 5'10" Wt: 152 lbs
Shoots: Left
Position: Left Wing/Right Wing
NHL Draft Eligibility: 2013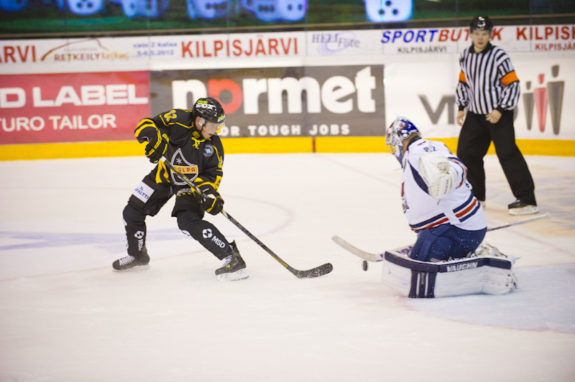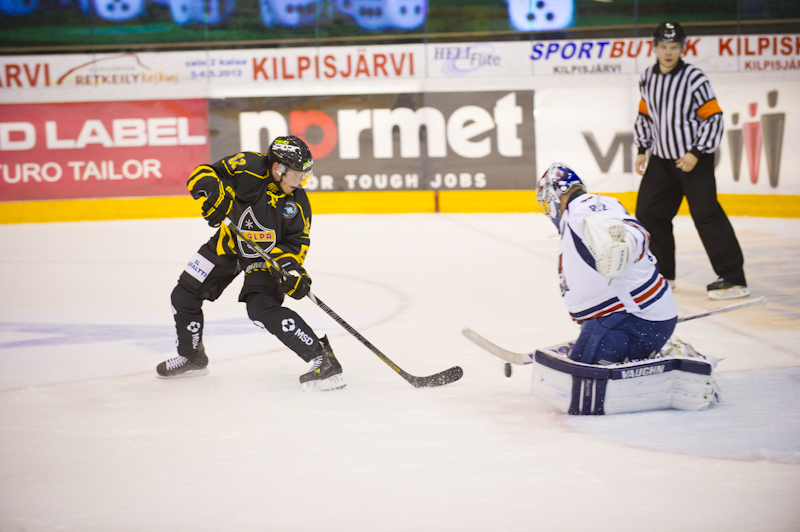 It's hard to develop as a hockey player without experience. At a young age, Finland's Artturi Lehkonen is amassing a lot of experience at a lot of different levels.
Last season, Lehkonen split his time between TPS Turku's pro and junior squads. He also represented his nation at the World Under-18 Championships. This year, at age 17, he made the jump to the pros full-time with SM-Liiga's KalPa squad and has also made appearances at the World Under-18s and the World Juniors. While he has yet to bring home any hardware, he's turned a lot of heads with his play.
Playing on a line with a couple of his team's best players, including NHL veteran Jukka Hentunen and Finnish star Sakari Salminen, Lehkonen was second in team scoring and was among the league's top 50 point-getters. All this despite being one of the smaller, younger players in the league, and also despite missing a chunk of games during the World Juniors.
It's easy to see why teams will like Artturi Lehkonen on draft day. He's fast, agile and good with the puck. He's a strong skater with the hockey sense and tenacity to compete in a high-level professional league. As a 17-year-old. It's also easy to see why some teams may be a bit cautious, as he's not incredibly big for a hockey player. That said, he'll grow and he'll fill out, but his biggest challenge when coming over to North America will be dealing with bigger players and smaller ice. He's already elusive, but he'll also need to avoid getting crunched along the boards in the land of the giants.
Artturi Lehkonen is a very good hockey player for his age, with the ability to play strong minutes and contribute offensively in the professional ranks already. The main concerns surrounding him are in regards merely to his physical stature, not his hockey abilities. If he can add some size between now and his arrival in North America, he'll be a very useful addition to any team.
Scout's Honour:
"Artturi Lehkonen is a diminutive but speedy winger with great hockey vision. Lehkonen has superb acceleration speed and very good wrist shot. Despite lacking the size he uses his body well and is not afraid of going into tight situations." – Miika Arponen, Dobber Prospects
"Lehkonen has tremendous hockey sense and finishing ability to go along with solid but not outstanding hands and speed. He's a little on the small side, too. He's been getting a regular shift in Finland's top pro league, if not being leaned on at times." – Corey Pronman, Hockey Prospectus
Statistics:
Bio/Interview(s)/Link(s):
International Tournaments:
Lehkonen has represented Finland in a lot of tournaments over the last few years. He's played in the World Under-17 Hockey Challenge, two World Under-18 Championships and a World Junior Championship. The good news is he's gotten a lot of big-game experience, the bad news is he's won zero medals. He was the leading goal-scorer in the 2012 Under-18s.
ETA:
2-3 years
Risk-Reward Analysis:
Risk 1.5/5, Reward 4/5
NHL Potential:
Second-line scoring winger.
Strengths:
Fast, strong skater
Nose for the net, good finishing ability
Good, but not great, passer
Good positioning
Flaws/Aspects He Needs To Work On:
Lacks size and will need to add muscle to battle in the corners
Will likely need time to adjust to North American ice
Will need to hone his judgment in terms of when to engage with bigger opposition players
Fantasy Hockey Potential:
Offensive 8.5/10, Defensive 7/10
NHL Player(s) Comparison:
If all goes well, and he maintains his speed and elusiveness, Lehkonen may project to be similar to Mike Cammalleri.
When He'll Go In June:
Lehkonen is part of the group of prospects that could go anywhere between the late first round to the early third round. Most likely he'll go somewhere in the second round.