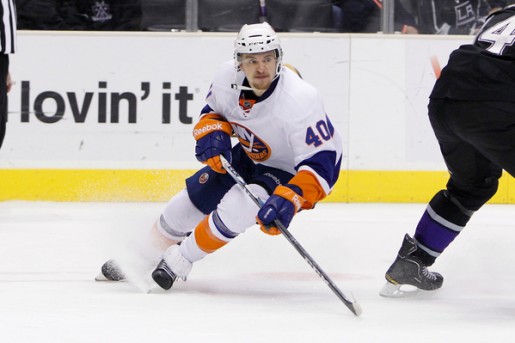 Back in 2010, Garth Snow started a fairly successful trend that Islanders fans couldn't have seen coming.
Not many Islanders fans could have predicted that players such as Evgeni Nabokov and Michael Grabner would have developed into key pieces for a team that was rebuilding through the NHL Draft, but Snow didn't stop the pillaging with the two aforementioned pickups. For a team, and owner, that was bleeding money on a yearly basis, relying on the waiver-wire to plug some holes might have been the logical choice for Garth Snow and the New York Islanders. Even though the waiver-wire might be a less-than-appealing option for GMs with more financial/asset flexibility, Garth Snow has truly turned one man's trash into his treasure by adding players that other teams wouldn't have bothered to look at.
Building Through Waivers
Finding a player such as Michael Grabner through the waiver-wire has added a key dimension to New York's offense over the last couple of years. When Garth Snow picked up Grabner, the forward had already been passed over by the Florida Panthers and the Vancouver Canucks – but that didn't deter New York's GM from giving the former first-round speedster a chance with the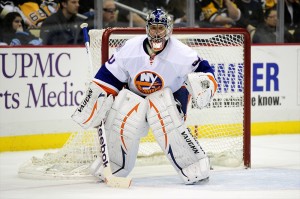 Islanders.
In 196 games played with the Islanders, Grabner has recorded 105 points (70 Goals, 35 Assists) and has added depth to New York's offensive lineup with his speed. Not only is Grabner known for his ability to break away from the opposition because of his quick acceleration, the forward is also a pivotal part of New York's penalty kill as his stick work can cause a shorthanded breakaway at any point.
Despite the fact that Michael Grabner's speed has allowed New York to capitalize on many scoring chances, the Islanders would not be in the position that they are in right now without the services of their goaltender, Evgeni Nabokov. After claiming Nabokov off of waivers during the 2010-2011 NHL season, Garth Snow was stuck in a bit of a dilemma as the Russian netminder made it known that he would not report to Long Island. Even though Nabokov's road to Long Island might have been a messy one, the goalie eventually reported to the Islanders and actually resigned with the team after his contract had expired.
Nabokov's value to the Islanders has been immeasurable as the goalie has gone 42-29-8 in two seasons with New York. Many have pointed to Nabokov's average peripheral numbers for the Islanders, but the goalie's efforts cannot be dismissed as he has stolen points for his young team on a number of occasions – especially during the team's current playoff push. Whether Nabokov will choose to remain with the Islanders past his current contract remains to be seen, but the acquisition of the veteran netminder has undoubtedly helped the team's development over the last two years.
A New 'Waive' of Pickups
When the NHL lifted the lockout and announced that an abbreviated 2012-2013 hockey season would be played, Garth Snow made a few moves that would have a direct impact on the current New York Islanders. Not only did Snow snag Brian Strait and Keith Aucoin, he also added Thomas Hickey to his roster as well. Once the 2012-2013 NHL season began, all of the aforementioned pickups were given a chance to prove their worth to New York – and oh have they earned their keep.
For starters, players such as Brian Strait energized their teammates through solid defensive play during the early portions of the '12-'13 NHL season. Before suffering a broken ankle, Strait was undoubtedly New York's best defensive defenseman and was playing a solid defensive game alongside team captain Mark Streit. While Strait had only registered four assists before sustaining his injury, the player's adjustment to an NHL-level style of play was made apparent immediately. Islanders fans and Garth Snow have the Pittsburgh Penguins to thank for receiving Strait as the team essentially had to drop the defenseman, but credit must once again go to the Isles' GM as he was observant and knowledgeable enough to put in a claim for the d-man.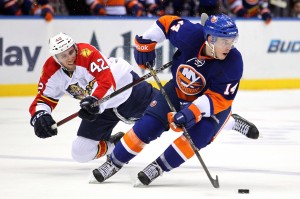 Much of the same can be said for Snow's ability to add Thomas Hickey (another former first round draft pick) right before the start of the abbreviated season. Since the Islanders and Snow were uncertain of Lubomir Visnovsky's status with the team heading into the season, the additions of Hickey and Strait were meant to round out New York's defensive units, but the two defensemen have done way more than what was initially expected of them. Like Brian Strait, Hickey has recorded minimal offensive points (1 Goal, 3 Assists), but his real value to the team lies in his sound positional play. Not only has Hickey played a very respectable positional game, it is apparent that the undersized defenseman makes a great compliment to his defensive partner, Lubomir Visnovsky. Whether or not Visnovsky and Hickey will continue to grow together remains to be seen, but it is quite obvious that the latter defenseman has been a pleasant surprise for New York's defensive core – especially during the second half of the shortened season.
Lastly, Keith Aucoin was another one of Garth Snow's waiver-wire pickups, and even though the center has only recorded eleven points (5 Goals, 6 Assists), he was a key part of New York's early season success. Aucoin's ability to win faceoffs and provide the occasional offensive contribution has made him a significant piece of the Isles' bottom-six forwards. While Aucoin's game isn't predicated on offense, the forward, much like Colin McDonald and Matt Martin, has brought an immense amount of stability to New York's bottom lines – something that Jay Pandolfo and Marty Reasoner were simply not able to do.
Waiver Wire Implications
Simply put, the waiver wire has been an important part of the New York Islanders' rebuilding process. Of course, the NHL Draft has provided the Islanders with the likes of Josh Bailey, Kyle Okposo, Andrew MacDonald, John Tavares, Travis Hamonic, and a slew of other developing players, but the waiver wire has helped New York add more dimensions to its game while their youngsters make progress elsewhere.
Michael Grabner and Evgeni Nabokov are the two most prominent and significant members of Garth Snow's waiver-wire transactions. The two aforementioned players have helped round out various parts of the team over the last several years, and it is unlikely that the Islanders would be progressing so well at this point in time without the presence of Grabner or Nabokov.
On the other hand, Keith Aucoin, Thomas Hickey, and Brian Strait have solidified other parts of the Islanders as well. Aucoin has added some depth to New York's bottom-six forwards while Strait and Hickey have rounded out the Isles' defense in a most unexpected way. Seeing as how Garth Snow has been able to successfully restructure his team by adding potential contributors through the waiver-wire, there is definitely some credit that is due to the GM. Many have ridiculed Garth Snow for not being able to sign quality free agents or make a trade that would shake up the Islanders roster, but New York's GM has preached patience and is finally being rewarded for it.
There are some that will point out that the Islanders consistently had to be bad in order to acquire the players that they did through the waiver-wire, but for a team that has a certain budget to be filled, waivers might not seem like such a terrible option. Instead of overspending money or assets in order to bring in a top flight hockey player, Snow has plugged some holes through the waiver-wire while the likes of Anders Lee, Matt Donovan, Aaron Ness, Ryan Strome, and Nino Niederreiter develop in the AHL and other hockey leagues. Adding players through the waiver-wire might not be a GM's first option, but for the meantime, Garth Snow must certainly be enjoying the way that his acquisitions have panned out for the surging Islanders.