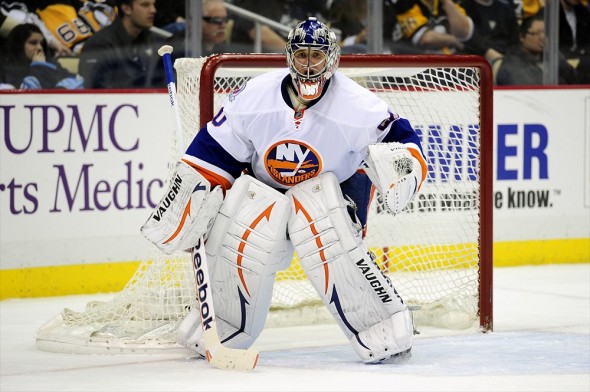 For the majority of the 2012-2013 NHL season, New York Islanders fans watched a hockey team that displayed flashes of dominance at times, but played wildly inconsistent during other stretches. However, over their last twelve games the Islanders have managed to play to the tune of a 9-1-2 record and have strengthened their playoff positioning in the Eastern Conference.
Players such as Josh Bailey, Colin McDonald, Matt Moulson, John Tavares, Michael Grabner, and a slew of other forwards and defensemen have made New York's playoff push a serious topic of discussion, and not just an afterthought at this point of the hockey season. While New York's usual top-line suspects (Tavares & Moulson) have played determined hockey all season long, one name can't be mentioned often enough when it comes to the Isles' successful run during the '12-'13 NHL season, and that player sure has been playing like the legend that made the number 20 a significant one for all Russian goaltenders.
Long Island's Iron Man
There is no questioning the fact that Evgeni Nabokov has been a workhorse for the New York Islanders between the pipes this season, especially over the last fifteen games that New York has played. Not only is Nabokov among the NHL league leaders in Wins, the goalie has been a valuable asset to his team over the course of the 37 games that he has played in and started this season.
After enjoying a 2011-2012 NHL season that featured the Russian netminder winning nineteen games in his return to NHL duties, Evgeni Nabokov renewed his contract with New York in hopes that he could help get the team back to the playoffs in the following season. Despite the fact that 34 games were wiped off of the NHL schedule, Nabokov came in ready to play as he started ten of the Isles' first eleven games in the beginning of the season. Even though Nabokov took several losses on his overall record during the start of the season, the goalie has been a constant for the Islanders this whole season as he has been stellar in net for the team, even on nights when New York's defense made the goalie work for his victory.
If one isn't readily convinced as to Nabokov's value to the Islanders, then head coach Jack Capuano might be able to shed some light on his veteran goalie (courtesy of the Official New York Islanders website):
"It's real important to have a guy like him back there," Capuano said of the 37-year-old goaltender. "Nabby to me is one of those guys who is almost an extension of our coaching staff. He thinks the game real well, especially on the opposition's power play and that shows in our penalty kill meetings. He's played a lot of hockey over the years and we're not afraid to go to him. I know he's played a lot for us too, but he's a workhorse and we have faith in his ability."
Only four goalies (Pekka Rinne, Ondrej Pavelec, Antti Niemi, and Ilya Bryzgalov) have started more games than Nabokov, and at 37 years old the Russian netminder's play has certainly not been reflective of the effort that one would expect from an older goalie. While many might say that Nabokov isn't a spring chicken anymore, his peripheral statistics from this season (2.49 GAA, .911 Save Percentage) have evened out to his regular career averages (2.41 GAA, .912 Save Percentage). Many might have questioned Nabokov's determination when he refused to report to Long Island after the team snagged him from the waiver-wire a couple of years ago, but Garth Snow's savvy transaction has given the Islanders the fairest shot at a playoff push that the team has had since Snow took over the GM reigns in 2006.
Transcending Play From San Jose
Over the course of his stay in San Jose, Evgeni Nabokov not only made a name for himself as an elite goaltender in the NHL, he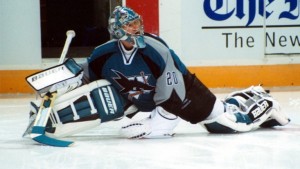 helped the team reach the playoffs in all but one season (2002-2003). Nabokov made nine appearances in the postseason with San Jose, and the goalie has had some respectable numbers (2.29 GAA, .913 Save Percentage) in 80 playoff games.
Some might point out the fact that Nabokov has never been to the Stanley Cup Finals and has failed to transcend his regular season play into the postseason, but the goalie was also a victim of some team breakdowns as a member of those San Jose playoff teams. What matters for the Islanders right now is the fact that they have a goalie that is a seasoned veteran with a plethora of playoff experience under his belt. There is a reason why Nabokov has started all but six games for the Islanders this season, and with the way that the netminder has been playing this season, hockey fans should expect New York's workhorse goalie to be up to the challenge if his team makes the Stanley Cup Playoffs.
Isn't John Tavares the Hart of the Isles?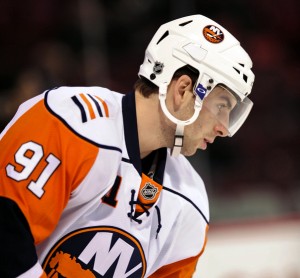 One cannot begin to express how valuable John Tavares has been to the Islanders over these last few years.
After being taken first overall in the 2009 NHL Entry Draft, Tavares has done everything that he was projected to do as an NHL center. Tavares has improved his skating, strength on the puck, and his overall two-way play since making the leap to professional hockey. Not only has Tavares improved a multitude of aspects surrounding his game, he has become more and more of a vocal presence in New York's locker-room, and it wouldn't be surprising to see the pivot don the "C" on his sweater in the very near future.
With 42 points (24 Goals, 18 Assists) scored so far this season, Tavares has placed himself in the top-20 of the NHL's scoring leaders and is slightly below being a point per game player during the regular season. In addition to racking up some pretty impressive point totals during an abbreviated season, Tavares has also placed himself in the top 10 for shots taken (143 SOG). While the young center has taken a number of shots, his conversion percentage (16.8%) on those shots on goal is greater than other offensive superstars from around the league – Alexander Ovechkin and Jonathan Toews to name a couple.
Combine Tavares' leadership by example with his constant drive to improve himself and you have a candidate that should be a shoe-in for the Hart Trophy every year, right? Well, that is probably self-explanatory, but the Isles' superstar has cooled off as of late – something that might affect his chances of securing the Hart Trophy honors this season. Tavares' efforts for the Islanders will likely be heralded for years to come as the center will continue to improve upon the most minute aspects of his game, but JT might just have to take a backseat to Evgeni Nabokov this season.
Why Should Evgeni Nabokov Get the Honors?
Well, for starters, the New York Islanders would likely not be in the position that they are today without the services of Evgeni Nabokov. Some might argue that the Islanders would not be positioned for a playoff spot without Tavares' stellar play, but the simple fact is that New York would not be making a playoff push without the contributions of either Tavares or Nabokov.
Early on in the season, the Islanders got off to a hot start due to balanced scoring, solid defense, and good goaltending, but New York began to falter down the line and it looked as though the Islanders had fallen back to an all too familiar reality. However, Evgeni Nabokov's veteran leadership has allowed his team to believe in themselves while they make a push for the Stanley Cup Playoffs. Goalies aren't usually the most vocal presences in an NHL locker-room, but one can tell how focused and determined Nabokov is through his post-game demeanor. Of course, individuals such as Mark Streit and John Tavares are probably the vocal leaders in New York's locker-room, but much like the two players, Nabokov leads by example on the ice.
Throughout the course of this season, Islanders fans have seen how their team is prone to defensive lapses at certain times. Sometimes these mistakes cost the Islanders in terms of blown leads and potential points collected, but during other times Evgeni Nabokov has stood up to the challenge and kept his team in games that they realistically should not have been in. Not only has Nabokov stolen points for the Islanders at during various stretches of the '12-'13 NHL season, he has been a steadying presence for his team.
Given New York's lack of depth at the goalie position, it is absolutely incredible that Nabokov has held the fort for his team without a proven backup option in case of a slip up or injury. Since the Islanders have been hesitant to rely on the services of Kevin Poulin and/or Rick DiPietro this season, Nabokov's room for error has drastically decreased, especially in a season where the importance of every passing game and point(s) is magnified incrementally. Simply put, the New York Islanders and their fans would not be talking about the playoffs right now without Nabokov's presence on the team and on the ice.
Regardless of where the New York Islanders finish this season, Evgeni Nabokov's play cannot be understated and shouldn't be taken for granted. In all likelihood, New York's MVP (if selected) would be John Tavares, and deservedly so, but I'm going to go down the road less traveled and give my vote to the team's veteran netminder – someone that has been a boulder for the Islanders in goal this season.