Things don't seem so cut and dry in Buffalo anymore.
A month ago, it seemed clear that not only would the Sabres not make the playoffs, but General Manager Darcy Regier would be shown the door the same way long-time coach Lindy Ruff was earlier in the season.
After all, many believed Regier should have gotten the axe at the same time as Ruff, if not before that. So now that the team has rallied, challenging for a playoff spot and playing much better hockey, is Regier's job safe?
You'd be surprised to know that the fans of Western New York are actually split on this.  Seems ludicrous on the surface, doesn't it? Well let's take a look at Regier's history and see just who's been running the Sabres all these years.
Since taking the role in 1997, Regier's teams have gone 565-393-78-83 (.505) with a pair of conference finals appearances, a Stanley Cup Final appearance, and a President's Trophy in 2006/07. During that time, the Sabres were generally solid if unspectacular with few genuine down years in between.
Saddled with fluctuating ownership and a tight budget, Regier did what he could with the materials presented to him and did a solid job with it.  He was downright masterful coming out of the lockout, putting together a team that came within one win of the Stanley Cup Final in 2005/06.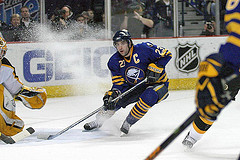 Led by Daniel Briere and Chris Drury, the team won the President's Trophy the following year but ultimately bowed out to the Ottawa Senators, the Eastern Conference Champions that season.
That's when things took a turn for the worse.  Briere and Drury both left for free agency, finding big contracts with the Flyers and Rangers respectively.  Some understood Regier's reasoning:  you just don't pay that much money
for those types of players, regardless of their leadership qualities in the locker room.  Then came the offer sheet on young star Thomas Vanek, pressuring the Sabres into paying Vanek a huge contract averaging $7.5M.
Since then, the Sabres have been a constant source of disappointment and failed expectations.  Building around Vanek, goaltender Ryan Miller, and winger Jason Pominville, the Sabres may have bottomed out this year when, after a season-long struggle with consistency last season, Ruff was let go and the Sabres teetered in last place.
But since then, interim coach Ron Rolston has seemingly righted the ship with less-than-desirable talent.  Pominville is gone.  Tyler Myers is done for the season.  Vanek has come crashing back to Earth after a scorching start.  Everything about the team points to a basement-dweller yet the Sabres remain in the playoff hunt, even as longshots, thanks to effort and fantastic goaltending.
It seemed that Regier was all but gone and then he went and made the trade that sent Pominville out of town.  He netted a top-end prospect from the Minnesota Wild, a good goaltending prospect, as well as first and second round picks.  A King's ransom for a Prince's talent.
Regier has had a way with trades. Buffalo fans will never forget that he got a first round pick out of Nashville for third-line center Paul Gaustad.  I really can't elaborate enough on just what a feat that is considering many don't think the team will get a first rounder for Miller should they move him.
His overall track-record with trades is solid but his downfall is with free agents. Granted, for years he was handcuffed by ownership; not allowed to open the purse strings to spend.  But when he was allowed to spend, he was hit or miss.  Yes, he got Christian Ehrhoff, who has been the Sabres best defenseman this year, for $4M/year. But he  also got Ville Leino.  We all know how that's been working out.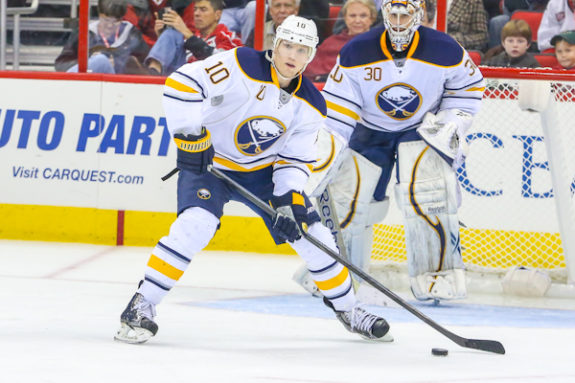 Regier's general free agent spending is a list of over-the-hill veterans meant as stopgaps more than anything else – Teppo Numminen, Jaroslav Spacek,Patrick Lalime, Rob Niedermayer, Jordan Leopold.  Which is fine for the most part because the Sabres have been a pretty good team for long stretches of time and you don't really need to make a huge splash in free agency when that's the case.
Perhaps more damning to Regier's rep with contracts is the ones he's doled out to home-grown "talent": he's the guy who gave Jochen Hecht $3.5M/year, Tim Connolly and his glass jaw got $4.5M(!!), Drew Stafford's 20 games worth of effort $4M, Tyler Myers $5.5M/year for life, Cody McCormick $1.2M to play in the AHL, etc.
He does a solid job drafting – he's stocked Rochester with solid to above-average talent throughout the years without ever really drafting high – but giving out bad deals to those home-grown talents doesn't help the team win. Sometimes you need to realize when to cut bait (HECHT) instead of giving someone more than they're worth (HECHT).
So what happens from here with Darcy Regier? The Sabres, as of today, sit just two points out of the eighth and final spot.  It'll take some luck and probably winning their final four games but the Sabres are in the conversation.
If they make the playoffs in improbable fashion, Regier almost certainly keeps his job.  It'd be hard to argue with the way things have turned around since Lindy was canned. But what if they don't make the playoffs? What happens then?
Well, Regier will almost certainly remain the general manager in that instance, too. There are a list of excuses that could be made in his favor; far more than the amount of negatives in question.  Not only that, but who's available to replace him? There are no names you can trust and the Sabres don't seem to be in a position where they want to try their hand with some up-and-comer.
So it seems that, regardless of what happens with the rest of this season, Darcy Regier will more than likely be safe as general manager of the Buffalo Sabres. At least for one more season.