Just over two weeks ago, the Minnesota Wild were sitting pretty in a packed Western Conference. The squad had just completed a seven-game winning streak that saw offensive potency from just about everybody.
Fast-forward to the present day, and the demons of Wild seasons' past have returned. To be blunt, Minnesota cannot score. They have lost three of their last four games, scoring zero goals in the three defeats. The added insult to injury here is that goaltender Niklas Backstrom has allowed fewer than three goals in each of those losses. He would have a huge lead in victories league-wide had his offense backed him.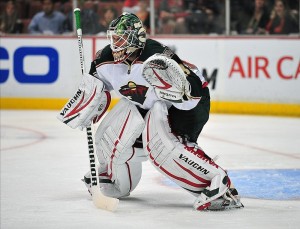 After resting in the 3rd spot in the Western Conference less than a month ago, Minnesota now sees itself clinging to 7th with 46 points, with 9th place Phoenix lurking just four points back.
Wounded Wild
The Wild is also not receiving help from a health standpoint. Matt Cullen left the Wild's 4-1 loss to St. Louis on April 1 with a lower body injury. He has not played since. Without their anchor in the middle, wingers Devin Setoguchi and Pierre-Marc Bouchard have combined for just one assist in the month of April. Cullen's absence is not lost on Setoguchi, as Minnesota Star Tribune reporter Michael Russo points out.
Additionally, Dany Heatley will now miss the remainder of the season after undergoing shoulder surgery on Tuesday.
The injury occurred in the closing seconds of a feisty contest with the San Jose Sharks. At around the 1:30 mark of the video below, you can see Marc Edouard Vlasic give Heatley multiple slashes, and a few seconds later, Vlasic tugs the Wild winger to the ice awkwardly.
Much to the ire of Wild fans, Vlasic only received a fine and avoided suspension despite inflicting season-ending harm.
Were the Wild Right to Trade for Pominville?
While injuries certainly do not help this late in a shortened season, it is becoming clear that the Jason Pominville trade may have messed with the Minnesota forwards' chemistry.
Pominville's entrance marked the demotion of Charlie Coyle from the top line with Mikko Koivu and Zach Parise. While Pominville did score a goal and an assist in the Wild's lone win of April against Columbus, he too has been mostly silent offensively.
Coyle, meanwhile, also scored against the Blue Jackets, but he now sees himself on a line with bangers Cal Clutterbuck and Kyle Brodziak. Coyle is now in a position where he cannot succeed offensively just based on the sheer drop-off in skillsets between Koivu & Parise as opposed to Clutterbuck & Brodziak.
Elsewhere, Heatley's injury has caused even further juggling for head coach Mike Yeo. Mikael Granlund was recalled from Houston of the AHL to try to put a band-aid in between the Setoguchi and Bouchard line, but the loss of Cullen has proved to be pivotal to the Wild's recent woes.
Yeo has been stingy when it comes to changing up lines, so it will be interesting to see if Minnesota has a new look when they host the Blue Jackets on Saturday. One way or the other, the offense will have its work cut out in facing stalwart Sergei Bobrovsky.
If there is a silver lining for the Wild, it is that five of its last eight games are against the Flames, Oilers, and Avalanche, all of whom are resting near the bottom of the West. But the road has become a bumpier one as the Wild try to crawl into the playoffs for the first time in five years.