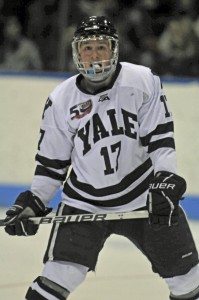 The Edmonton Oilers signed NCAA Frozen Four MVP and Yale captain Andrew Miller on wednesday to a one year contract.
Miller, 24, had 41 points in 37 games for Yale this season and was one of the key players in winning the school's first national title. Miller scored one of the biggest goals in the team's history scoring the OT winner against Lowell-Mass in the NCAA semi-finals to send the team to the final against Quinnipiac, whom they beat 4-0.
The Oilers have been active participants in the college free agent game as they lost out on three other sought after players before inking Miller.
They were in on Western Michigan defenceman Danny Dekeyser, the most sought after jewel in 2013, who signed with the Detroit Red Wings, and is in their lineup now.
They also went after Quinnipiac goaltender Eric Hartzell, who was snapped up by the Pittsburgh Penguins.
They also tried to sign Miller's teammate, 6'4″ centre Antoine Laganiere, who was at the Oilers prospect camp last fall, but lost out to the Anaheim Ducks.
Miller is listed at 5'10" and 180lbs, not exactly the big bodied forward that the Oilers were hoping to target, but there was something that was attractive about him to GM Craig MacTavish.
"He's not big, but he's strong on the puck and he's got great hockey sense. He's a real cerebral player," said MacTavish
A playmaker with good vision and on-ice awareness, Miller can play both the wing and centre. He also brings maturity and leadership to his list of attributes.
"One of the best playmakers I've seen. His vision is incredible," said Yale coach Keith Allain, who used to be an NHL assistant coach with the Washington Capitals and goalie coach for the St. Louis Blues.
Miller will not be added to the Oklahoma City roster this season but will report to the prospects camp in July and be at Oilers training camp next fall. He will likely be slated for AHL duty for 2013-14.