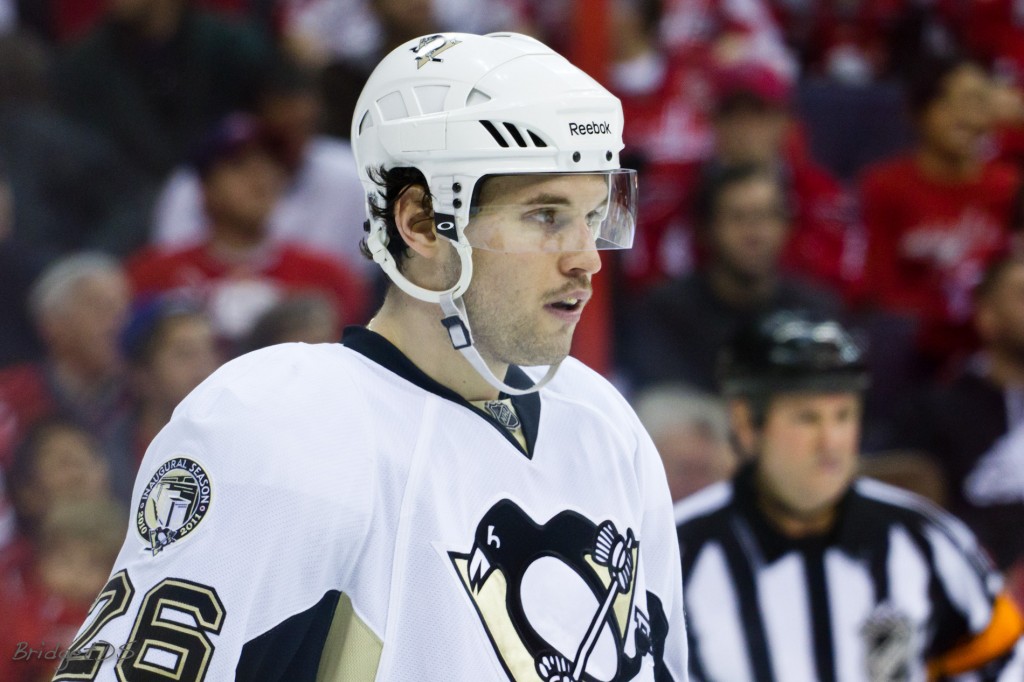 Three young players developed by the Pittsburgh Penguins have moved on to different organizations over the past month:
Jan 18: Brian Strait waived and claimed by New York Islanders
Feb 7: Ben Lovejoy traded to Anaheim for a 2014 fifth-round pick
Feb 13: Eric Tangradi traded to Winnipeg for a 2013 seventh-round pick
Heading into the 2010-11 season, the Penguins hoped all three players would move into NHL roles. Here are comments on each from Assistant General Manager Jason Botterill at the time:
On Strait: "He's made the jump from AHL third-pairing defenseman to someone who can play against anyone in the AHL.  Down the road, he's going to be playing NHL games for us."
On Lovejoy: "He's a great skater.  He puts himself in the right positions [on the ice] because of his skating."
On Tangradi: "He's made great progress and he's on the right track for sure."
So what happened?
Penguins management has always made an attempt to speak highly of their players in public, but these sentiments were sincere.  They were echoed behind the scenes by many in the organization.  Why did the team dump all three for next to nothing in return?
[Note: Based on historical draft analysis, the probability of a fifth-round draft pick playing in just one NHL game is only 32%.  For a seventh-round pick, the probability is 21%.]
Penguins Roster Limits
Strait and Lovejoy were victims of the NHL's 23-man roster limit and the Penguins' recent focus on stockpiling young, talented defensemen.
Heading into the season, I (mistakenly?) gave Simon Despres a three percent chance of making the team.  General Manager Ray Shero always says that injuries make it important to have at least 10 NHL-caliber defensemen in the system.  Eight other defensemen on the NHL training camp roster required waivers in order to be demoted and I thought that made Despres the odd man out.
Instead, Despres made the team while Brian Strait was placed on waivers and snagged by the Islanders.  Strait, 25, has since become a fixture in an Islanders lineup that was lacking talent on defense.  He's averaging close to 18 minutes a game and was recently handed a three-year contract extension by his new team.
The play of Despres and fellow rookie defenseman Robert Bortuzzo also cost Ben Lovejoy a spot in the roster puzzle as well.
An early season injury to Matt Niskanen opened up a temporary spot for the Penguins to claim forward Zach Boychuk off waivers from Carolina.  With Niskanen nearing a return last week, Shero decided that Boychuk provided value to the lineup going forward and instead dealt Lovejoy to Anaheim.
In a perfect world without waivers, Strait and Lovejoy would be stashed in the Penguins' farm system for a rainy day.  But that's exactly why waivers exist: to prohibit teams from stashing NHL-level players and to give veterans an opportunity to crack a lineup elsewhere.
NHL Market Dynamics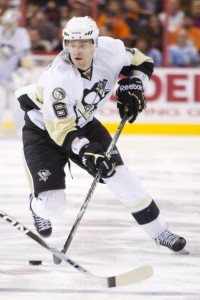 The common refrain from frustrated fans after their team loses a player through waivers is "why didn't [insert GM name here] make a trade instead of losing him for nothing?!"
Pittsburgh's depth has forced Shero to deal with this situation a number of times over the past two seasons.  Last year, he lost forward Nick Johnson to Minnesota via waivers.  Later in the season he was able to flip Mark Letestu for a fourth-round pick before having to expose him to waivers.
Why was he able to trade Letestu, Lovejoy, and Tangradi, but not Johnson and Strait?  Other than pure and simple talent, there are a few factors to consider:
Teams keep up-to-the-minute depth charts of the 29 other organizations around the league.  They can anticipate when Shero is going to be in a roster pinch and will be forced to trade or waive a player.
If you're an opposing GM and injuries leave you with a hole to fill, there's more urgency to grab the Penguins castoff before other teams have a chance to.  Maybe that means sending a low pick to Shero, but if you think the player will be waived and your team is first in waiver priority, you wait.
Waiting, however, comes with the risk that another GM is more desperate than you and will make the trade you weren't willing to.
It's essentially a poker game.
Shero tries to touch base with every GM at least once a month during the season.  When these roster pinches occur, he has to convince other teams that it's worth making a trade as opposed to waiting for waivers.  He could always bluff directly to other GM's, but risking credibility over fifth-round picks doesn't lead to a long NHL management career.
It's safer to do it indirectly.  Maybe word leaks that "multiple teams" are interested in trading for a soon-to-be waived player.  The key is to create demand and a market for a deal.
Assuming Shero explored a trade, it's safe to assume the demand wasn't there for Strait and Johnson.  In the case of Letestu, Lovejoy, and Tangradi, the draft pick returns indicate exactly how valuable opposing GM's saw each player, despite what Shero or anyone else may have thought.
A player's trade value is only what another team is willing to pay.  Nothing more, nothing less.
Eric Tangradi and the Concept of Sunk Costs
While the Strait and Lovejoy transactions were surprising, they weren't totally unexpected.  Wednesday evening's trade of Eric Tangradi to the Winnipeg Jets for a seventh-round pick was a little more curious.
Tangradi, 24, had been a healthy scratch for eight games in a row, but there wasn't any pressing 23-man roster concern.
His $726,000 cap hit wasn't a factor for Pittsburgh as they currently have the ability to add close to $13 million in payroll via trade, a number that will continue to rise leading up to the April 3 trade deadline.
"I just think [Tangradi] needs time and opportunity to find his confidence at the NHL level," Shero said.  "He didn't seem to be getting it here.  It just seemed like there were some guys who were passing him by."
Boychuk remains on the NHL roster for the time being and the Penguins recalled 2010 first-round pick Beau Bennett on Thursday.  It's no secret that the team is searching for a winger that can contribute on one of the top two lines, and even if Bennett isn't ready for the job, Shero decided Tangradi wasn't going to be the answer either.
"He wasn't in our plans moving forward, it seemed, so I think it was the right thing to do to kind of move him on."
For Tangradi fans, a comment like that may be tough to stomach.  Tangradi was acquired along with Chris Kunitz in the 2009 trade that sent Ryan Whitney to Anaheim.  A prolific scorer in the Ontario Hockey League, Tangradi seemed to have a future alongside Evgeni Malkin or Sidney Crosby.
The Penguins invested heavily in his development, in addition to the world-class facilities provided to all players at the minor league level.  Assistant coach Tony Granato, player development coach Bill Guerin, and other front office members worked with Tangradi one-on-one to try to mold him into an NHL player.  The team pushed him into leadership positions in Wilkes-Barre (AHL) and had him mentoring younger players at the team's summer prospect camps.  The organization spent significant resources on the development of Lovejoy, Strait, Johnson, and Letestu as well.
Perhaps the team's development process can be questioned for not turning Tangradi and others into permanent Penguins (although all are playing at the NHL level right now), but Shero's willingness to unload these players for little or no return is actually good asset management.
Consider the concept of sunk costs:
A "sunk cost" is a cost that you have already incurred and that you cannot recover. People often have an irrational desire to use products for which they have paid a lot of money, or to continue following a plan that has required a great investment. They think that if they abandon the product or change their approach, they will be throwing money or time away. That's not true – the money and time have already been thrown away. Continuing to use a bad product or to follow a bad plan is only increasing the amount being thrown away.
It doesn't matter how much time or money the Penguins already spent on Tangradi's development.  It doesn't matter that he was the promising prospect expected to convincingly tip the scales of the Whitney-Kunitz trade in Pittsburgh's favor.  It doesn't matter that he scored only one goal in 45 NHL games, and it wouldn't matter if he had scored 100 either.
Forget the sunk costs.  All that matters to Shero is what Eric Tangradi can be reasonably expected to contribute to the Pittsburgh Penguins moving forward.  Based on his comments, he decided that a low draft pick and the opportunity to give Bennett a look was worth more than any potential upside for Tangradi in Pittsburgh.
It's certainly possible Tangradi finds success with the Jets.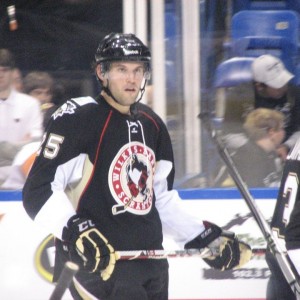 Off the ice, he's a great guy with fans and the media.  He's worked extremely hard to improve his skating after the Penguins told him that was holding him back.  He's tried gaining weight and losing it in an attempt to find that happy medium between bulk strength and agility.  He'll even drop the gloves and defend a teammate if necessary.
The Eric Tangradi experiment failed in Pittsburgh because of his lack of consistency.
At 6-foot-4 and 225 pounds, Tangradi will have to make his mark in the NHL as a power forward that can play solid two-way hockey.  I've always felt Tangradi was a player who forced himself to play a power forward game, instead of simply doing it.
Johan Franzen, Scott Hartnell, Chris Kunitz, and Ryan Malone don't think first before crashing the net.  It's natural instinct for them.
Tangradi would often tease Penguins fans with glimpses of his potential after working his way back into the lineup before the adrenaline would ultimately wear off.   You could almost see him thinking about whether to forecheck or not, with memories of Guerin preaching 'compete level' battling the lactic acid burn of a long shift.
There's such a fine line between players that make it at the NHL level and those that never do.
With Pittsburgh visiting the Jets on Friday night, it's not difficult to imagine a scenario where Tangradi hops onto a top line and scores a pair of goals to prove that his old team made a mistake.  Critics of Shero will point to the minimal return he got or the fact he gave up on Tangradi too early.  But the trade and Tangradi's future career don't matter to the Penguins at this point.  That's in the past.
Maybe the ability to ignore sunk costs is a luxury afforded only to General Manager's with job security.
Or maybe the ability to ignore sunk costs is what leads to General Manager job security.
___________________________________________