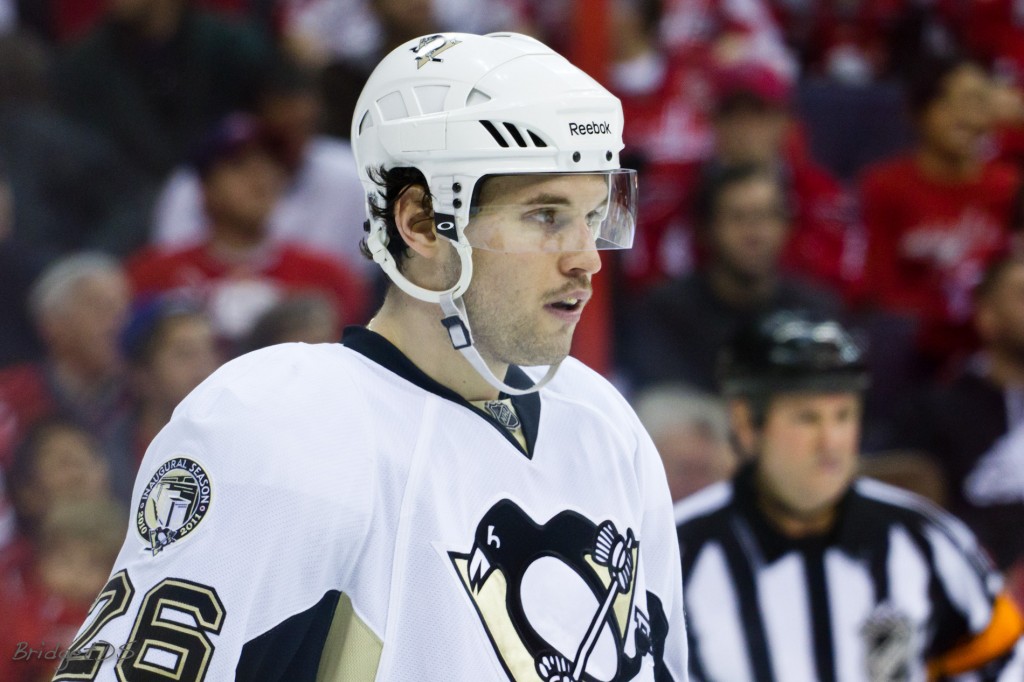 The Pittsburgh Penguins opened training camp on Sunday afternoon at their Southpointe practice facility. General Manager Ray Shero, head coach Dan Bylsma, and a number of players took questions and it finally seemed like the NHL was back to 'business as usual'.
Penguins camp shifts to the Consol Energy Center on Monday where Evgeni Malkin is expected to finally join his teammates, according to Shero.  All camp sessions at Consol are open to the public this week including a scrimmage on Wednesday night that the team wants to make as close to game conditions as possible.
Here are three things to watch for if you plan to check out camp:
Compact Schedule
Coach Bylsma admitted that the compressed schedule won't allow him to accomplish as much as he normally does during a standard camp.
"As a coach, over the course of a 22-day training camp you have an opportunity to see players with other players in different spots," Bylsma said.  "In the event there's injuries down the road you can see different combinations in training camp.  That's just not going to happen in six days of on-ice activity.  We have a pretty good notion of what [our roster is] going to look like when the first day comes."
Six days of practice also means the Penguins can't change their offensive and defensive systems in any substantial way.  Bylsma and the coaching staff do plan to make tweaks and had a chance to experiment down in Wilkes-Barre (AHL) the past few months, but expect him to unveil the changes over a series of weeks.
The focus for this week will be making sure players are game-ready with plenty of contact and also making sure the special teams are prepared.  Most of last year's roster remains intact but the Penguins did lose crucial pieces from their powerplay (Steve Sullivan) and penalty kill (Zbynek Michalek and Jordan Staal).
If early combinations are any indication:
1st Powerplay Unit: Letang-Neal, Crosby-Malkin-Kunitz
2nd Powerplay Unit: Niskanen-Martin, Sutter-Dupuis-Kennedy
Fleury vs. Vokoun
For the first time in recent history there will be a goalie battle to keep an eye on in Penguins camp.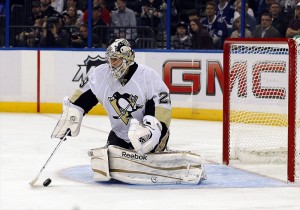 Marc-Andre Fleury's playoff struggles and the collapse of backup Brent Johnson forced Shero to take an active approach to fixing the goaltender position this summer. He traded for the rights to Tomas Vokoun before quickly signing him to a two-year deal worth $2 million per season.
Vokoun suffered through a groin injury last season and subpar defensive play during his years in Florida, but when he's on his game he's one still one of the league's elite goaltenders.  Josh Yohe at the Tribune Review had a good piece this morning on the tandem and for now Vokoun is saying all the right things:
"Listen," he said, his voice friendly but firm. "There is never going to be a controversy. With all due respect to the fans — and I know Pittsburgh has great fans — they do not dictate who is playing. It's simple to me. I just need to be available to play whenever they need me. And I'm OK with that. We have a coach, and he says who will play. And that's the way it should be."
So what does the coach think?
Bylsma said Fleury is his "Number 1" guy, but during the lockout the Penguins analyzed how goaltenders were used during the short 48-game season in 1994-95.  According to their studies, the teams that performed best had a starter who played around 30 games and a backup who played 18-20.
If Fleury can regain his regular season form from last year, expect a similar split 30/18 split where the schedule dictates who starts and not necessarily matchups (as the team has done in the past).
If Fleury struggles and Vokoun shines though, things could get interesting.
The Wildcards
Most Penguins fans are asking the same question these days: Will former first-rounders Simon Despres and/or Beau Bennett make the team?
Here's how we see the odds stacking up for each of the 'wildcards' heading into camp:
Robert Bortuzzo (D): 90%
Simon Despres (D): 3%
Brian Strait (D): 80%
Beau Bennett (F): 5%
Jayson Megna (F): 5%
Eric Tangradi (F): 90%
The favorites to make the team from our list are Robert Bortuzzo and Eric Tangradi.  Both players are 23, both had very impressive stretches in Wilkes-Barre this season, and both are entering the phase in their careers where they need to make the jump to the NHL.
They also possess a skillset that fills current voids on the Penguins roster.
Tangradi is finally playing the physical, power-forward type game that the team hoped he could adapt to.
"I think he played some good hockey for us last year," Bylsma said.  "He played what you could call a fourth line role, but he played his game.  He used his size and strength and used it forechecking, down low, and protection of the puck.  Some people are looking for a flash and high skill from Eric Tangradi to play in a top six [role].  That's not necessary.  This year in Wilkes-Barre, his first 20 games were outstanding and I think he differentiated himself.  Not dangling, not going high on offense.  Playing that big, physical game down low and at the net and that's what he can add."
Tangradi will get a chance to prove his transformation is legit when he lines up alongside Evgeni Malkin and James Neal on Monday.  Tangradi played his best stretch of pro hockey in 2010 when he was on a line with Malkin and Mike Comrie.  If he can adopt the role that Chris Kunitz held for most of last season on the Malkin-Neal line, he could be in for a siginifcant bump in playing time.
The Penguins will also be leaning heavily on Robert Bortuzzo to fill the void left by Zbynek Michalek's departure.  His game doesn't contain the flash of Kris Letang or the physicality of Brooks Orpik, but the team has groomed him to be a shutdown defenseman at the NHL level.
As far as other players are concerned, Simon Despres is simply a victim of a numbers game.  Shero says he'll keep no more than eight defenseman on the final roster and may possibly cut that to seven.  Barring a trade, with eight defensemen eligible for waivers and no exhibition games for Despres to steal a job, it'll be very difficult for him to make the team.
It also wouldn't make sense from a development standpoint.  A young, promising defenseman like Despres can learn a lot more from having a big role at the AHL level as opposed to spending most evenings in the press box or getting limited minutes at the NHL level.
Beau Bennett will see a similar fate.  He's in his first season of pro hockey and still needs at least a season at Wilkes-Barre to fine-tune his game on both ends of the ice.
Full Training Camp Schedule
Monday, January 14: Practice 12pm at Consol Energy Center
Tuesday, January 15: Practice 11:30am at Consol Energy Center
Wednesday, January 16: Scrimmage 7pm at Consol Energy Center
Friday, January 18: Practice 11am at Consol Energy Center
Saturday, January 19: Game 3pm at Philadelphia Flyers (NBC)
Sunday, January 20: Game 7pm at New York Rangers (FSN, NHL Network)
___________________________________________