The Pittsburgh Penguins spent Tuesday off the ice at a team-building event.  When they return to practice on Wednesday they'll be missing three players.
Center Mark Letestu was traded to the reeling Columbus Blue Jackets for a 2012 fourth round pick late Tuesday according to team officials.  The undrafted forward Letestu was an early candidate for Rookie of the Year last season but his numbers faded down the stretch after suffering a knee injury.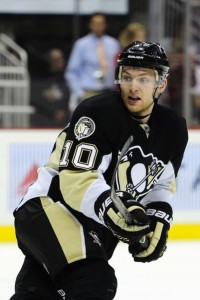 Letestu failed to get his game back on track this year and has recorded only one assist in 11 games.  He also spent four games as a healthy scratch for the Penguins and became the odd-man out for General Manager Ray Shero.
Shero also announced on Tuesday evening that forwards Dustin Jeffrey and Steve MacIntyre were assigned to Wilkes-Barre/Scranton of the American Hockey League for a conditioning stint.  Both players will continue to count against the Penguins active roster and they'll receive NHL salary during the conditioning loan.
The NHL Collective Bargaining Agreement stipulates that a conditioning loan of this nature can last no more than 14 consecutive days.  Both players are expected to be in the lineup when Wilkes-Barre faces Norfolk on Wednesday.  The Penguins are in the midst of a five-day break and the conditioning loan will allow Jeffrey (9:17 ice time per game) and MacIntyre (2:36 per game) to get more ice time than they've been receiving at the NHL level.
With Letestu dealt to Columbus and Sidney Crosby (concussion), Tyler Kennedy (concussion), Zbynek Michalek (broken finger), Ben Lovejoy (broken wrist), and Brian Strait (hyperextended elbow) on injured reserve, the Penguins currently have 21 active players including Jeffrey and MacIntyre.  This would allow for two call-ups or IR activations on Friday when the Penguins face the Dallas Stars at home.
Michalek, Lovejoy, and Strait are expected to miss significant time which opens the door for a Crosby and Kennedy return in the near future.
Speculation in recent weeks has circled around a possible Crosby return this Friday: 11/11/11.  Coach Dan Bylsma insists that no timetable or return date has been set, but Crosby said in recent days that his conditioning is at the highest level it can be in a practice environment.  Kennedy passed baseline concussion tests and was cleared for practice nearly a week ago.  He has been skating with teammates.
________________________________________
The Letestu trade wasn't exactly what most Blue Jackets fans were expecting after the team's dreadful 2-11-1 start.  Rumors have swirled for weeks that head coach Scott Arniel or even General Manager Scott Howson might be fired, especially after a 9-2 drubbing at the hands of the Philadelphia Flyers on Saturday night.
Arniel remains behind the bench for the time being and Howson told Aaron Portzline of the Columbus Dispatch that the Letestu deal isn't a precursor for something bigger down the road:
"We like the player," Blue Jackets GM Scott Howson said. "It does not fill an immediate need on the roster, but you can never have too many centers. We think he's a top-9 talent. And we think he can helps us win games."

The Jackets have a plethora of centers: Jeff Carter, Derick Brassard, Antoine Vermette, Sammy Pahlsson, Derek MacKenzie and rookie Ryan Johansen, though Carter is currently injured and Johansen is playing on the wing.

Howson said this is not a precursor to another trade. "This is not part of something else," Howson said.
Mark Letestu has been a shell of his former self for the past eight months, but a change of scenery might be a good thing for the 26-year-old.
At his best, Letestu is a versatile center capable of playing on a second powerplay unit.  His hockey intelligence is exceptional which makes up for average skating ability and below-average size.  Letestu is also a wizard in the faceoff circle, winning 55.3% of his draws this year and 55.4% last year.
________________________________________
From the Pittsburgh perspective, Shero clears a roster spot for Crosby/Kennedy and adds a draft pick to his back pocket for trade deadline day.  The Penguins have made a conscious effort to stockpile centers and offensive defensemen with the understanding that teams are always interested in acquiring them.
Andy Strickland of TrueHockey.com first reported that Mark Letestu was on the trading block last week.  With the Penguins in a roster crunch, Shero wasn't going to get a big return for the under-performing Letestu.  The fact that Columbus was willing to surrender a draft pick instead of waiting for the Penguins to waive Letestu probably indicates that multiple teams were showing legitimate interest in the player (or at least Howson was convinced that was the case).
________________________________________
Letestu will earn $650,000 this season, the first of a two-year deal. He'll earn $600,000 in 2012-13 before becoming an unrestricted free agent.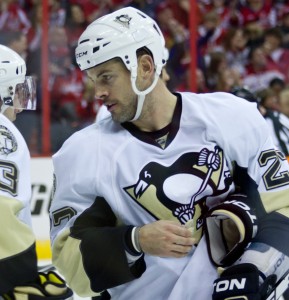 His falling salary is not unlike that of other Penguins depth players such as Matt Cooke ($2m / $1.25m), Deryk Engelland ($600k / $525k / $575k) and Craig Adams ($725k / $625k). The strategy being employed by Shero and cap specialist Jason Botterill is probably two-fold.
With a new CBA on the horizon next summer, the Penguins and other salary-cap conscious teams are making the extra effort to ensure maximum flexibility within the new unpredictable parameters.  If the league moves to a system where cap hit equals actual salary paid that year, the Penguins will stand to benefit from the lower salaries down the road.
Additionally, the lower future salaries are more enticing for budget teams in trade talks.  The payroll in Columbus is as high as it's ever been, but $500k or $1m can be critical for cost-conscious teams.
The flip side of this dynamic is the Penguins have become more than willing to take back-loaded contracts off the hands of the cash-strapped teams.  At the trade deadline last year, Shero received James Neal ($2.25m / $3.5m) and Matt Niskanen ($1.25m / $1.75m) from the Dallas Stars.  The Stars are still working their way out of bankruptcy and I'm convinced the rising salaries of Neal and Niskanen were a factor in their departure.
Stars GM Joe Nieuwendyk was trying to work out a contract extension for superstar Brad Richards at the time and needed every dollar of flexibility he could get, especially in the short-term.  Richards ended up leaving Dallas and signing with the New York Rangers for 9 years and $60m.
Call it big market vs. small market, but Shero and Botterill are using every advantage they have to build a winner.