It's not quite Redskins and Cowboys, but the Washington Capitals and Dallas Stars are two of the premier teams in their respective conferences to this point, making this an interesting matchup to watch. Unfortunately, an especially poor third period full of defensive mistakes that were made throughout the entire game cost the Caps and allowed the Stars to open up offensively, going on to win, 5-2.
To start the game, the Caps and Stars were rather evenly matched, as both teams got solid scoring opportunities and equally solid saves from their goalies. Dallas began to gain more opportunities after they earned their first penalty, courtesy of an Alex Semin tripping penalty. Washington killed the penalty, but with the Stars putting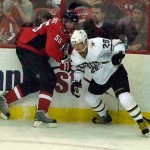 "I think to come out of that period [first] with two goals was pretty good," said Michael Ryder. "We couldn't stop, we said to each other to make sure we keep going and try and help the team as much as we can and keep the momentum on our side."
Dallas did just that, and not only did the Stars keep the momentum on offense but they worked very well on defense. Washington's offense took a hit, as all their shots were coming from further and further from Kari Letohnen and the crease. Alex Ovechkin finally changed the Caps' pace, drawing a hooking penalty, and gave his group a power play. With no sweat, a familiar laser shot from Semin from a Backstrom backhand pass tied the game at one. The buzz at the Verizon Center would not last long, however, as the Stars scored soon again to regain the lead by the end of the period after the Capitals failed miserably to cover for Neuvirth, forcing Neuvirth to get severely out of position twice and over-commit, allowing the Ryder goal.
The second period ended with a lucky goal from John Carlson to tie the game again for Washington, but only with about four minutes left in the second after Dallas had dominated play the previous time. Yes, the goal gave the Caps a bit of a boost, but they went right back on the penalty kill for a delay of game infraction on Dennis Wideman two and a half minutes later.
Once the Stars scored 34 seconds into the third period, it was clear they had mastered how to beat the Capitals. The Caps didn't help the matter, appearing sloppy on both ends of the ice appearing as though they had given up. Washington continued to appear outworked and out-muscled and the Stars took complete advantage of it, as Jamie Benn, Eric Nystrom and Adam Burrish all scored in the final frame.
"I thought that game turned out to be a one-goal game and we happened to get it in the third and that kind of sparked us a bit," said Dallas coach Glen Gulutzan of his team's performance to start the last period." It was a tough game out there. I thought that in the third period, we came out to play."
Unfortunately for Washington, they weren't.
"You're thinking ahead — you're thinking 'let's go have a great third period, let's get past this penalty and let's go have a great third.'" Mike Knuble said. "And then all of a sudden you give up one 20 seconds remaining on the power play. We just didn't recover."
Knuble wasn't the only one disappointed. The looks of the team after the game in the locker room was one of despondence.
Matt Hendricks said, "Long story short we just didn't work hard enough on them." Dennis Wideman said, "Maybe we have to change something: how we prepare individually or how we get ourselves going — I don't know. But we are definitely not coming out hard and taking it to teams in the first period like we would like to."
Bruce Boudreau echoed the concerns of his team in coming out flat, not winning battles and getting knocked off the puck (Alex Ovechkin even noted the team only had six hits in the first period, saying "it wasn't our game."). Boudreau also corresponded that this was an "individual" issue as well, concerned if individual players want to "compete" and "wanting to win." He pointed out to Semin, who leads the team in penalty minutes. Earlier in the day, Boudreau said Semin wasn't "used to not scoring" but here, it seemed like a larger issue and said he addresses such individual failures by taking ice time away.
Meanwhile, Dallas seems a lot better than many thought at the beginning of the year. They appear to be well-coached and disciplined to defeat a team like Washington and continue to hold the best record in the NHL. They play Pittsburgh and Detroit this weekend, back-to-back. If they come out there like they did tonight, this might be a team to really look for later in the year. If the Capitals plan on winning anything more than they have in the past, they will have to play teams like this better, especially teams from the Western Conference.
Notes: Mike Green participated in another full-practice but did not play in tonight's game.
Angie represented The Hockey Writers at the 2011 NHL Winter Classic and is credentialed for Washington Capitals home games. She is a NHL Contributor for SB Nation's "NHL Scores & More" and covers high school hockey for The Washington Post. Angie attended American University where she studied broadcast journalism.