Claude Giroux was expected to evolve into an elite player in Philadelphia, and he's done just that. He's red hot with 19 points in his first 14 games including 9 goals. While his minutes were expected to rise with the departure of Jeff Carter and Mike Richards, the rate at which we've seen Giroux and sometimes other top Flyers forwards minutes increase was definitely unexpected.
Giroux is averaging just under 24 minutes per night in his last 5 games before the wild Columbus bout. He's flat out playing more minutes than most top defensemen do at this point of the season.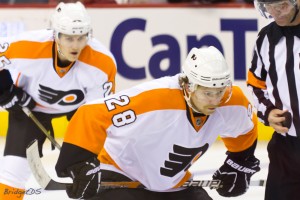 Many are making the point that Claude Giroux is the best player on the Flyers and he should be playing the most minutes. Giroux is inching closer to 30 minutes a night with each passing game. Have injuries to other key forwards such as Danny Briere played a part in that? Yes. However, when Briere returned to the lineup against New Jersey on November 3 in a game the Flyers lost in a shootout, Giroux played over 27 minutes and Briere himself played over 25.
In Giroux's case, his minutes increased every game over the last 6 prior to the Columbus game (which was a blowout). 20:55, 21:08, 22:47, 23:13, 25:01, 27:04.
While no one is suggesting Giroux can't handle it, as he is on fire to start the season, this is unchartered territory. When Chris Pronger and Kimmo Timonen started playing 25-30 minutes a night in the playoffs in 2010 it was a big deal when Flyers head coach Peter Laviolette increased the minutes of his top defensemen during the last couple of weeks of the season so they would be prepared for the playoffs.
The fact Laviolette has certain key forwards (mostly Giroux) playing over 25 minutes a night on multiple occasions could be cause for concern later in the season since these kinds of minutes are uncommon at this point of the season.
Let's make a football analogy here. Some wide receivers or running backs are great punt returners out of college when they are drafted. When they become more of a full time receiver or running back in the offense, they usually play less on the punt return and more in the offensive game. We've seen the same sort of thing in hockey. When a young player evolves and they're a big time 90-100 point player, some 3rd or 4th line specialists are signed to be on the first unit for a penalty kill. In Giroux's case, many times he's on the top unit for everything. That's how talented he is. And Laviolette has made it clear this year the best players in each category will be getting ice time (ask Sean Couturier).
The only concern would be if the minutes will wear down Giroux during the course of the long 82 game season heading into the playoffs. It's something to think about as the season goes on.
One thing is for sure. For those people who always say they want to win and lose with their best players on the ice, Peter Laviolette is coaching with that style and doing it aggressively thus far. It's fair to say this level of aggressive minutes for top forwards at this point in the season is pretty unprecedented. Compare it to other teams in the NHL and you won't find much of this.
It will be interesting to see the trend of minutes as the Flyers get healthier and get key players back into the lineup. The Flyers start back up again after another long 3 days off on Wednesday night in Tampa.