After years of shaky goaltending, it finally appears as though the Maple Leafs have amassed some wealth at the position. Management believes they have assembled a cast of 5 very good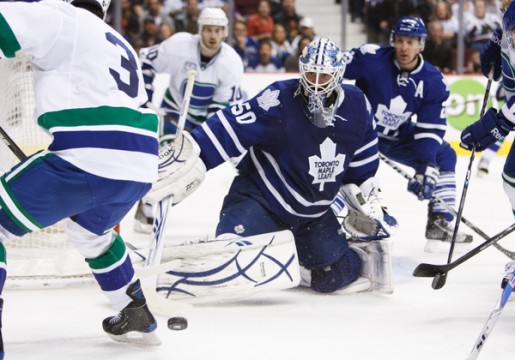 young goalies, and have one of the premiere goalie coaches on staff in Francois Allaire. There's faith that this group is strong enough to backstop the franchise to the playoff berth that has eluded them since pre-lockout days. The only trouble with having that much young talent at that position is that eventually, those goalies want to play, and there's only 1 net. Strangely, it may be the injury to James Reimer that has focused attention between the pipes, and Jonas Gustavsson may be the man on the outs.
The Monster does have his fans. And, he does have talent. At one time, he was touted as 'the best goalie not in the NHL' after posting good numbers in the Swedish leagues. But the move to the NHL has not been so smooth. He's endured a number of heart ablations and a demotion to the AHL. His NHL numbers have not been very good, sitting at 26-31-11, with a GAA of 3.09 and a save percentage 0f .896 on the morning of November 8, 2011. In today's NHL, that's simply not acceptable. Gustavsson's defenders would argue that he has played better at times this season, and that frankly, the team does not play well in front of him, and there is merit in those statements. But, it doesn't change that there's much stacked against Jonas.
Working against the Monster are a number of issues. Firstly, there's that depth. Reimer's short NHL career shows numbers of 24-10-6, with a 2.59 GAA and a .920 SV%, while young Cornell grad Ben Scrivens has risen quickly in the organization. Further, Jussi Rynnas and Mark Owuya are also honing their skills with the AHL Marlies, both under age 25. Secondly, at least in the fan perception, Gustavsson has seemed unable to unseat anyone as the number 1 goalie. In his first NHL season he did outperform Vesa Toskala, but could not maintain the starter's job against JS Giguere, nor keep from being injured himself and giving way to Reimer. Thirdly, it's widely rumored and suspected that Gustavsson is unable to work with Allaire, or rather that Allaire is not the right coach for the Monster's style. And lastly, in a contractual sense, Jonas is in the weakest position. His 2-year contract expires next summer and he becomes an unrestricted free agent. Reimer just signed a new 3-year deal, Owuya has 2 year remaining, while Scrivens and Rynnas are on their last years. What's important to note is all 4 become restricted free agents, giving the team some options.
With Reimer still on the shelf after Brian Gionta clocked him in the head, the Leafs are not about to make moves in net just yet. But, should Optimus Reim return (as Leaf Nation hopes sooner than later), what are the options for Toronto where Jonas Gustavsson is concerned?
Scenario 1: Stand  The Leafs could stand, or simply, continue as was planned. That means Reimer returns as the starter, and if he got 80% of the remaining games, that would be 55 of the remaining 68 games. The Monster would be the backup, and Scrivens would be returned to the Marlies, where he'd be the starter and continuing his development. In fairness, Gustavsson's play has improved over the games he has played this season. The trouble is, though his coach says he's playing better, after 8 games, his record is 4-3-0, with a horrifying 3.68 GAA and .880 SV%. A 'stand' approach would see Reimer carry the load, with Gustavsson getting a start every 5th game or so. Leaf brass can evaluate his play, as well as that of Reimer and Scrivens, and decide if they wish to extend Gustavsson's contract.
Scenario 2: Draw We can use the draw scenario to describe an instance where Brian Burke makes a trade. The Leafs have a desire to upgrade at their forward positions, and they have some depth at defense and in bottom-6 type forwards. Burke has had some success at creating interesting packages and getting back useful pieces. It's possible he could include one of his goalies in a deal. Ideally, the Leafs likely wish to keep Reimer and Scrivens. Gustavsson could be an attractive piece of trade bait, despite his relatively poor numbers. Ok sure, it is about unloading the least desired of the goalies in Toronto, but it may not be impossible. Recall that at one time, many teams pursued the Monster, and it is possible that someone in some organization may still covet him. If the theory is correct that Allaire's style is completely wrong for Jonas, then something as simple as a scenery change could be the right medicine for him. And Gustavsson, despite the heart ailments, is still young at 27 and healthy otherwise. It is also possible that Burke could make a deal that included a different goalie, but moving Jonas Gustavsson would appear to make the most sense for Toronto.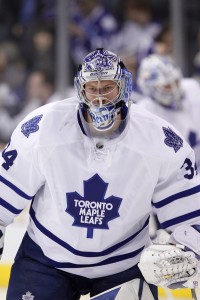 Scenario 3: Fold Again, a move predicated on the return of James Reimer could see Jonas Gustavsson playing with the Marlies. It would seem an unlikely situation after all. Reimer, when he does return, will carry the mail for this team. But, he cannot play every game. At the same time, Ben Scrivens has been a little shaky in 2 of 3 games with the Maple Leafs this seaosn, and would benefit much more from being the starter with the Marlies. But, Gustavsson has been much shakier, and there could be a case made that a Reimer-Scrivens tandem may actually win more games. The Leafs are desparate for playoff games, and if Gustavsson is not up to the task, Burke may forego some of his well-known loyalty to players and make such a move. Another consideration is that at $1.35M, his contract is much lower than some of those buried in the AHL. Financially, the Leafs are able to afford it.
So what is there to do with Jonas Gustavsson? He was signed as a free agent, and has really cost the organization nothing other than development time. Each game seems to indicate that he's not an NHL goalie, or at least, he's not a goalie that can win in Toronto.
As a footnote, the Leafs lost 5-1 to the Florida Panthers moments before this article was posted. Gustavsson had started, and allowed 3 goals, all fairly soft, before the second period was done. True, the Leafs did not score until the 3rd period. But the score was 1-0 for Florida, the Leafs were gaining some momentum until a misplayed puck by the Monster resulted in a goal, followed by another goal 19 seconds later. While the team is still 9-5-1, fans are clamoring for info on when they'll see James Reimer in net, and taking to Twitter to voice their displeasure with Gustavsson. Can it be too long before Burke and coach Ron Wilson decide something has to change before the season slips away again.