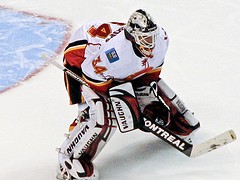 The Calgary Flames will be back on home ice tonight where they will take on the surging Minnesota Wild in an important Northwest division battle.
The Flames (6-6-1) return to the Saddledome following a three-game road trip which culminated with a 2-1 victory over the Colorado Avalanche Sunday night in Denver.
The club will play host to the Wild (7-3-3) tonight before heading back on the road for back-to-back games against Chicago and Colorado on Friday and Saturday.
Coming into the game on a four game winning streak, Calgary will have to contend with a Minnesota team that has played consistent hockey since opening night; a far cry from the Flames who have been able to win two straight hockey games just once this year.
A team that already has trouble scoring goals in the first place, the Flames may find goals even harder to come by tonight against the Wild who are allowing an average of only two goals per game; a total that ranks second in the league.
Goaltender Josh Harding is coming off a week in which he won all three of his starts and allowed a single goal in each of the games, but the Flames will not see him tonight as Nicklas Backstrom has been pegged as the Wild's starter.
Seperated by four points, the game is of particular importance to the Flames as they look to move out of the Northwest basement; with a win possibly putting them in a three-way tie with idle Vancouver and Colorado who plays in Detroit tonight.
With both teams preferring to take care of the defensive end first, the Flames will as usual look to goaltender Miikka Kiprusoff to keep it close and give the team a chance to win what should be a tight, close-checking game. Kiprusoff has gotten off to one of the best starts of his career and has easily been the team's most valuable player through the season's first 13 gmes.
Resident of Windsor, Ontario. Extensive knowledge of both the NHL and junior hockey in Canada, particularly the OHL. Writer for THW covering the Winnipeg Jets and the OHL as well as covering Phoenix Coyotes prospects for Hockey's Future.