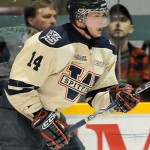 Last Friday night Tom Kuhnhackl was playing in his second game as a Niagara Ice Dog after a trade that brought him into the franchise from the Windsor Spitfires.  Eager to leave an impression with his new franchise, Kuhnhackl lined up star defenseman Ryan Murphy of the Kitchener Rangers behind the net early in the second period.

Tom Kuhnhackl received a five minute major for charging and was ejected from the game.  On the play, Carolina Hurricanes' first round selection (12th overall) in the 2011 NHL Entry Draft laid injured on the ice trying to catch his bearings.  Kuhnhackl was also hurt on the play making it difficult for the Kitchener Rangers players to defend their star defenseman.  Ryan Murphy would return to the game and earn an assist on the 5 minute powerplay but later left the game and never returned.  Ryan Murphy is out indefinitely with a concussion and the Kitchener Rangers and Carolina Hurricanes franchise can't be too happy.
Today, OHL Commissioner David Branch handed Tom Kuhnhackl of the Niagara Ice Dogs a 20-game suspension for his hit and the forward will not be able to return to action until January 6th, 2012.  Is 20-games enough justice for the Kuhnhackl hit? Ryan Murphy is a valuable commodity to the Kitchener Rangers and was expected to be a key component to Team Canada's Under-20 World Hockey Junior Championship team over the holidays.  Depending on the severity of Kuhnhackl's injury, he could be back in the lineup before Ryan Murphy returns to action. Prior to the Kuhnhackl suspension the longest suspension handed out to a player this season was to London Knight Kyle Flemington (15 games) for his head check on Sudbury Wolves' Jacob Harris.
The German born Kuhnhackl was 24th selection in the 2009 CHL Import Draft of the Windsor Spitfires.  Kuhnhackl was also the fourth round selection of the Pittsburgh Penguins in the 2010 NHL Entry Draft (110th overall) and has posted 40 goals, 73 points and 58 penalty minutes in 69 career regular season games.