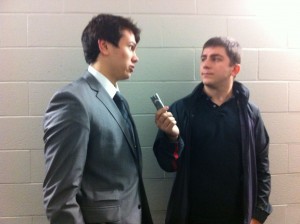 As announced earlier this week, the Ontario Hockey League's Mississauga St. Michael's Majors have named defenceman Stuart Percy as their team captain. The 18-year-old Leafs pick, drafted 25th overall at the 2011 NHL entry draft this past June, takes over the captaincy from OHL graduate and New York Islanders prospect Casey Cizikas.
"St. Mike's is such an historic franchise,"  the soft-spoken Percy says of his new title with the Majors. "Embarking my name in their tradition of hockey is a pretty special and humbling feeling."
As a '93 born player, Percy is not exactly one of the Majors' older or more experienced players. Sitting among the OHL's defensive scoring leaders with two goals and nine points in just 12 games due to injury, Percy's play displays leadership beyond his age.
"I'm kind of more of a leader by example then a big speech guy, I guess. I think I speak up when I'm supposed to and when I can. I like to go out there and play hard and play the right way and I guess show how to play the game, as well as dedication off the ice to the other guys."
This makes it sound like despite the new role for Percy, fans shouldn't hold their breath for him to have a big Herb Brooks moment unfortunately.
"That may be possible but I think I'll leave that to that little young kid who does it the best," Percy laughed.
Percy joins the likes of fellow Leafs prospects Sam Carrick (Brampton Battalion) and Greg McKegg (Erie Otters), who are also captains of their respective OHL clubs. All of a sudden, you look around the OHL and the Toronto Maple Leafs have three prospects that are team captains in a 20-team league.
McKegg leads his Erie Otters in scoring with 17 points in 14 games, while Carrick has scored six goals and ten points for his Brampton Battalion so far this season.
"It definitely shows that they've drafted character guys," Percy says of the Leafs' draft choices. "Just meeting Sam Carrick and Greg McKegg over the summer at the Leafs' development camp and the rookie camp you could see that they're character guys. Mostly all the draft picks bring a piece of the puzzle to the organization and I think that's what they're looking for through the draft. Kegger and Carrick are really good leaders. I think they also lead by example. Hopefully I can be as good of a leader as they are."
All three of Percy, McKegg, and Carrick will be suiting up together as Team OHL takes on Team Russia in the 2011 Subway Super Series on November 14 in Sault Ste. Marie.