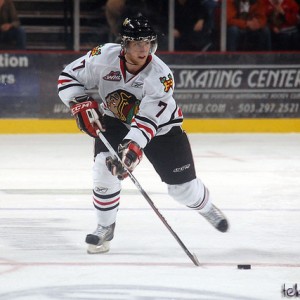 Pittsburgh Penguins General Manager Ray Shero makes it a point to touch base with the other 29 GM's around the league at least once a month.  Not all executives are as social as Shero, but it shouldn't be a surprise that Toronto GM Brian Burke is another one always willing to chat.
Shero and Burke found each other once again on Friday night at the NHL Draft in St. Paul, Minnesota and Burke was in the mood to deal.  He traded a 2012 second-round pick for defenseman John-Michael Liles of the Colorado Avalanche in the afternoon and made it known that he was looking to trade a combination of picks (#25, 30, 39) to move up in the first round.
Pittsburgh coach Dan Bylsma said the Penguins had considered moving out of the #23 spot, but only if Joseph Morrow was no longer available.
"It was a situation for us where with some trading up possibilities and some trading down [possibilities] probably even more likely for some of the things we were interested in, it was not an option anymore for us when we had Joe left on the board when we got to that 23rd pick."
After discussing options with Shero and the Penguins, Burke eventually traded the #30 and #39 picks to Anaheim for their pick at #22.
"We saw Toronto trade to get the 22nd pick and we were a little nervous at that particular time that they may take Joe in front of us," Bylsma said.  "They knew that was our guy."
The Leafs didn't steal Morrow and instead chose power forward Tyler Biggs, a Brian-Burke-type player in every sense.  Biggs will be a menace to play against but it's hard to project him as more than a good third line player at the NHL level.  Was sacrificing the two picks really worth it for a player with limited upside?
Defense – Portland Winterhawks (WHL) – Height: 6.00 – Weight: 197
[Click Here for prospect expert Chris Ralph's profile on Morrow]
Bylsma hasn't seen Morrow play, but he was excited to get a player he had heard so many good things about.  The coach said Morrow is everything they look for in a Pittsburgh Penguin on and off the ice.
"We put a premium on skating and this guy can skate as a defenseman and he's got a heavy shot and he's a strong player on the defensive side of the puck. That's something we're real excited about adding to our organization.  He's a skating defenseman and also fits with the Pittsburgh Penguins just with the quality of kid that he is."
Shero echoed the same sentiments and elaborated on the characteristics that made the Penguins interested in Morrow.
"Joe is a really good skater, has a great shot, can play a physical game, really gets up and down the ice with his skating, shooting, and impact strength as three real assets for him."
One aspect neither coach nor GM addressed was the role Morrow played for his Portland squad down the stretch and into the WHL playoffs this season.  Morrow got better and better as the games got more important and was a major contributor for the Winterhawks with 49 points in 60 games.
The Penguins front office feels that strong performances in important games, even at a lower level, is an important characteristic in prospects that sometimes can't be taught.
#54 – Scott Harrington – THW Final Rank: #88
Defense – London Knights (OHL) – Height: 6.01 – Weight: 207
Harrington played big minutes in key situations for the Knights and seemed to improve his play throughout the season.  I don't see Harrington becoming more than a very solid third-pairing defenseman, but that's still saying a lot with Pittsburgh's young depth at the position.
He isn't flashy on defense but in the mold of former Penguins defenseman Rob Scuderi, Harrington could be the consistent defensive defensemen you never notice but still has an impact on the game.
The 6-foot-1 defenseman has decent size, but at this point uses it to absorb punishment as opposed to dishing it out.  Surprisingly, skating is the one concern I have with Harrington.  The Penguins typically target defensemen with skating skills, as evidenced by the first round pick and recent history.  Harrington definitely isn't slow, but from what I've seen he'll need to improve his skating in open ice if he wants to crack the NHL lineup.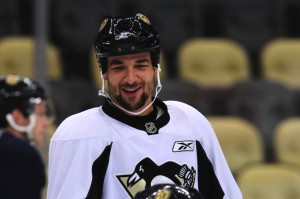 If the Penguins felt strong enough about him to make him a second round pick, their scouts must believe he has the tools to make improvements in that area.  (Side note: Deryk Engelland made similar skating adjustments in recent years and earned a multi-year NHL contract last season)
One characteristic that might allow Harrington to get away with just average speed is his ability to make a solid first pass on the breakout.  Having the speed to join the rush is wasted when an errant first pass disrupts the breakout.  (Side note: Zbynek Michalek is one of the best in the league at making an accurate initial pass, a skill of his that goes largely unrecognized)
Defense First
With a number of Pittsburgh forwards potentially headed for free agency next week, most assumed Jay Heinbuck, Randy Sexton and the amateur scouting staff would be looking for replacements up front.  Instead, the Penguins used their pair of early picks to select defensemen and add more depth to the organization's strongest position.
The curious approach demonstrates how valuable the Penguins feel talented defensemen are in the salary cap era.  (Over the next week, count how many times you read that another team is looking for puck-moving defensemen, now sometimes shortened to 'PMDs')
On the flip side, as teams begin to lock up more of their talent before hitting free agency it's becoming more difficult to find talented forwards on July 1.  Next year's list of unrestricted free agent forwards is very underwhelming and the nature of the free agent market is overpayment.
Shero has realized that under the new CBA, the best way to acquire impact forwards and ensure cost certainty under the cap is via the trade route.
"People think the Penguins need some forwards or wingers in particular," Shero explained, "but I think we've found over time that when you have good defensemen, they're great assets.  You can move them if you have to because everyone needs defensemen.  It's like center-ice men I guess, you can never have enough of them."
Finally, outside of the top picks in the first round, I've always felt it's dangerous to draft based on current needs when considering the fact that many of these players are still two or more years away from the NHL.  The composition of a team can change overnight as a result of trades or free agency and trying to fill today's hole with tomorrow's prospect makes little sense.
Putting the Draft in Perspective
With the selections of Morrow and Harrington, the Penguins did a good job targeting solid players in a crop of high-risk options with noticeable deficiencies.  5-foot-6 Rocco Grimaldi might be the next Martin St. Louis, but he also might never play a single NHL game.  The upside may not be as high for a guy like Morrow, but he has a much better chance of wearing a Penguins jersey someday.
Identifying talent is just the first step in a long road towards success though.  Next, it'll be up to Tom Fitzgerald, Dan MacKinnon, new-hire Bill Guerin, and the organization's coaching staffs to develop these players into NHL contributors.
If they're successful, Shero will be faced with tough decisions (as he is this summer) on how to retain talent under the cap to ensure the Penguins are annual Cup contenders.
The NHL Entry Draft just concludes Step 1.
Retaining Free Agents
Speaking of free agents, coach Dan Bylsma said the success his team had without Sidney Crosby and Evgeni Malkin will make it difficult to keep the roster intact for next year:
It's interesting for us.  We have some players that are [unrestricted free agents] that are approaching July 1.  We're talking to them right now, but our [team] success and the roles they played, especially this year where we added roles and added minutes, they have a value in the marketplace.

It's a challenge for us [to retain them] with our salary cap structure.  It's a challenge for us looking forward down the road with our salary situation as well with some of the players that are [free agents] in the next couple of years.  We have to prepare for both that, and we have to look at opportunities to sign players that are 'Pittsburgh Penguins', that are part of our identity.  It's a challenge and we're still working on it right now."
Jagr Buzz Continues to Grow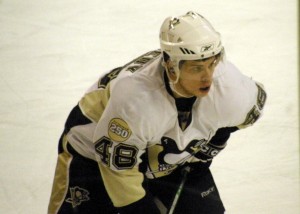 Judging by the reaction to the suggestion that Jaromir Jagr is using the Penguins as a pawn in KHL negotiations, I've come to accept that my view on the Czech star is in the extreme minority.
Jagr's vocal agent Petr Svoboda conveniently missed an opportunity to speak with teams at the draft after "personal issues" derailed his travel plans.  (Perhaps it's a coincidence that Svoboda also just realized Jagr could not sign with an NHL team until July 1?)
The fact that Svoboda is letting these negotiations play out publicly leaves me skeptical.  On the other hand, Shero has been smart to let the rumors and possibilities linger.
"Well I think anything's possible," Shero said at the draft.  "Like some other teams, we've had conversations with his agent. I had a conversation with him a few days ago and, you know, we'll just see where it goes…[Jagr's] an icon in Pittsburgh, he's still loved in Pittsburgh and it's made for a lot of big headlines back there despite nothing really happening at this point, so it's been interesting."
Over the next ten days, negotiations with restricted free agent Tyler Kennedy will start to get serious and allowing Jagr's name to float around as a replacement could put pressure on Kennedy's representatives.
Blockbuster Weekend
As usual, there were a number of trades that accompanied draft weekend, but the biggest difference this year was the stature of the names involved.  Jeff Carter, Mike Richards, Ryan Smyth, Brian Campbell, Brent Burns, Devin Setoguchi, and Robyn Regehr all found new homes.
As an Atlantic Division rival, Bylsma was shocked that the Philadelphia Flyers dealt both Carter and Richards on the same day.
"We heard the Carter rumor several weeks before, but some of the things that have gone down [this weekend] were a little bit unexpected," Bylsma said on Sunday from the draft floor.
"There have been some major moves and we're very close to the Flyers at our draft table and I look over at [GM] Paul Holmgren right now and I don't know what to expect when I look over at the bench of the Flyers this year without Carter and Richards.  Those are their two main cogs, two of their skilled players.  You saw some other major moves with Burns and Setoguchi.  Those are players you talk about and knew were out there, but to see those major major moves, it's been a pretty exciting few days in that regard."
__________________________________________
Follow @MikeColligan on Twitter or contact via email at MJColligan@gmail.com