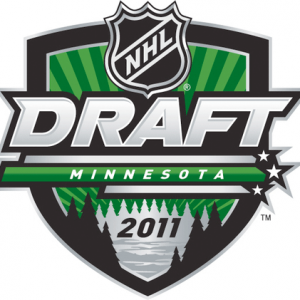 After two days chock full of significant trades, signings and intrigue, the 2011 NHL Entry Draft is complete. Here's a brief breakdown and early analysis of the Boston Bruins' six selections from St. Paul, Minnesota:
1. Dougie Hamilton, D – Niagara Ice Dogs, OHL (6'5, 195) The ninth overall selection was more than a bit of a surprise to me and several other Bruins' draft followers. Most experts considered that Hamilton would be unavailable by then – as huge, mobile, two-way defensemen don't exactly grow on trees. Hamilton is an excellent selection – it's hard to find major flaws in his game. He obviously needs to put on a considerable amount of muscle, but it's hardly something to worry about. Dougie is a plus-skater (plus-plus if you account for his size), has a great shot, excellent defensive and offensive instincts and is an above-average distributor.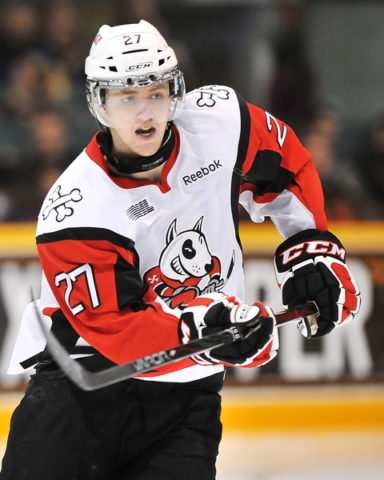 His intelligence and hockey sense are what really get me – Hamilton is a guy who thinks the game at a very high level, which is encouraging not only for his speedy development, but also his eventual peak performance.
Bruins' Grade – (A-) – While this may have been an obvious selection for GM Peter Chiarelli and Co., they could have just as easily gone with the diminutive and dynamic young stud blueliner, Ryan Murphy among a few other possibles – they deserve credit for keeping it simple. Hamilton will be a Bruins' cornerstone for years to come.
Projection – No. 1 Shut-Down Defender, All-Star, 15-40-55 – At his very worst, Hamilton will be a solid second-pairing guy who can match up against top scorers. At his best, he could be a smaller Chara with better puck distribution and mobility. Expect him to arrive in the 2012-13 season and grow with a very steep learning curve.
2. Alex Khokhlachev, C/W – Windsor Spitfires, OHL (5'10, 183) The 40th overall selection in the 2011 NHL Draft was a shocker. I had Khokhlachev going in the first round, at 20 to Phoenix, but I wouldn't have been surprised to see him go earlier. He's easily one of the top skill guys in the draft and has the drive and desire to score and win at any cost. How he fell so far leaves me in disbelief, and seriously questioning the decision-makers on some of the late first and early second round draft boards. Possessing an excellent shot, sneaky playmaking ability, great skating and tenacious play despite his size, the young man has the tools to become a dynamic offensive threat.
Bruins' Grade – (A+) – While this might not be the most-talked-about pick, it's the best, even with the risk involved with drafting a Russian and someone of his dimensions. He was in my top 5 best-players-available since before pick 20.
Projection – First/Second Line C/W, Dynamic Potential (30-35-65) – Khokhlachev isn't a sure thing, but as it stands right now, B's fans could be catching a glimpse of Tyler Seguin's future linemate. If he gets stronger and continues his current growth pattern, we could be looking at a very dangerous player indeed.
3. Anthony Camara, LW – Saginaw Spirit, OHL (6'0, 194) – With the 81st selection in the 2011 NHL Draft, the Boston Bruins reached a bit for a truculent middleweight from Saginaw. A relatively high pick in the OHL draft, (14th) Camara has some skill to his game that's been underutilized in two seasons with the Spirit in which he's totaled 14 goals and 29 points in 129 games. The Bruins hope that the still very young man will be able to increase his production while retaining the pugilistic skill that no doubt earned him this selection. His fighting technique needs refining – by  technique I mean throwing wild punches with his head down – but he has the toughness to get things done.
Bruins' Grade – (C-) – Despite arguments to the contrary, this is quite a reach for the Bruins' Brass and will no doubt garner some raised eyebrows around the hockey community. With players like Jordan Binnington, Kale Kessy, Greg Hofmann, and Michael St. Croix available, Chia's got some 'splaining to do.
Projection – NHL/AHL 'tweener, Pugilistic Grinder, (10-10-20) – The selling point on Camara is he's a guy in the Shawn Thornton mold (which I consider high praise) and that his underlying skill and grit will power him through to NHL success. Color me skeptical, but I don't think he's a good enough fighter to overshadow his other deficiencies. If he displays a bit more production, he would be deserving of a NHL career.
4. Brian Ferlin, RW – Indiana Ice, USHL (6'2, 201) – The young Floridian from Indiana of the USHL was taken with Boston's fourth-round selection (121st). Passed over in 2010, this overager erupted onto the scene with the third-highest point total in the USHL. Despite a flawed skating stride, the Bruins tapped him as a future power-forward. Boston assistant GM Jim Benning stated, "He does the things that we covet. He's strong along the wall. He's strong protecting the puck. He takes pucks to the net. … he had a good year… he's a guy we see as a power forward playing in the NHL someday."
Bruins' Grade – (B-) – It's hard to judge a team for taking an overager when he's been so productive in the USHL. He's got stuff to work through, and will be heading to Cornell next season, but he's a smart gambit for the B's to take on.
Projection – Borderline NHLer /Third-Liner (15-20-35) – His skating makes the situation much more questionable than it should be. He's got the finish, grit and size sought-after by B's management, but he doesn't have much more than modest upside. Should he improve his skating, he would see a significant jump in his NHL potential.
5. Rob O'Gara, D – Milton Academy, USHS-MA (6'3, 185) – Milton defenseman Rob O'Gara has the size and mobility to earn him a late-round selection. Not particularly productive or talented in a puck-moving capacity, O'Gara has enough own-zone skill and physicality to earn a shot if he progresses. The future Yale collegiate is has solid hockey IQ and makes few mistakes with the puck. Efficient and disciplined, O'Gara needs to get stronger and a bit more proficient in the puck-moving department to improve his NHL chances.
Bruins' Grade – (B) – At this point in the draft, it's all about endgame skill and projection, and this kid has the tools to be a decent stay-at-home NHL defender in his future. Also, how can you go wrong selecting a kid from a local high school?
Projection – Final Pairing NHL Defensive Defenseman (5-10-15) – Mediocre offensive capability makes him unlikely to break into a second NHL pairing, but with the right growth and training, he has the look of a solid 6th defender and penalty-kill specialist.
6. Lars Volden, G – Espoo Blues Jr., SM-Liga Jr. (6'3, 198) – The big, athletic Norwegian netminder from the Finnish Junior leagues was selected by the B's with the final pick in the sixth round. Excellent reflexes and a large frame make him a solid project goaltender who has some modest NHL potential. Despite a poor WJC appearance, the B's like his lateral movement and long-term upside.
Bruins' Grade –(C-) – While it's inaccurate to say that that this was much of a stretch, the Bruins could have had several better goaltenders earlier in the draft if they were determined to take one. Volden's dimensions and quickness are solid and this late in the draft should he fail it's not much of a waste.
Projection – Starting AHL Goalie (.900-2.95) – Volden has all the ingredients of a good young goalie, but it's difficult to confidently project him making the NHL at this point. He has a long way to go (probably more than three years) before he'll even earn outside consideration for a NHL backup job.