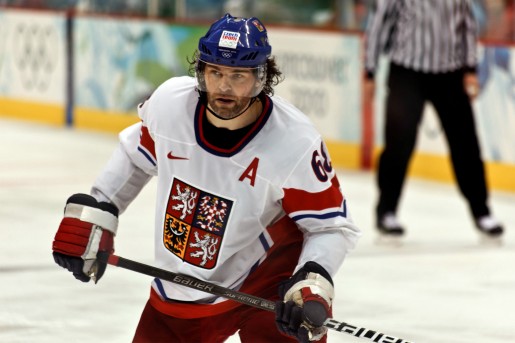 May 22 marked the ten-year anniversary of Jaromir Jagr's last game in a Pittsburgh Penguins jersey.
Depending on your ability to manipulate a Google search, you might be able to find an article in each of those ten years linking Jagr to a Penguins return.  Why would this year be any different?
Pittsburgh's early exit from the playoffs meant even more time than usual for rampant rumors and scuttlebutt.  It started with last month's World Championships in Slovakia where Penguins GM Ray Shero watched a hockey game, on ice, in which Jagr competed.  Jagr scored a hat trick in the game and many assumed Shero just needed a signature from Jagr to guarantee his spot alongside Sidney Crosby next season.
Not exactly, Shero told Rob Rossi of the Pittsburgh Tribune-Review:
"I don't understand where all this came from," Shero said. "Jagr is not a guy we've spoken about in a couple of years. We talked about him for a little bit after his time with the Rangers (July 2008), but that's about it."
With the buzz effectively killed, Jagr returned to the shadows.  He dumped his agent Pat Brisson and retained the services of Czech-mate Petr Svoboda.
Jagr, 39, has spent the last three years with Omsk Avangard of Russia's KHL and earned close to $6m last season.  He showed at the World Championships that he was still capable of performing at a high level, but there's no debating that his best days are behind him.  Svoboda says his client is still considering a return to Avangard, but reports over the weekend indicated an NHL return wasn't out of the question either.
"I've talked to Montreal, I've talked to Detroit, a few other teams called once they found out he was ready to go to [the] NHL," Svoboda told Pierre Lebrun at ESPN.com. "Hopefully we should have a better idea by tomorrow. There's quite a few teams that have interest. Jaromir feels he's NHL-ready again. I believe this might happen."
It isn't clear if NHL teams are actually clamoring for Jagr's services as Svoboda claims, but the agent does confirm that he has reached out to the Pittsburgh Penguins to gauge their interest.
Jagr has openly worshipped former-teammate and current Penguins owner Mario Lemieux in recent years and the drawing power of the franchise is no secret.  The city of Pittsburgh even built a new casino in 2009 that would've been convenient a decade ago when Jagr's 'friend was using his computer password' and racking up massive gambling debts.
But all kidding aside, Jagr really does need the cash.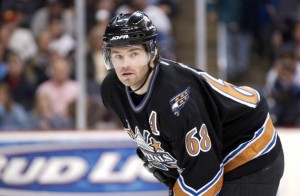 In February, the Prague Daily Monitor reported that Jagr had plans to take a majority stake in the Kladno organization of the Czech Elite League.  Jagr began his hockey career with the team in 1988 and for the last 17 years his father has served as manager.
In recent years, the team has tumbled down the standings and financial support from the local government reportedly faded.
"I'm seventy, it is no fun. It is humiliating and sad for me to see how the town approaches something I've been building and creating for 17 years," Jagr Sr said.
According to the Monitor, Jagr's father ran for local office in October 2010 but was unsuccessful in his bid.  Since that time, funding has dried up and the team came close to losing it's license to play in the country's top hockey league.  The hope is that with son Jaromir taking control, his drawing power and financial clout can help revive the struggling organization.
The KHL has also used the Jagr brand-name in similar ways since he first played with Avangard during the NHL lockout, but it's hard to imagine the league is still interested in paying a fading star $6m a season.
Jagr's capabilities and the NHL's salary cap would likely prevent him from earning anything close to that kind of money in North America either, but adding NHL teams to the mix might help Svoboda put pressure on Avangard.
Ken Holland and the Detroit Red Wings are the only NHL team to admit even the slightest interest in Jagr and Svoboda told the Detroit News that his client would be a great fit with the franchise.
As far as the Penguins go, Shero has not commented on the latest round of Jagr rumors and it's unlikely he'll do so in the future.
Many are quick to compare a nostalgic Jagr return to that of Alex Kovalev at the trade deadline this season, but the dynamics at play are entirely different.  Shero was in a desperate spot with Sidney Crosby and Evgeni Malkin out of the lineup this spring.  Many front offices would have closed up shop and taken a gutted roster as far as they could, but Penguins ownership gave Shero the green light to do anything short of mortgaging the future to salvage the season.
Crosby and Malkin are expected to be ready for training camp in the fall and desperation isn't part of the equation anymore.  With both stars healthy, the Penguins will be a Stanley Cup favorite just as they were at midseason last year.
Adding a potentially toxic element like Jagr to the locker room makes little sense.  The chance for upside is hardly worth even the smallest chance of catastrophe.  If there's one player in recent NHL history that has proven the ability to financially and emotionally ruin an organization, it's Jaromir Jagr.
As a GM building an NHL franchise, it's sometimes not the players you acquire, but the players you don't acquire that lead to success.  It's time to put the Jagr rumors to rest, once and for all.
__________________________________________
Follow @MikeColligan on Twitter or contact via email at MJColligan@gmail.com