With the NHL draft quickly approaching, faster than most of us thought, it is important to look at the Toronto Maple Leafs by position.
We are all aware of the fact that the Maple Leafs lack top line talent, both on the roster and for the future. But how do they look between the pipes? Have they solidified their goaltending for many years to come?
To help get a better understanding of what the Maple Leafs possess in goal, I got the chance to interview Justin Goldman, the head of The Goalie Guild. The Goalie Guild is by far the best independent goalie scouting service in the world. Justin has done a phenomenal job building his service and achieving respect for his scouting. Just check out his site, you will definitely be impressed.
Only one word goes through Justin's mind and that very fine word is "GOALIE." Here is part one of the interview:
Raihan: Who would you say is the Maple Leafs goaltender of the future?
Justin: I think the potential is there for James Reimer, Ben Scrivens and Jussi Rynnas to be solid starters for the Maple Leafs. The organization has improved their goaltending depth over the last year more than any other team in the NHL, so the door is wide open for all three goalies to take advantage of opportunities and become legit NHL goaltenders. Reimer obviously has the first crack at carrying the "goalie of the future" title for the Leafs due to his incredible rookie season, but Scrivens also had a very impressive rookie season split between the ECHL and AHL as well. Rynnas' season was good as well, except for an unfortunate finger injury and a few rough patches.
For Reimer, the pressure is on to see how he handles the inevitable ups and downs of his sophomore season. This will reveal a lot about his mental toughness, durability and character, all traits that are crucial to being a legitimate long-term starter in a hockey-mad market like Toronto.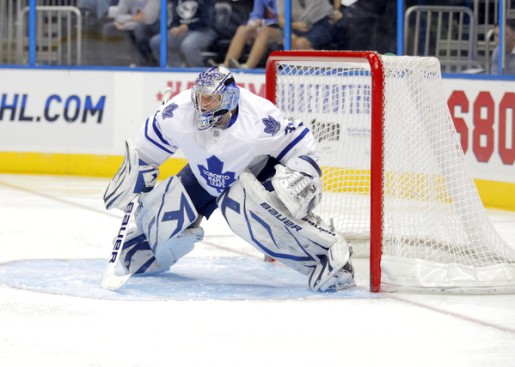 Raihan: Give us a brief scouting report on the Leafs new addition in goal, Mark Owuya.
Justin: I consider Owuya to be an aggressive, slightly unconventional and raw-skilled Swedish prospect. He's athletic and has a lot of room for improvement. He's what I would consider a work in progress, but capable of playing with a lot of confidence and in a more controlled manner depending on the rhythm of the game. His solid frame allows him to cover the net well, so he will only get better as his game becomes more structured and efficient.
It will not be easy for him to transition to the smaller ice surface right away, but working with Allaire this summer, and then hitting the ice with confidence and a strong work ethic when training camp rolls around will really help. I can't wait to see how he competes in North America. I won't be surprised if he impresses a lot of Maple Leafs fans, as he has a bit of flair to his game as well.
Raihan: Is Francois Allaire the right goaltending coach for the Leafs goalies?
Justin: This depends on the goaltender. To be honest, I think Allaire is the right coach for Reimer and Scrivens. They are two goalies that experience success when they play more of a blocking butterfly style. Every coach-goalie relationship is different, so some goalies match up better with Allaire's system than others. I think Scrivens is a real good fit for Allaire's coaching style, but as we have seen over the past year, it may not be working as well for a goalie like Jonas Gustavsson.
At the end of the day, Allaire is clearly one of the wisest and most experienced goalie coaches in the game. He does an amazing job of simplifying the position and helping goalies play the percentages. But how that coaching style meshes with the individual goalie is completely tied to that goalie's biomechanics and style. Allaire's style will work better for some goalies, but not so much for others. It just depends on many different factors.
Stay tuned for part two of this interview tomorrow where Justin will talk about what Jonas Gustavsson needs to do to solidify his name once again, whether or not Jean – Sebastien has anything left in the tank, and more! Expect the article to be posted some time tomorrow.
You can follow Justin on Twitter and Like his Facebook page.
Feel free to Follow me on Twitter.
If you have any questions or concerns, please do not hesitate to email me at: Raihanhussain@msn.com. All inquiries/suggestions are welcome!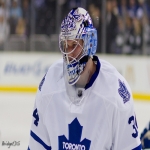 Raihan Hussain is a young writer making a name out of himself. He has covered the Toronto Maple Leafs for various websites including Sportshaze.com. He possesses extensive knowledge about the Toronto Maple Leafs from the top of the organization to the bottom.