With less than a week until the 2011 NHL Draft, I'd like to take a look at the performance of Peter Chiarelli, the General Manager of the Boston Bruins. Chiarelli's selections have only had a few years to develop, but there are some patterns and significant consistencies which may illuminate his probable choices in St. Paul this year.
In 2007, his first draft as acting GM, Chia made what was perhaps his most questionable selection. With the eighth overall pick he grabbed Zach Hamill; a center from the Everett Silvertips whom many predicted would go between five and ten spots lower. His size and finishing potential were concerns, but his perceived strong hockey IQ and playmaking abilities led Chiarelli to snatch him up early.
Needless to say, the decision has not panned out. After several productive years in the WHL, Hamill has been bordering on "bust" status with mediocre production and all-around play in Providence, where he's been leapfrogged on the depth chart by several young men. Tempering that assessment are the wealth of Centers in the Bruins' organization and the success of the team, which have undoubtedly curtailed his development. Adding to the failure of the Hamill selection were the presences of several quality talents available at 8th including Logan Couture, David Perron, Kevin Shattenkirk, and Jonathon Blum.
The selection of Tommy Cross with the B's second-rounder will bring inevitable criticism, but serious injury problems have considerably hindered his growth. Cross was rated higher than Shattenkirk and even Thomas Hickey on some boards. If he'd remained healthy it's possible that Cross would have been seen as one of the steals of 2007, but with all his lost progress it will be hard for that to ever be the case.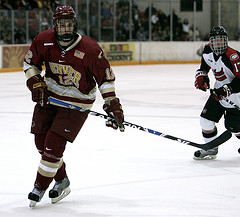 With only a few other late-round picks, Chiarelli selected Denis Reul, a defender from Deutschland who played five games with Providence before returning to Germany where he's since decided to remain. Reul's rights are no longer owned by the B's, which can only be seen as a failure, even for a 5th rounder.  Jordan Knackstedt was a solid late pick with career "tweener" as his current projection. Sixth rounder Radim Ostrcil has the unfortunate byline on Hockey's Future: "It seems unlikely that Ostrcil will ever suit up for the Bruins."
After his not-far-from catastrophic start in the 2007 draft, Chiarelli didn't exactly play it safe in 2008. Using the Bruins' first-round selection (16th) to grab towering but unrefined center Joe Colborne, the B's GM passed over a litany of young men who would go on to be successes in the NHL including John Carlson, Michael del Zotto, and Jordan Eberle. While Colborne's development was very deliberate, he was showing some signs of breaking out in 2011 when he was dealt to Toronto as part of a deal for Tomas Kaberle. At that time, he was the Bruins top prospect and still looked on pace to be a successful NHLer.
The choice of Maxime Sauve from the Val-d'Or Foreurs of the QMJHL excellent value at 47th, as many had Sauve as a late first-round-caliber player. He is currently one of the more successful youngsters in Providence and will probably grow to become a decent second or third-line forward in the NHL.
Despite what looks to be a "miss" (at least so far) with the selection of Michael Hutchinson, goalie, from Barrie of the OHL; Chiarelli scored a huge win, grabbing Jamie Arniel (who some considered to be a top-50 or higher draftee) with the 97th pick. Arniel has been productive in the AHL, and while his upside is limited to third-line in all probability, he's nearly certain he'll reach that potential.
In 2009, the B's GM grabbed Jordan Caron with the 25th overall selection, a solid selection but Caron was widely regarded as a guy with a low ceiling (a solid second or third liner in most eyes)… again, Chiarelli went with a kid with excellent intangibles like hockey sense, attitude and work ethic. The major risk factor involved was Caron's health, as he had missed some significant time with Rimouski. Still, as one of only two of Chia's draft selections to play significant minutes for the Bruins, he should be lightly lauded for this pick.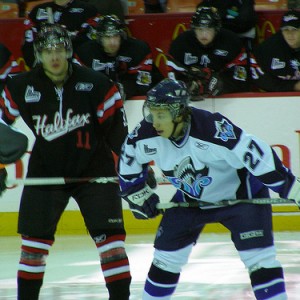 With his next pick, a third-round selection, Chiarelli and his team took Ryan Button, a big and mobile PMD from Prince Albert. Button's selection (in light of only two years of analysis) was a decent one … and with no names jumping out at me past his draft slot, it appears as it was correct. Button's growth hasn't exactly wowed prospect-watchers, but he possesses the size, skill and mobility to handle a professional game. Next year in Providence will be very important for Button.
With his final three choices the B's got Tyler Randell and Lane MacDermid, two big, strong wingers who play with an edge (they were looking to add some toughness and size to Providence) and Ben Sexton, a project center who has some skill but is and plays small. It's difficult to grade these choices one way or another because it will be a while before any of these three see NHL icetime.
In 2010, Chiarelli made the smart pick and grabbed Tyler Seguin from Plymouth of the OHL with the second overall selection. Chia should be applauded for this, since too often GM's think they can outsmart the system and grab someone off the board. The B's GM put his ego aside and took the kid many though could go 1st overall and was the unequivocal best player available.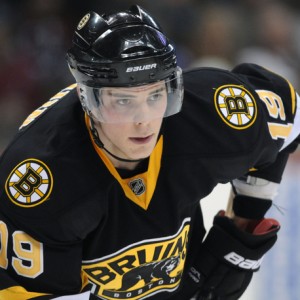 Undoubtedly, having a wealth of early picks for the first time in his career didn't go to Chia's head. With two selections in the second round he took Jared Knight from London of the OHL and Ryan Spooner from Peterborough. In their short time in the Bruins' system both have earned considerable praise and staked their claim to be the B's top prospect: Knight with power and heart and Spooner with excellent skill and vision.
Analyzing Chiarelli's late-round picks in 2010 is almost an exercise in futility, given that they've played less than a year as Bruins' prospects and have yet to break through to the professional ranks. However, Craig Cunningham has been a solid point producer in the WHL, and Maxim Chudinov, Justin Florek and goalie Zane Gothberg have each showed signs of their decent upsides.
Only five of his draftees have seen any NHL time: Hamill, Arniel, Colborne, Caron and Seguin. Seguin is the only player he's taken who won't be an NHL rookie at the start of next season. The brief time many of his picks have spent in the system does not exactly enhance analysis of his draft skills and tendencies.
Chiarelli can be labeled with three undeniably "poor" draft selections in four yrars (Hamill, Reul and Hutchinson) but also a high rate of potentially good ones (I count 8-9) including his last three first-rounders. The Colborne pick is tough to call, given the presence of some high-caliber guys who were still undrafted, but can be counted as a probable "win" considering the good NHL talent he brought in return. None of Chiarelli's picks are certain wins at this point, but as it stands now, the selections of Seguin, Knight, Spooner, Sauve, Arniel, and Caron deserve some acclaim.
As for tendencies, the Bruins under Chiarelli tend to grab guys with excellent intangibles like hockey sense and work ethic. Additionally in the mid and late rounds, he tries to pick up guys with intangibles and power in the forward ranks, and a grab-bag of defensemen, which mirrors his attempts to get a quantity of young D-men in trades with the hopes of some fraction panning out. He has yet to select a blueliner with his first-rounder and has only once grabbed a d-man with a second-rounder.
Looking toward the 2011 draft, it's probably correct to assume that Chiarelli will likely go with the best-player-available in the first round. Don't anticipate him sticking to the no-defender strategy if one of the best three d-men falls to him at ninth, particularly if it's Ryan Murphy, given his impressive upside. However, if a choice between two of the Nasty Nine is available, anticipate him leaning towards the guy with the more impressive Hockey IQ and work ethic. In later rounds, expect the B's to try to land more physical, "Big Bad Bruins"-types and a variety of defensemen.
It's too early to completely and precisely judge Chiarelli's draft acumen, even in the light of the failures of 2007 and the supposed successes of 2010. But his patterns: Skill early (and forwards in particular), grit late and the trend
towards projectable players with excellent intangibles should inform even the casual draft observer of his propensities. If Mika Zibanejad falls to 9th, regardless of who remains, his intangibles could see him drafted as the newest Boston Bruin. Likewise, as THW's own Chris Ralph indicates in his latest mock draft, David Musil would be a tempting choice should he fall to 40.
Bob is a Boston Bruins Correspondent for The Hockey Writers. He lives in the Boston Metro Area with his wife, Amanda and their five-year-old son, Cormac.