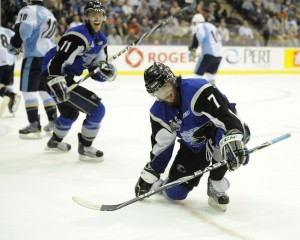 The tenure of Calgary Flames general manager Jay Feaster begins in earnest with the 2011 NHL Entry Draft next weekend in Minneapolis. After two straight years out of the playoffs, and seeing the team's most bitter rivals from Vancouver nearly win the Stanley Cup, Feaster will be hoping to re-tool the Flames for success in the New NHL.
DRAFT PICKS
For the first time since 2009, the Flames will have picks in each of the first two rounds of the draft. Calgary controls its own pick in the first round (13th overall), the Ranger and Capital second round picks (45th and 57th, acquired in the Tim Erixon trade) and their own 4th round (104th) and 6th round picks (164th).
The Flames traded away their second round choice to Toronto (in a trade for Anton Stralman and Colin Stuart back in 2009), their own third round choice to Edmonton (in the much-maligned Steve Staios deal at the 2010 trade deadline), their own fifth round choice (to the Rangers in the Tim Erixon trade) and their own seventh round choice (to Atlanta/Winnipeg in exchange for the now-retired Freddy Modin at the 2011 trade deadline).
THE CUPBOARD
Answering questions about what players the Flames will likely target begins with a glance at what prospects the Flames have in their system.
Goalies

: Miikka Kiprusoff is the team's star goalie and is under contract through 2013-14 and his hefty $5.83 million cap hit means he's likely to stay in Cowtown for the foreseeable future. Behind him are a bunch of question marks. Henrik Karlsson (UFA) was Kiprusoff's caddy last season and performed fairly well. Former first round pick Leland Irving (RFA) was among the American Hockey League's leaders in most goaltending categories, despite playing on a team that didn't score much and missed the playoffs. Until someone radically out-performs Irving, he's Kiprusoff's heir apparent, but he's likely a year away from the bigs. He'll be backed up by Finnish rookie Joni Ortio next season. The Flames presently have no college or junior netminders in their system.

Defensemen

: The Flames have their three "core" blueliners – Jay Bouwmeester, Robyn Regehr and Mark Giordano – signed long-term. After them, only Cory Sarich and young Brett Carson are under contract. It's likely that up to two new faces will join the Flames back end for the 2011-12 season. But whom?
Under contract in the minors are the oft-injured John Negrin, sophomore T.J. Brodie (who played 3 games with Calgary last season), Keith Seabrook (who was loaned to the Canucks farm team to get ice-time late last season) and 6-foot-9 Chris Breen. All but Brodie could be categorized as defenders in the Regehr/Sarich physical mold, as would RFAs Matt Pelech, Gord Baldwin and Josh Meyers.
Joey Leach of the WHL Champion Kootenay Ice and John Ramage of the NCAA's Wisconsin Badgers are Calgary's junior/college defensemen.

Forwards

: The Flames have 12 forwards signed for 2011-12 and only 4 for 2012-13 (Jarome Iginla, Matt Stajan, Rene Bourque and Curtis Glencross). As far as skilled offensive players, Calgary has Iginla, young Mikael Backlund, Alex Tanguay (if he re-signs) and…uh…occasionally Olli Jokinen, David Moss, Bourque and Glencross.
In the minors, it's not much better. The team's leading AHL scorers were Greg Nemisz, Lance Bouma and Ryan Stone. Ryan Howse and Roman Horak, an offensive one-two punch with WHL Chilliwack last season, are turning pro this season but remain untested at that level. The balance of the team's pro forward prospects are rugged, two-way players or projects.
Max Reinhart was one of the Kootenay Ice's scoring leaders and most clutch players during their WHL Championship run, while Bill Arnold was named to his conference's All-Rookie Team in the NCAA. Arnold is more of a long-term project, while Reinhart could emerge as an offensive stalwart when he turns pro.
STRENGTHS & NEEDS
Strengths

: During the Darryl Sutter era, the team drafted a large amount of character, two-way forwards and physical defenders. Greg Nemisz is arguably the best example of the Sutter Era draftee – a character player from a decorated junior program. Unlike some of the other draftees from the era, Nemisz successfully made the jump to pro and seems to be on his way to finding a regular NHL spot. Ditto for Lance Bouma, a teammate of Milan Lucic in the Vancouver Giants organization. Defenders like John Negrin, Matt Pelech and Chris Breen. If netminder Leland Irving can put together a strong training camp, he'll put pressure on current back-up Henrik Karlsson and Flames management.

Needs

: Mikael Backlund is arguably the first (and only) Flame draftee to make an impact on the team's roster since 2001 draftee David Moss and 2002's Eric Nystrom. That's a pretty massive gap. The loss of Tim Erixon makes the search for another Phil Housley (an offensive-minded, puck-moving defender who can quarterback the power-play) basically narrowed down to T.J. Brodie. Outside of Irving, it's unclear how deep the Flames goaltending pool really is – particularly since Joni Ortio has played one game in North America.
LIKELY TARGETS
Under former general manager Darryl Sutter, the Flames focused primarily on big, strong, western Canadian players and the sons of former NHLers. This being the first draft for Jay Feaster at the helm, it's anticipated that Feaster's perspective will be revealed, primarily in the opening round. While it's unlikely that Feaster will get to make a statement pick the way Sutter did when he chose Dion Phaneuf at the 2003 draft, he has a lot of picks to work with.
The Flames tweaked their scouting staff over the past two years and last year's draft showed a marked improvement in the later-round picks (including Team USA World Junior captain John Ramage and WHL champions Joey Leach and Max Reinhart). The general trend was a move towards more skilled players, a trend that should continue in this year's draft considering the types of players the Flames have in abundance in their system.
While it's difficult to prognosticate exactly which players Calgary will choose, the departure of top European prospect Tim Erixon may give them cold feet about choosing European prospects. The Flames also got a good look at a lot of the CHL's best teams while watching Max Reinhart and Joey Leach during Kootenay's playoff run – perhaps giving them more reason to choose players from Moose Jaw, Saskatoon, Medicine Hat, Portland, Owen Sound, Mississauga or Saint John.
I'd expect the Flames to grab a North American goalie in one of the later rounds, given that they need a junior or college player in the pipeline. Given that the 2012 draft is projected to be quite strong with defensive prospects, the team probably won't grab a blueliner…unless Duncan Siemens of Saskatoon is available. But Saint John's Zack Phillips or Tomas Jurco or Portland's Sven Bartschi or Ty Rattie could find their way to Calgary in the first round, primarily because the Flames will have seen enough of them to think they know more about them than other teams do.
PARTING SHOTS
The Flames do not have any major junior prospects outside of the Western Hockey League. They haven't drafted a QMJHL player in the first round since Denis Gauthier was chosen in 1995. When they draft European players, they tend to draft from Sweden or Finland.