Say what?
The San Jose Sharks, a team that has advanced to the Western Conference Finals two years in a row and armed to their razor-sharp teeth with elite snipers Dany Heatley and Patrick Marleau, young speedster Devon Setoguchi, the versatile 32-goal scoring Logan Couture, and playoff hero power forward Ryan Clowe on the second line, looking to add organizational depth at the wings in this year's draft?
When drafting 28th overall, the general strategy is to go for the best player available at the time, but the short answer to the question above may be a simple one:  yessir.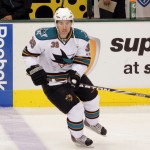 Organizationally, the Sharks are stocked on the big club for continued success over the next several years.  Along with a formidable 1-2 punch up the middle in Joe Thornton and Joe Pavelski, they possess the Calder candidate Couture, who can play both center and left wing.  The left side starts with one of the league's best in Marleau, and is augmented by both Couture and power forward Ryan Clowe, who tallied 56 goals between them in 2010-11.  The defense is somewhat unspectacular, but solid nevertheless, led by the highly-skilled Dan Boyle (75 goals in his last five full NHL seasons) and supplemented by Marc-Edouard Vlasic (20:51 ATOI, 18 points, +14), Jason Demers (19:29, 24 points, +19) and Douglas Murray (19:36, 14 points, +5), all signed through at least the 2012-13 season.  Antti Niemi (2.38, .920) will continue as the undisputed #1 goaltender for the foreseeable future.
Farm depth at center includes Cody Ferriero and Freddy Hamilton, both fifth-round selections with aspirations of top-six upside, along with Marek Viedensky.  The organization's top defensive prospects/young players feature man-mountain Taylor Doherty, Nick Patrecki, Justin Braun and William Wrenn.  In net, Thomas Greiss awaits his opportunity for a backup role, with Alex Stalock and Harry Sateri a bit further behind on the depth chart.
So what about the wings?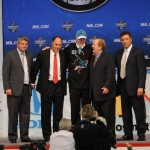 Due primarily to a perennially low draft position, the Sharks aren't laden with blue chippers at any position.  Charlie Coyle, selected 28th overall in the 2010, is the organization's top forward prospect, but likely years away from potentially making an impact at the NHL level.  Cam MacIntyre is a 25-year old AHL'er, yet to make a splash on the professional level.  James Livingston was an over-ager in Plymouth last year and posted a respectable 50 points in 62 games, although the OHL is saturated with players at that level of production.  James Marcou, a playmaking C/RW who played his first professional season in 2010-11, showed some offensive ability, but also lack of defensive skills, as his -12 in limited action would attest.
On the left side, things are even more problematic.  When the top left winger in the organization is a 6th rounder with little natural goal-scoring ability (Tony Lucia), the situation would appear a bit bleak.  Brandon Mashinter has size and will chip in a few goals at the lower levels, but doesn't project to be more than a bottom-six depth player in the NHL.  Frazer McLaren does what all NHL'ers named McLaren do:  throw the body and fight.  John McCarthy isn't going to make anyone forget Sandy McCarthy, anytime soon — or Charlie McCarthy, for that matter.
With that said, it seems probable that the Sharks will look toward improving their organizational depth at the wings.  The following are six potential candidates (obviously depending upon availability) when San Jose is up to bat with their #28 overall pick in this year's draft:
Nicklas Jensen – Likely to not be available at #28, Jensen nevertheless appears to possess all the tools necessary to be a top-six scoring winger at the NHL level.  Blessed with height, blazing speed and top-end skills, the native of Herning, Denmark notched 58 points in 61 games for the OHL's Oshawa Generals last season, along with five points in five games for Denmark in the WJC.  A microcosm of his ability can be seen in the following clip:
Joel Armia – Armia is a future power forward still growing into his 6'2″ frame.  He played in the Finnish Elite League at the tender age of just 17, and scored 18 goals in just 48 games, ranking second on his club.  His strength is his shot, which has been (likely unfairly) compared to Teemu Selanne's.  In the video below, he demonstrates quintessential north-south scoring while some Finnish dude babbles unemotionally in the background:
http://www.youtube.com/watch?v=_nQkko62j8w
Brandon Saad – Saad has some sad (in the same context as bad) skills in terms of winning puck battles and getting into prime scoring areas.  A 6'2″, 200 pound left winger for the Sagina Spirit last year, he notched 27 goals in just 55 games, tying for second-best on the team.  Not known as a power forward per se, Saad projects as a potential 'tweener second/third liner in the NHL some day.  The clip below shows how he can do it, with the goalie sadly frozen by the quick shot from the slot:
Matt Puempel – When you watch the clip below, you see a dynamic, net-driving force that seems to enjoy scoring from in-close at top speed.  Puempel was the leading scorer for the Petersborough Petes in both 2009-10 and 2010-11 with 33 and 34 goals, respectively.  Just 17, he should continue to fill out his 6'0″, 190-pound frame, and although his offense appears advanced, his defense still needs work:
Ty Rattie – The Portland Winterhawks seem to possess about 20 pro-ready forwards, with Rattie being yet another one.  More of a playmaker than a scorer, Rattie nonetheless scored 28 goals and tallied 51 assists last year, feeding the likes of blue-chippers Ryan Johansson and Nino Niederreiter, along with the projected 2011 first-round prospect Sven Bartschi.  His passing skills are elite level, and as with most juniors prospects, his defense will need refining before he makes an impact at the pro level:
Tyler Biggs – Maybe his nickname will be Mr. Big. Biggs is a strong penalty killer, will sacrifice his body, and although he hasn't put up huge numbers yet at lower levels, he projects to a potential 20/20 player if he continues to develop.  He has shown a knack for playing "big" in big games, further underscoring his fortuitous last name and potential future nickname:
http://www.youtube.com/watch?v=nOQLt_zXhDc