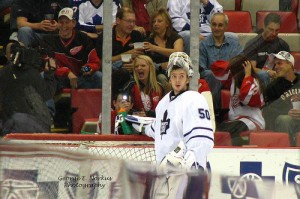 Yesterday on The Hockey Writers I posted part one of an interview with Justin Goldman of The Goalie Guild. Its logical to check out that article before you go on reading this but here is part two of the article:
Raihan: What does Jonas Gustavsson need to do to make sure he solidifies himself next year so he can at least play some games.
Justin: I think Gustavsson has to embrace what made him so successful in Sweden and re-inject some of those elements back into his game. He's the type of goalie that thrives on reading and reacting, so I'd like to see more of that in his game next season. He tends to look very tense at times because he puts a lot of pressure on himself to display "perfect" technique. Ultimately, a lot of this relates to his mindset. He has been better than the media and fans think, and I feel like he has progressed nicely over the last two seasons.
He hasn't experienced the type of statistical success many had hoped for, but by no means is he a lost cause.
I think approaching this season with a "nothing to lose" attitude will really help his game. He just needs to go out there and play his game in a relaxed and attentive manner. He needs to forget about the things he can't control and focus on staying healthy and confident. To be honest, really the only "knock" against him is rebound control and timely saves. If he can absorb more shots and instill more of a calming influence in the crease, he will no doubt be rewarded with more wins and therefore more starts. I think he and Reimer will make a terrific tandem that will challenge each other to play, and practice, at their best every day.
Raihan: Does J.S. Giguere have anything left in the tank?
Justin: This depends on the health of his groin, back and hips. I can't comment on that since I don't know how surgery went, or how his rehab is going. If he is healthy, I think he makes a terrific mentor and experienced veteran for many NHL teams. But his role will be greatly reduced and I don't see him coming back to play for the Leafs.
Raihan: Which goaltender has a better skill set: Ben Scrivens or Jussi Rynnas?
Justin: I have to go with Rynnas on this one. His ability to display such great footwork and quickness for such a large goalie is phenomenal. Of course he has many adjustments and improvements to make, but if we are talking pure skill, Rynnas is the more talented goalie right now. He is capable of being moled into a very balanced goalie that can make pure reaction saves, but also use his size to his advantage and make the more technical blocking saves. He has the potential to be a very special NHL goaltender someday.
That being said, I think you will see Scrivens close the gap over the next few years and continue to improve as well. It's going to be a great battle between Scrivens and Rynnas in training camp, one that I will certainly keep a close eye on.
Raihan: How good of a goaltending crop do the Leafs have and where would you rank them amongst the rest of the teams?
Justin: Toronto's depth is exceptional, especially with their most recent addition of Mark Owuya. I would say the only goalie that doesn't have NHL potential right now is Grant Rollheiser, but he is still very early in his development process. I would consider Toronto's goaltending depth to be in the top-half of the league, possibly around the 10th or 11th best overall.
Thank you to Justin Goldman for doing this interview. The Leafs have a lot to look forward to when it comes to goaltending. No other additions are needed as the Leafs have stacked their depth chart between the pipes. They can comfortably focus on improving in the other positions, especially on the first line.
The draft is scheduled to go down this weekend starting Friday night where the first round will be held. Are you excited yet?
You can follow Justin on Twitter and Like his Facebook page.
Feel free to like my Facebook page and follow me on Twitter.
If you have any questions or concerns, please do not hesitate to email me at: Raihanhussain@msn.com. All inquiries/suggestions are welcome!