Please "Click Here" for "Notes Up Front" and the "Legend" for various topics covered below in my "Live Updated" NHL 2011 Draft Preview article – The Next Ones.
Tyler Biggs
Date of birth: April 30, 1993
Place of birth: Cincinnati, Ohio, USA
Ht: 6-2 Wt: 200
Shoots: R
Position: Right Wing
NHL Draft Eligibility: 2011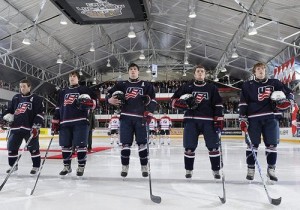 One-Timer:
Admittedly, I question the power forward's upside especially in terms of offense, but his work ethic is unflappable and he is a safe pick in terms of filling out your bottom two forward lines. He could be quite the disruptor as a third or fourth line power forward, and has top six forward upside.
My co-conspirator at The Hockey Spy, Eldon McDonald anointed Tyler "The Determinator". In his words:
Tyler Biggs is a guy who has taken a lot of abuse in fan forums and blogs. While some of it may be justified, most of it relates to the fact he was rated as the fifth best North American skater by NHL Central Scouting in their mid-term rankings and Tyler just did not have the skill set to justify such a lofty status. While Tyler may not be a number five guy, he does bring value as a number fifteen guy (Bob MacKenzie's scout consensus) because he is one of those players who can determine the outcome of a hockey game and determine it early because of his demolition derby style of play backed up by NHL power forward size and strength. All you have to do is look at the Stanley Cup Finals where all the games were won by the team scoring the first goal and generally by the team outmuscling the opposition. Would Vancouver Canucks have won the Stanley Cup if they had a seasoned version of Tyler Biggs in the lineup? Would Vancouver have got by the Chicago Black Hawks if Chicago had a seasoned Tyler Biggs in their lineup? A lot of NHL General Managers would probably answer "no" to both questions which is why Tyler Biggs is rated so highly in this year's draft.
So what other skills does the top power forward in this year's draft bring to the table? Well, Tyler brings NHL skating skills, an NHL shot, an NHL one-timer, decent passing and NHL pugnistic prowess.
Top Prospects Game: N/A
Statisics:
Scout's Honor:
"Biggs is terrifying to match up against as he is a big, strong kid who knows how to use his biggest assets to his advantage. His intimidating and crushing physical forechecks open the door for a lot of offensive pressure and he has proven that he can take advantage of that around the net. He has a great shot with a good quick release but does most of his offensive damange directly in front of the net."
– International Scouting Services 2011 Draft Guide
"He has that leadership quality … that desire, that passion, that competitiveness. He just never quits. He's a young player who has taken the role as leader of his team. He does most of their fighting when they have to fight. He's kind of the guy that when someone starts picking on somebody, he's standing up for them. I think while wearing the 'C' may have taken a little away from his offensive finish, my gut feeling is that I can't think of anything else but an uphill path for Tyler."
– NHL Central Scouting's Jack Barzee
"We love his compete level, as Biggs hates losing a board battle let alone a hockey game. He has the ability to take over a game when he is on. When he brings his full blown nastiness he is just plain fun to watch. Biggs is a very coachable prospect who oozes upside and could easily be a top 20 pick. Biggs needs to refine his scoring skills to become an NHL top 6 forward but is a very safe bet to make the NHL and slide in as a 3rd liner."
– HockeyProspect.com's 2011 NHL Draft Guide
Bio/Interview(s)/Link(s):
International Tournaments: (Wikipedia)
Biggs represented the United States internationally playing for Team USA in the 2010 World U-17 Hockey Challenge, scoring 5 goals and adding an assist in 6 games, helping the US to a gold medal finish over. That same season he competed for Team USA in the 2011 IIHF World U18 Championships, finishing the tournament with no points in 7 games. A year later he played in the 2011 IIHF World U18 Championships and scored 2 goals and had 1 assist and 49 penalty minutes in 6 games during the tournament,[3] including the overtime goal in the semifinal round against Canada.[4]
ETA = 2-3yr
Risk-Reward Analysis:
Risk = 2.5/5   Reward = 4/5
NHL Potential:
2nd line power forward upside, with 3rd line disrupting power forward downside
Strengths:
*See "One Timer" section above.
Size
Strength
Leadership
Compete level
"Nastiness"; plays with an edge
Battle level along the boards
Solid skating
Coachability and willingness to work on complete game
Flaws/Aspects He Needs To Work On:
Improve burst, acceleration.
Continue to develop his neutral and defensive zone acumen.
Develop consistent scoring touch.
Fantasy Hockey Potential: Offensive = 7/10   Defensive = 8/10
NHL Player(s) Comparison:
– Milan Lucic, Dustin Brown
Video(s):
Off The Iron (Interesting Notes):
His father, Don Biggs, was drafted in 1983 by Minnesota (156th overall) and in 1987 he played 11 games with the Philadelphia Flyers. After a successful stint with the Cincinnati Cyclones in the IHL, his jersey (No. 22) was retired. He is currently the head coach and GM for the Junior 'A' Queen City Steam, in the Central States Hockey League. (NHL.com)
Chason Perry, DNA's Program Director, trained Biggs. "Tyler is an extremely gifted athlete," said Perry. "He is the kind of athlete you dream of training because of his work ethic. I've worked with a lot of professional and collegiate athletes and Tyler definitely possesses the mentality, desire and physical and mental attributes it takes to play at the next level. I believe Tyler will have an extensive and successful career in the NHL if he continues to work as hard as he did here at DNA Sports Center."
THW's The Next Ones prospect profile template design architect: Chris Ralph
Christopher Ralph is THW's prospect and draft analyst