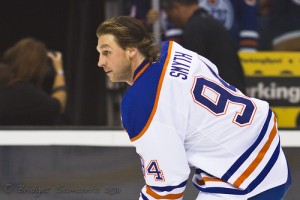 There was a time that Ryan Smyth and the Edmonton Oilers were synonymous with each other. Smyth's hard-nosed play and unwavering dedication made him a fan favorite in Edmonton. He was the proto-typical power forward. He scored a lot of goals because of his ability to crash the net and clean up the trash. His was a very effective player for the Oilers during their cup run in 2006, but at the trade deadline in 2007, he was dealt to the New York Islanders, going from a key part of the team, to a moveable asset.
Despite making the playoffs, the Isle's didn't make it out of the first round, and Smyth chose not to resign. Instead, he signed a five-year contract with the Colorado Avalanche, but injuries limited his effectiveness and he was traded to the Los Angeles Kings in 2009. It seemed like Smyth was a perfect fit for a young Kings team on the rise. He was a savvy veteran, and provided leadership on and off the ice. But he requested a trade back to the Oilers in the summer of 2011. His wish was granted, though he missed out on a Stanley Cup championship with the Kings that season.
Smyth had a good year last season, scoring 19 goals and 46 points. But things haven't been going well this year under new head coach Ralph Krueger. Smyth has seen his ice-time go down, and he was a healthy scratch for the Oilers last game, and obviously that didn't sit well with the veteran.
 "I'm a competitor, so it was tough to take. But I have to respect the coach's decision and what he thinks is best. I've got to get my game better, collectively. I feel I still have a lot to give to this team." (Edmonton Oilers)
Former NHLer Rhett Warrener had some pretty harsh words regarding Smyth, a sentiment that is starting to be met with agreement around the hockey world.
 "Ryan Smyth is revered in Edmonton, but he's slowly turning into a joke there. That's harsh, but he's not the player he was — and fans are turning on him. Do you want that here with Jarome [Iginla]? As with any player, when your production starts to drop off, your importance levels go with it and the loyalty disappears. And it happens quickly." (Edmonton Journal)
Now make no mistake. Ryan Smyth is no Jarome Iginla, who has been the face of the Flames franchise for over a decade. Fans in Calgary don't have much to hang their hopes on, whereas the Oilers have so much young talent, and Ryan Smyth is becoming an after-thought, if he isn't one already. Once household name in Edmonton, Smyth's best days are behind him. He's 36, but the kind of game he's played his whole career has taken a toll on his body. He hasn't been able to play the style of hockey that used to make him effective. The speed of the game is passing him by, and he simply can't keep up. There's no doubt he is still providing leadership to a young team, but his contributions on the ice are insignificant.
[manual_related_posts]
Most players end up losing a step at the tail end of their career, Ryan Smyth certainly wouldn't be the first to have that happen. But on a team like the Oilers, with so many players coming in and so much talent to go around, is there a spot in the line-up for Smyth? Or rather, should there be?
Ryan Smyth seems like a perfect fit on a team like the Oilers. They need someone with experience and intangible leadership qualities. But Smyth needs to understand his role with the team, and it seems like that role isn't totally clear. Maybe he feels he deserves more ice time, and clearly he feels that he can contribute on the ice. And maybe he still can play an important role on the ice for a team in the NHL. It's just not clear whether the Oilers are going to be that team.