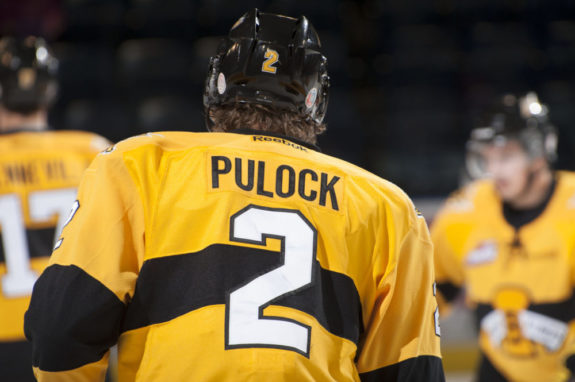 Ryan Pulock THW Close-Up:
Date of birth: 10/06/1994
Place of birth: Grandview, MB, CAN
Ht:  6'1″ Wt: 211
Shoots: Right
Position: Defenseman
NHL Draft Eligibility: 2013 1st year eligible
Twitter: @rpulock2
THW The Next Ones Ranking (January 2013): 8th
Other Rankings
***
[NHL 2013 Draft Guide – The Next Ones Draft Headquarters: Your quintessential draft resource]
***
Puluck: More than a Rocket Shot
If you know anything about Ryan Pulock, you probably know he possesses an absolute rifle of a shot. Yes, the best blast from the blueline in this year's draft class is likely an honour that should be bestowed upon Pulock.
But his game is more than his much marvelled shot.
Ryan projects to be a future powerplay quarterback and all-around effective blueliner.  He generates offense though good decision making, accurate passing and effectively utilizing his booming shot. He has a low panic threshold, high awareness and makes good on opportunities as the circumstances allow.
Pulock is an unflappable defender. Although he could stand do be more physical, he has grown the defensive side of his game as a positionally sound defenseman who anticipates the play very well and utilizes a good stick to break up plays. His skating allows him top notch recoverability should he get caught pinching in on the play.
His leadership skills and maturity were on fine display this season. He captained the Brandon Wheat Kings though a tough 2012-13 campaign. He also battled through a wrist injury, which cost him an appearance in the CHL Top Prospects game.
The numbers lie – from time to time. Upon first glance of Pulock's stats line, without knowing his full body of work, one might get the impression he has regressed this season. You couldn't be further from the truth.
Last season, Pulock notched 60 points (17G, 53A) with a +33 rating in a stellar season. This season, one hampered by injuries (especially the second half after his wrist injury), he registered 45 points (14 G, 31 A) in 61 games. His Brandon Wheat Kings also went from a playoff squad to last place in the WHL's eastern conference. Pulock was also tied for the team lead in scoring, playing 5 games less than co-leader Tim McGauley.
Where Will He End Up in June:
While he was ranked 8th overall in The Next Ones Midterm Top 100 Rankings (January, 2013), he landed in Buffalo with that same 8th overall slot in The Next Ones April Edition Mock Draft. He'll likely land anywhere from 8th to 18th overall which is quite a range; some scouting services seem to have him slipping.
Scout's Honour:
"Pulock is a cerebral, smooth skating, offensive minded blueliner with outstanding mobility and agility. He has the ability to consistently produce offensive chances from the backend. He makes strong reads and reacts quickly in transition whether defensively or offensively. Pulock likes to rush the puck up the ice, makes strong and accurate passes that are typically well timed. He has nice vision that allows him to read the play and see his options. He can also generate second and third chances for his forwards off rebounds from his strong point shot. He is an excellent power play QB."
– Aaron Vickers, Managing Editor – Future Considerations (via FC's player profiler)
***
"Pulock has such great vision and anticipation away from the puck. Great quick thinker, very good mature two-way ability."
Ross MacLean,  Head Scout – International Scouting Services
***
"December 2012 – Ryan Pulock is a smart, two-way defenseman with a cannon of a slap shot. Pulock came into this season as one of the top defenseman in the entire WHL and he has continued to produce. The Brandon Wheat Kings captain has 29 points in 30 games this year. Pulock's smart game mixed with his versatility and overall skill set should translate well at the next level. He could definitely improve on the physical aspect of his game and make better use of his good frame.

Top pairing potential with the ability to produce on the power play."
–  Zenon Herasymiuk, DobberProspects.com
***
"Very steady, effective and efficient player. His strength is founded on an overall game that is consistent and dependable. Very good puck skills that is augmented by an outstanding shot. Very good vision and awareness and he creates offensive chances. He plays with poise and logs all of the important minutes for his team and he plays with a calming influence."
– Craig Button, TSN
Bio/Interview(s)/Link(s):
On the Cusp; Ryan Pulock, Brandon Wheat Kings http://t.co/8mRm3leL

— The Hockey Writers (@TheHockeyWriter) August 23, 2012
International Tournaments:
Ryan registered 2 points in 6 games in helping Canada win the bronze medal at the 2012 World Under-18 Championship.
Hockey Canada not bringing Pulock at the very least to tryouts for the World Juniors was perplexing.
ETA :
2 years 
Risk-Reward Analysis:  
Risk = 0.5/5   Reward = 4.5/5 
NHL Potential:  
Top 3, two-way defenseman and powerplay QB 
Strengths:
Shot
Leadership
Poise
Competitiveness
Offensive upside
Awareness
Anticipation
Skating 
Flaws/Aspects He Needs To Work On:
Continue to train to increase strength and add mass to frame to handle the rigors of the NHL.
Continue to develop his defensive zone acumen, enhancing his physical presence. 
Fantasy Hockey Potential:
Offensive = 8.5/10   Defensive = 8/10
NHL Player(s) Comparison:
– A morph of Erik Karlsson and Kevin Shattenkirk, if you can envision that; obviously everything would have to go perfect in Pulock's development to come anywhere near accolades of Karlsson.
– Hall of Fame comparison:  Al MacInnis – it took the former Flame and Blue some time to develop his all-around game, but what a defenseman he morphed into. Pulock can only hope to chart a similar course.
– Cross-sport comparison: Matthew Stafford – the Detroit Lions QB has a cannon of an arm; Pulock is a powerplay QB with a cannon of a shot.
Video(s):
Off The Iron (Interesting Notes):
Ryan was originally drafted as a forward; he was a 7th round selection in the 2009 WHL Bantam Draft. He subsequently grew by 3 inches and put on 30 or more pounds and made the transition to the blueline.
Pulock was chosen as the honourary prospect of the 2013 Director's Cup Prospects program for Hockey Manitoba. (Winnipeg Free Press)
He recorded a 102 MPH slapshot in this season's Brandon Wheat Kings' skills competition.
***
THW's The Next Ones prospect profile template design architect: Chris Ralph
_________________________________________