This is the second edition of THW's 2013 NHL Mock Draft – The Next Ones April Edition.
Whether it be the Phoenix Coyotes going off the board to take a Blake Wheeler or the Los Angeles Kings selecting Thomas Hickey seemingly out of nowhere, one's mock draft can be wrecked quicker than Nathan MacKinnon can do a lap around the rink.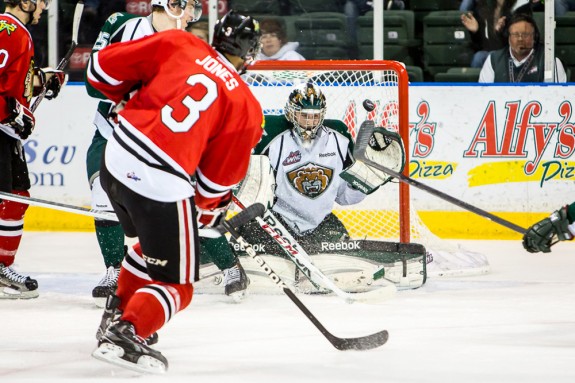 NHL Draft Lottery:
NHL Draft Drawing will take place on Monday, April 29, 2013 for the 14 non-playoff teams. The entry draft will be held on June 30th at the Prudential Center in Newark, New Jersey, with all seven rounds occurring on the same day this year.
According to TSN Hockey analyst Bob McKenzie, the NHL Draft Lottery will not be changing in a major way this year, but there is a significant tweak with the new CBA:
"…the league discussed making odds for the 14 non-playoff teams more balanced, but it won't happen this year.

The only difference in this year's draft lottery will remain that the team that wins the lottery will be awarded the first overall pick. In previous years, winning the lottery only allowed a team to move up a maximum of four places in the draft order."
Notes Up Front:
The order used in this mock draft is based on the teams' actual standings as of Apr. 9th.
This is not an attempt to rank prospects. This is mere a guesstimate at what teams might choose if they were to draft today based on weighing out best player available with team need and past experiences at the draft table, with an obvious dose of influence from my personal thoughts.
*** The Next Ones Top 100 Midterm Rankings ***
For much more information on the NHL entry draft, be sure to check out our live updated draft home page: 
2013 NHL Entry Draft Guide – The Next Ones
***
2013 NHL Mock Draft: The Next Ones April Edition
Seth Jones
Ht/Wt: 6′ 4″/205 lbs
Position: D
Team: Portland (WHL)
Forsberg retired on Landeskogs first game. Sakic on Duchenes first game. So that sets the table for Foote and Seth Jones.

— Dario (@DarioinDenver) April 12, 2013
Maybe the best blueliner prospect since Chris Pronger, Popeye's son seems almost destined to singlehandedly revamp the Avs' less than stellar defense corps. Avalanche Hall of Famer Joe Sakic even had a hand in Jones' early development.
Nathan MacKinnon
Ht/Wt: 6′ 0″/185 lbs
Position: C
Team: Halifax (QMJHL)
One of my favourite things Nathan MacKinnon does is to dish out a heavy hit when someone's trying to check him Just did that to Poirier.

— Willy Palov (@WillyPalov) April 10, 2013
Panthers hope MacKinnon develops into an explosive NHL sniper like his cross-state rival, Steven Stamkos of the Tamp Bay Lightning.
Jonathan Drouin
Ht/Wt: 5'11″/185 lbs
Position: LW
Team: Halifax (QMJHL)
The Next Ones Draft Rankings has had the dynamic winger with astronomical skills and hockey IQ ranked #1 since January. While the Flames agonize over Drouin versus Barkov and had hoped MacKinnon falls one more slot, they get the most purely talented player in the draft. Drouin makes everyone on the ice better. He's also the newly crowned Human Hockey Highlight Film.
Aleksander (Sasha) Barkov
Ht/Wt: 6′ 2″/209 lbs
Position: C
Team: Tappara (FIN)
Highly touted Sasha Barkov hurt shoulder in SM-liiga playoffs, needs surgery, rehab may take five months: http://t.co/JEficW3XY1

— Jouni Nieminen (@OnsideWithJouni) April 2, 2013
As long as he gets clear bill of health, Sasha is the obvious choice for Steve Yzerman and staff. He has had an impressive season in Finland's top men's league (SM-Liiga) given it is his first year of draft eligibility, finishing 9th in league scoring.
Darnell Nurse
Ht/Wt: 6′ 4″/190 lbs
Position: D
Team: Sault Ste. Marie (OHL)
Darnell Nurse holding strong at 8 in #2013NHLDraft Consensus Rankings from @NHLnumbers. http://t.co/TdDCtlFHns

— Soo Greyhounds (@OHLHoundPower) April 13, 2013
The Flyers seem the perfect fit for nephew of former Eagles QB Donovan McNabb – will they trade up to secure him from the Canes?
Elias Lindholm
Ht/Wt: 6′ 0″/190 lbs
Position: C
Team: Brynäs (SWE)
Elias Lindholm's 30 points in 48 games in the SEL for a draft eligible one of the best in a while. Backstrom in 2006 scored 26 in 46 GP.

— Corey Pronman (@coreypronman) March 5, 2013
In 1991, the Flyers drafted Peter "Foppa" Forsberg, only to later deal him to the Quebec Nordiques as part of the notorious Eric Lindros blockbuster trade. Lindholm is much more a household name compared to Forsberg at the time he was drafted (who was deemed a likely late 1st round, early 2nd round selection heading into the 1991 draft in Buffalo, New York). Flyers hope they have even half the player in Lindholm.
Sean Monahan
Ht/Wt: 6′ 2″/186 lbs
Position: C
Team: Ottawa (OHL)
Draft eligibles up for the Red Tilson Trophy as the OHL's most outstanding player include Kerby Rychel (WIN) and Sean Monahan (OTT).

— Aaron Vickers (@AAVickers) March 22, 2013
He seems to stay out of all the draft limelight, but the Preds might have found their first true franchise center.
Ryan Pulock
Ht/Wt: 6′ 1″/210 lbs
Position: D
Team: Brandon (WHL)
Draft prospect video 6 NA skater Ryan Pulock(D) 6'1 211 http://t.co/JF9aTPoNYQ slapshot clocked at 102 at Wheat Kings competition

— CBJ Prospects (@CBJProspects) March 29, 2013
The Jason Pominville trade reinforced the prospect foundations. Pulock stock seems to be dipping in some rankings, but Sabres envision his absolute cannon of a shot terrorizing opposing netminders to go with his all around game.
Hunter Shinkaruk
Ht/Wt: 5'11″/175 lbs
Position: LW/RW
Team: Medicine Hat (WHL)
Hunter Shinkaruk (@H_S_9) is @FCHockey's draft eligible Forward of the Month for March! http://t.co/Ae8tLOY5Gi

— FCHockey (@FCHockey) April 7, 2013
Shinkaruk is an elite offensive forward with outstanding instincts and skating ability. The Blue Jackets get the potential game-breaking forward they covet.
10 Edmonton Oilers
Nikita Zadorov
Ht/Wt: 6′ 5″/230 lbs
Position: D
Team: London (OHL)
Like Larry Robinson reborn… Nikita Zadorov carries into the Ranger zone, absorbs a hit a sets up Ryan Rupert… 3-0 Knights.. #OHL

— Mike Stubbs (@stubbs980) April 13, 2013
The colossal blueliner with ever-evolving skills and decision-making will be another key piece in the Oilers evolution to an elite NHL team.
11 Dallas Stars
Rasmus Ristolainen
Ht/Wt: 6′ 4″/205 lbs
Position: D
Team: TPS (FIN)
ISS Top 30 Roundup
#10 Rasmus Ristolainen
Every bit as NHL ready as Jones. Very mature & reliable defender who can do a bit of everything.

— ISS Hockey (@ISShockey) March 28, 2013
Rasmus is a poised, two-way blueliner who is close to NHL ready.
Max Domi
Ht/Wt: 5'10″/190 lbs
Position: C
Team: London (OHL)
Had a cut lip post-game. RT @neatebuzzthenet: Max Domi celly after empty-netter: http://t.co/LJci7R93t1

— John Matisz (@MatiszJohn) April 13, 2013
Tie could only dream of the offensive skillset his son Max possesses. Winnipeg would embrace the talented forward.
Valeri Nichushkin
Ht/Wt: 6′ 4″/202 lbs
Position: LW
Team: Chelyabinsk (RUS)
https://twitter.com/russiaherald/status/322611400050618369
Top 10 or even 5 talent; Russian Roulette Factor mostly responsible for Mikhail Grigorenko-like fall on draft day. The Devils are thankful.
Adam Erne
Ht/Wt: 6′ 1″/195 lbs
Position: RW
Team: Quebec (QMJHL)
Erne is an adaptable, offensive physical forward with a thirst to improve his knowledge of the game and a good work ethic.
Curtis Lazar
Ht/Wt: 6′ 0″/190 lbs
Position: C
Team: Edmonton (WHL)
Curtis Lazar – The Next Ones: 2013 NHL Draft Prospect Profile http://t.co/7mebWdBw1c #THW

— The Hockey Writers (@TheHockeyWriter) March 4, 2013
The Isles go back to the Edmonton Oil Kings for another first rounder, snatching up Lazar to go with Griffin Reinhart from last year. Lazar has consummate pro player written all over him. In 4 to 5 years, people may be left wondering why he went this low in the draft.
Anthony Mantha
Ht/Wt: 6′ 4'/190 lbs
Position: LW
Team: Val-d'Or (QMJHL)
https://twitter.com/Jerome_Berube/status/32166600139984076
Mantha has many weapons with which he can dissect goaltenders. Once he truly figures out how to utilize his size, he'll be even more of a force to contend with.
Alexander Wennberg
Ht/Wt: 6′ 1″/190 lbs
Position: C
Team: Djurgardens IF (SWE)
Versatile, excellent skating ability and extremely smart – drafting Wennberg almost immediately makes up for the trading of elite prospect Filip Forsberg.
Robert Hagg
Ht/Wt: 6′ 2″/205 lbs
Position: D
Team: MODO (SWE)
Swedish defender drafted by the Red Wings sets up lofty expectations for all-around blueliner.
19* Calgary Flames
Josh Morrissey
Ht/Wt: 6′ 0″/185 lbs
Position: D
Team: Prince Albert (WHL)
The Flames sit through fifteen agonizing picks hoping hometown kid slides to them in this slot. Morrissey is a scintillating skater with tremendous offensive ability. He also possesses very good defensive acumen and does not shy away from physical play.
Bo Horvat
Ht/Wt: 6′ 0″/200 lbs
Position: C
Team: London (OHL)
Congrats to my cousin @traviskonecny09 on going first overall to #Ottawa! See you on the ice next year #LK #Cousins #KeepYourHeadUp ;)

— Bo Horvat (@BoHorvat) April 5, 2013
Horvat's impressive play this year has had him rising the draft ranks; his offensive output may have been underestimated – the rest of the package he brings to the ice each and every game is very enticing.
21* Buffalo Sabres
JT Compher
Ht/Wt: 6′ 0″/184 lbs
Position: C
Team: US-NTDP
JT Compher – The Next Ones: 2013 NHL Draft Prospect Profile http://t.co/czWyJ4wJ7H #THW

— The Hockey Writers (@TheHockeyWriter) March 24, 2013
No one will be questioning Compher's will to win when he finally suits up for the Sabres. Combine that with his skill level and Buffalo has added yet another key cog to revitalize the franchise.
Frederik Gauthier
Ht/Wt: 6′ 5″/210 lbs
Position: C
Team: Rimouski (QMJHL)
Sharks hope towering centreman can learn from franchise centre Joe Thornton.
Kerby Rychel
Ht/Wt: 6′ 1″/200 lbs
Position: LW
Team: Windsor (OHL)
His skating is one of very few questionable aspects of his game; his passion and goal-scoring are certainly not. He's the second forward in the first round to be the son of a former NHL enforcer – his father was Warren.
Ian McCoshen
Ht/Wt: 6′ 2″/207 lbs
Position: D
Team: Waterloo (USHL)
#BCHockey recruit Ian McCoshen isn't even 18, but he's a seasoned USHL pro and top NHL prospect. @BlckHawksHockey http://t.co/E2AB2sczuB

— Conte Confidential (@conte_confident) April 10, 2013
McCoshen can play the role of shutdown defenseman, but also possesses first-rate offensive upside as shown by an outstanding season in the USHL. The Boston College recruit is a poised player and can play a physically menacing game.
Valentin Zykov
Ht/Wt: 6′ 0″/210 lbs
Position: LW
Team: Baie-Comeau (QMJHL)
https://twitter.com/FredPoulin98/status/321350498659745792
Don't be fooled by Zykov's nationality; he plays a North American brand of hockey. He is one of the biggest risers this season amongst the various draft rankings with a great season in the QMJHL. The Canucks help replenish their prospect coffers.
Nicolas Petan
Ht/Wt: 5′ 9″/165 lbs
Position: C
Team: Portland (WHL)
https://twitter.com/mikemorrealeNHL/status/32023142687429837
Though undersized, his explosive offensive ability is not. Bruins believe they can shelter him (if anyone can even catch him on the ice).
Laurent Dauphin
Ht/Wt: 6′ 0″/167 lbs
Position: C
Team: Chicoutimi (QMJHL)
The Habs nab the star of the CHL Top Prospects game; it doesn't hurt that he hails from la belle province.
28* Calgary Flames
Morgan Klimchuk
Ht/Wt: 5'11″/175 lbs
Position: C
Team: Regina (WHL)
The Flames select another prospect they covet – and another hometown kid. Klimchuk is another elusive player who has an elite shot. He plays a very smart all-around game. Some will note Calgary has selected two sub-6' forwards here in the first round. Fear not – Klimchuk can more than handle the physical rigors of the game.
Ryan Hartman
Ht/Wt: 5'11″/185 lbs
Position: RW
Team: Plymouth (OHL)
Ryan is a definite "Hart" and soul player, doing whatever it takes to win. He was an absolute force for Team USA at the 2013 World Juniors in Ufa, Russia. Hartman is one of those guys you hate to play against.
Anthony Duclair
Ht/Wt: 5'11″/180 lbs
Position: LW
Team: Quebec (QMJHL)
The Blackhawks could have went in many directions with this pick – they contemplated top goalie prospect Zach Fucale, American defenseman Steve Santini and forward Andre Burakowsky, but ultimately settle on Duclair despite his tumultuous season.
Duclair possesses excellent speed and skating ability – both he and Drouin trained with former retired figure skater Barb Underhill. He also has good offensive tools and athletic bloodlines – his uncle Farell Duclair is a former CFL fullback. What scouts have to figure out is if the suspension early in the New Year for indifferent play (along with Adam Erne) was an isolated incident or cause for future concern.
***
First Round Notes
#16 – Blue Jackets obtained Rangers' 2013 1st round pick, Brandon Dubinsky, Tim Erixon and Artem Anisimov for Rick Nash, Steve Delisle and a conditional 3rd round pick (If Rangers make it to Cup finals, Blue Jackets keep pick).
#19 – Flames obtained Blues' 2013 1st round pick, D Mark Cundari and G Reto Berra for D Jay Bouwmeester. The 2013 1st round pick could morph into a 2013 4th round pick and 2014 1st round pick if the Blues miss playoffs this year (a.k.a. Bouwmeester curse)
#21 – Sabres obtained ild's 2013 1st round pick, 2014 2nd round pick, G Matt Hackett and LW Johan Larsson in exchange for Jason Pominville and a 2014 4th round pick.
#24 – Blue Jackets obtained Kings' 2013 1st round pick (Blue Jackets decided not to use the pick in 2012) and Jack Johnson for Jeff Carter.
#28 – Flames obtained Penguins's 2013 1st round pick, Kenneth Agostino and Ben Hanowski in exchange for  Jarome Iginla.
*New Jersey must surrender their 1st round pick either in 2013 or 2014 as a punishment for circumventing the salary cap in the infamous Ilya Kovalchuk contract. (They also gave u[ their 2011 3rd round pick as well as $3 million.)
_________________________________________
Email: CRalph@TheHockeyWriters.com
Twitter: @ChrisRalphTHW