Blake Wheeler took a bit of a different path to the NHL than most others, and as my colleague Mike Rappaport pointed out he: "pulled the Justin Schultz move before Justin Schultz did." In 2004 NHL Entry Draft the Phoenix Coyotes selected Wheeler 5th overall, but he had already committed to playing college hockey with the Minnesota Golden Gophers. After three seasons with the Gophers (four years after he was drafted) Wheeler elected to not sign an entry-level with the Coyotes and became an unrestricted free agent.
Wheeler was coming off of a great college career in the summer of 2008 and was courted by many teams before eventually signing with the Boston Bruins on July 1. After two and a half seasons with the Bruins, he was traded with Mark Stuart on February 18, 2011 to the Atlanta Thrashers for Rich Peverley & Boris Valabik. Four months later Boston would win their first Stanley Cup since 1972 and the Thrashers relocated as the NHL reincarnated the Winnipeg Jets. That summer Wheeler inked a two-year deal with the Jets and in their first season he led the team in scoring with a career-high 64 points (17g-47a) in 80 games; this season through the first 19 games he has 16 points (6g-10a).
After a recent Jets game in New Jersey, the Hockey Writers caught up with the 26-year-old Wheeler for a 5-minute Q & A and asked him about a variety of topics ranging from his college days to playing in front of some of the NHL's loudest fans in Winnipeg:
The Hockey Writers: Talk about some of the experiences you went through at the start of your NHL career, which started a bit differently than other players…
Blake Wheeler: I was given a great opportunity by the Bruins to play in the league right away, so I have no complaints about how I entered the NHL. They taught me a lot about what it takes to win in this league, you can recognize a winning and championship team when you see it. Maybe it wasn't the prototypical path to get to where I am now, but I think it worked out perfectly. Things maybe weren't working anymore with the Bruins and they traded me into a great situation, I can't say enough about the opportunity that I got with Atlanta and now with Winnipeg. I get to play with pretty good players, so it makes it a lot of fun.
THW: Was it disappointing after Boston traded you and then a few months later they win the Stanley Cup?
BW: It's hard, certainly. That's the whole goal — to win championships; so when you are that close and the team that gets rid of you wins it, it definitely stings a little bit. But you have to look on the bright side of things; I'm not a pessimist. I look at the opportunity I got with Atlanta/Winnipeg and I wouldn't want to be anywhere else.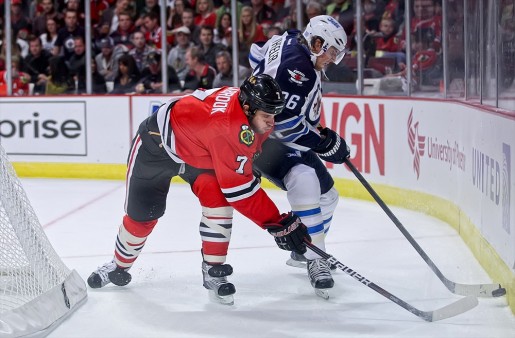 THW: You had a great and very memorable college career at the University of Minnesota, what are some of the memories you took away from that experience?
BW: It was awesome; I met a lot of my best friends (Alex Goligoski, Erik Johnson, Kyle Okposo, Ryan Stoa) and learned a lot about the game too. I think every kid enters that level with some bad habits, some things they maybe got away with just by being so talented growing up. I think they fixed a lot of bad habits that I may have had. To be able to go from playing college hockey straight to the NHL says a lot about the coaching staff and the job that they do at Minnesota preparing guys to play at the next level. At the end of the day that is what their job is all about: to win championships, win games, but also to prepare kids to take the next step if they can.
In 2007 with the Gophers, Wheeler scored the game-winning goal in overtime of the WCHA Final Five Championship Game against the University of North Dakota. Chances are you've never seen a goal quite like this one:
THW: Do you still follow the team, when you have some nights off from playing NHL games?
BW: Oh yeah, I follow them closely whenever I get a chance. I've been watching their games — they are a lot of fun to watch this year, they're a great team. You feel a lot of pride watching those guys go out there and play hard and try to do the same thing we were trying to do — win a championship.
THW: What do you remember about your first NHL goal?
BW: I remember like I said, being given a great opportunity to play in Boston, with two really good players in Chuck Kobasew & David Krejci. They made a couple of great passes and set me up right in the slot; I just closed my eyes and shot as hard as I could and the puck somehow found its way into the net. It was a great moment, definitely something I'll never forget.
Wheeler scored his first NHL goal in his first NHL game against goaltender Peter Budaj of the Colorado Avalanche… a game that was on the VS network (if you remember that far back):
THW: Do you still have the puck?
BW: Oh yeah. I have the puck on a plaque sitting at home. Those are one of the memories that I will never forget.
THW: What do you remember about the experience and emotions from your draft day?
BW: It was certainly unexpected and it's kind of funny: the guy that went right before me and the guy that went right after me are on this team now (In the 2004 NHL Draft, Andrew Ladd was selected 4th by Carolina, Wheeler was selected 5th by Phoenix and Al Montoya was selected 6th by the New York Rangers). It was just funny how it happened, Wayne Gretzky gets to the podium, there was a lot of anticipation: who is he going to announce? Then they say my name and I was somebody they never heard of. That was a memory I'll never forget as well, it was a huge honor to be selected anywhere in the draft — to go first round, that high, was a huge honor. Maybe it was tough at first with the expectations, but I learned to appreciate it and it helped me to get where I am now.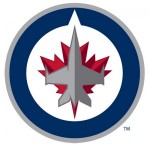 THW: What is it like to be a Winnipeg Jet and play in front of such a rabid fan base?
BW: They're awesome and I think the best thing about our fans is how knowledgeable they are. They aren't just screaming and going crazy all the time, if we're not playing well it's quiet in there. They are a very knowledgeable fan base and they make it a lot of fun to play in front of them because they really know and understand the game. They are cheering for the right reasons and it makes it a really fun, great atmosphere in the building.
Dan Rice can be reached via Twitter: @DRdiabloTHW or via Email: drdiablo321@yahoo.com