Open season on Justin Schultz has begun.
He cannot officially sign with a team until July 1st, but negotiations have begun in earnest.
Holding court in Newport Sports Toronto office with his representatives, there are many teams that are sending an entourage and rolling out the red carpet to try and convince Schultz to sign with their club.
Not exactly standard procedure for a player who has yet to play a shift in the NHL, however teams are convinced Justin Schultz is no ordinary college defenceman.
Exposing a loophole in the current, expiring CBA, Schultz has been able to become a free agent without playing a single professional game.  Following the footsteps of Blake Wheeler, where, like Wheeler he played a year in the BCHL  before three years of college hockey at the University of Wisconsin.
While over half the league has interest in the 21 year old defenceman, frontrunners are believed to include the Oilers, Blackhawks, Canucks, Leafs, Red Wings, Rangers and to a lesser extent the Senators, Flames and Flyers.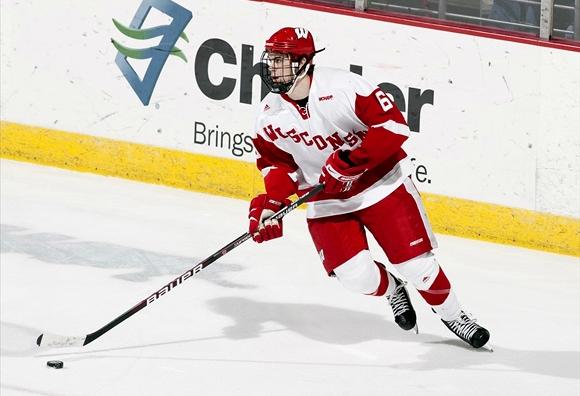 There are many things that make Schultz an attractive acquisition for an NHL team.  He's a smooth skating, offensive defenceman that can play a complete game and is as polished a prospect as there is in the game.  There is also the fact that he is 21 years old.  Drafted 43rd overall in 2008 by the Anaheim Ducks, he's young enough to still be considered a blooming prospect, but mature enough to predict that he will be an impact NHL defenceman. Playing three years in college has enabled him to round out his game, which makes him more of a known commodity than an 18 year defenceman coming out of the draft.
The other part is that Schultz cannot command more than a 2 year, $925,000 salary, which is still entry level dollars.  It is also the reason why the interview process in Toronto this week is so vital and why teams are sending in the big guns.  Teams must sell the fact that Schultz will have ample playing time and opportunity in key areas, most likely the powerplay.
Teams such as the Leaf, Rangers and Red Wings will try and lure him with former Wisconsin teammates like Jake Gardiner (Toronto), Derek Stepan and Ryan McDonagh (New York) or Brendan Smith (Detroit).  Ironically though, the three previously mentioned defenceman could also be stumbling blocks as Schultz will be in a very similar situation as a young up and coming defenceman and could compete with them for playing time and a depth chart slot.
The majority of teams will convince Schultz that he will be able to step right into top four minutes and have a chance to succeed immediately.
The leading candidate in that case you would have to think is the Edmonton Oilers.
"He has a heck of a lot of interest, for good reason," said Oilers general manager Steve Tambellini. "We hope to take a good swing at him. We have our ideas how we can present a pretty good opportunity for the young man."
He could very easily step into big minutes and be a top four defenceman right away.  He would likely join Jeff Petry, Ladislav Smid and Ryan Whitney in that scenario.  He would also step in and immediately be their powerplay quarterback. and would have the opportunity of potentially being part of something special, not to mention putting up big numbers, playing with Taylor Hall, Jordan Eberle, Ryan Nugent-Hopkins and Nail Yakupov.
He is also a great fit for Edmonton.  As well as the reasons above, the Oilers could really use someone like Schultz for the fact that they passed on a top tier defenceman at last week's draft and took Nail Yakupov.  With opinions still certainly split on their decision, they decided they just couldn't pass up a talent like Yakupov, but in the process lost out on a potential franchise defenceman.
If they could sign Schultz, it would go a long way towards remedying that, and he would likely have as much potential to turn into a star defenceman as any of the draft prospects.
President Kevin Lowe and new VP Craig MacTavish were Toronto yesterday to meet with Schultz and his camp, trying to woo him with those very arguments.
All reports suggest the Oilers have as good a shot as anyone in the league, and if the Oilers group in Toronto are successful, Edmonton and Justin Schultz has the making of a match made in heaven.