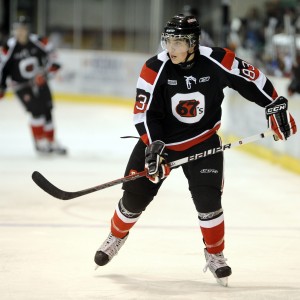 The Ottawa Senators have a ton of reasons to be optimistic heading towards the future.  2012 draft pick Cody Ceci is one of the biggest.
Ceci, a 6'2", 200-lb defenseman who played last season with the Ottawa 67s Ontario Hockey League club, has all the makings of a top NHL defenseman.  He has an offensive touch, knows how to stay in position after moving the puck, and can quarterback a power play.  The Senators wasted no time in drafting the Ottawa native (he was raised in Orleans, a community of Ottawa) fifteenth overall in this past draft.  In fact, the Senators were shocked he was available at all when the fifteenth spot rolled around.
"I saw a couple teams pass up on me," Ceci said about his draft experience.  "I saw Ottawa on the board and it was getting closer and closer, so I was getting more and more excited.  When I finally heard my name called, it was a pretty special moment for me and my family, because they wanted me home."
"I honestly never thought he would be available at 15," said Ottawa general manager Bryan Murray after the draft.  Ceci was ranked sixth when the final Central Scouting rankings came out ahead of the draft.
Of course, the Senators are starting to stockpile some young talent.  Goalie Robin Lehner is projected to have a sparkling NHL career, while forwards Mark Stone and Mika Zibanejad are expected to be key blocks in the foundation the Senators are building.  Adding Ceci gives the Sens another young defenseman to build around.
"I think I'm a two-way defenseman, I like to get up in the play," Ceci commented during the development camp held in Kanata.  "At the same time, I've been playing against top lines in major junior, I think I've been doing a good job at shutting guys down, at the same time pushing the pace of the play."
Anyone who is around Cody Ceci for any length of time can't help but be struck by his enthusiasm.  His love of the game shines forth in every word he speaks, and his energy level will only help his efforts to make the team in September.
Ceci knows much is expected of him, especially being a native of Ottawa.
"There's a lot of pressure from all my friends and family to try to make the team, and if I do make the team, to play well every game," he said of the added challenge of playing in front of people he's known his whole life.  "They'll be watching even closer than they would if I was playing across the globe somewhere.  They've been pretty happy with what I've accomplished."
Barring any complications from this summer's CBA negotiations, training camps start in September.  Expectations were high before Ceci was drafted, and rightfully so.  The Senators are already ahead of the curve in terms of where the experts had them finishing.  A few bounces last April, and perhaps it would have been the Senators playing into May, not the Rangers.  No one expected Ottawa to be in the playoffs, let alone stretching the top Eastern team to seven games.
Now they add Cody Ceci into the mix.  The Senators are slowly putting all the pieces together in a slow but steady rebuilding process.  It should be a promising summer, as Senator fans wait to see what Murray does at the annual free agent frenzy.  Given his track record, no one should expect Murray to make any kneejerk transactions.  Rather, they can expect the same patient approach he took at the 2012 Entry Draft, that same approach that welcomed Ceci into the fold.
Patience.  After all, good things come to those who wait.  Cody Ceci is living proof of this.
Born in the Annapolis Valley of Nova Scotia, and living in Port Williams, Nova Scotia, Justin has been involved with hockey for over 15 years. He has written for local newspapers from 1994-2009. He brings a combination of passion and humor to his articles that frame his love of hockey. His style includes opinion pieces and historical fact. He finds game reviews "boring on their own" and aims to bring each piece to life in its own way. He currently owns www.openingfaceoff.net, and is looking forward to contributing regularly to thehockeywriters.com.