Four former players were inducted into the Hockey Hall of Fame earlier this week: Pavel Bure, Mats Sundin, Adam Oates and Joe Sakic. One fun collecting idea is to collect a rookie card from every player in the Hall of Fame. For those who have not bought hockey cards before, the term rookie card (abbreviated as RC) is understood to mean a player's first appearance on a licensed NHL trading card. Some RCs run in the hundreds (like Wayne Gretzky) or even thousands (like Bobby Orr) of dollars. But cards of this year's inductees won't set you back that much. In fact, you can score an RC of each player in this year's HOF class and still have change from your twenty.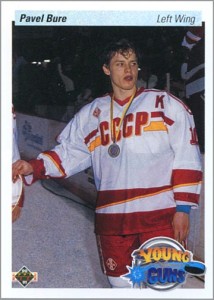 Pavel Bure
Rookie Card: 1990-91 Upper Deck #526
Average Cost on eBay: $1.50 to $2.00
"The Russian Rocket" appeared on his first NHL hockey card in the 1990-91 Upper Deck set. Bure is pictured as a member of the Soviet Union Junior Team, as this card came out a season before he made his debut with the Vancouver Canucks.  This card was released at the start of the "junk wax era" – where hockey cards were grossly overproduced – so it won't cost you much. The "French" version of this card tends to sell for around $5, which is great if you read French. For the rest of us, the normal, English-language version of the card (around $2) will suffice.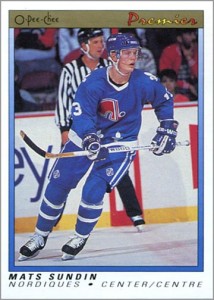 Mats Sundin
Best Rookie Card: 1990-91 O-Pee-Chee Premier #114
Average Cost on eBay: $2.50 to $3.50
Mats Sundin was the first European taken first overall in an NHL draft when the Quebec Nordiques selected him in 1989. He played 2 more years in Sweden before joining the Nordiques for the 1990-91 season. In anticipation, several companies made cards of Sundin for their respective 1990-91 sets, and vary quite a bit in their photo selection. His Upper Deck RC shows a fresh-faced Sundin at the '89 draft, while his Score rookie card shows him playing for Team Sweden. The first card to picture Sundin actually playing for the Nordiques was in the O-Pee-Chee Premier Hockey set that year. It is his most "valuable" (if you can call it that) rookie card, which tops out at around $5.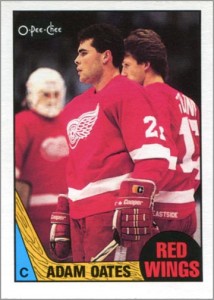 Adam Oates
Best Rookie Card: 1987-88 O-Pee-Chee #123
Average Cost on eBay: $7.50
Adam Oats was the top assist man in his heyday of the early-to-mid 1990s. His deft playmaking abilities helped Brett Hull and Cam Neely score lots of goals. Sadly, scoring a ton of assists is never as cool as scoring a ton of goals. Thus, Oates' rookie cards are not as pricey as the RCs of his contemporaries – at least not yet. That might change now that he is in the Hall. Oates had rookie cards issued in both the Topps and O-Pee-Chee hockey sets from 1987-88, but it is the latter that is more sought out by collectors, averaging for around $7.50.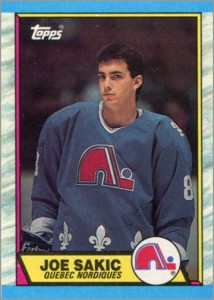 Joe Sakic
Best Rookie Card: 1989-90 Topps #113
Average Cost on eBay: $3.00
While Oates' O-Pee-Chee rookie card is more valued than its Topps counterpart, the opposite is true for Joe Sakic. In 1989-90, the O-Pee-Chee card company – responding to the growing demand for hockey cards – went back to the press and flooded the market with that year's set. This makes Sakic's Topps RC slightly less common than his O-Pee-Chee card. But make no mistake – there are plenty of these to go around. Sakic's first card, which shows him while he still wore number 88, will cost you around  $2 or $3. Then again, you can get the entire 1989-90 set of cards (Topps or O-Pee-Chee) for about $10.
Note that the prices listed above are average sale prices on eBay from the past 60 days and don't count shipping charges or taxes, if any. There are no guarantees that you will find the cards for the exact amounts stated above, and professionally graded cards will cost more.
But these cards are not in short supply, so the prices listed above should serve as a good starting point for the aspiring collector.