Though he can't sign it until Sunday according to the Collective Bargaining Agreement, Jonathan Quick has agreed to terms on a ten-year extension with the Los Angeles Kings.  The deal is expected to be front loaded and will carry a cap hit of $5.8 million per year according to Renaud Lavoie of RDS.  To sum up how the Kings' twitter guys feel:
To clarify, that's 10 years after next year — so 11 years in total of our goaltender being better than yours.

— LA Kings (@LAKings) June 28, 2012
On the face of the deal, this was important for General Manager Dean Lombardi to take care of.  At the age of 26, Quick is clearly their franchise goalie, coming off of a Vezina nomination, Stanley Cup win, and Conn Smythe win.  But is it really as glorious as Kings fans may think it is?  Here's a look at the pros and cons:
Pros:
The Obvious:  Jonathan Quick is likely a King for life.  After putting together the best season of his career and setting a multitude of career and franchise records, he has earned an extension and Kings fans will be ecstatic to keep him around.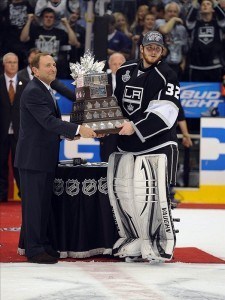 The Price:  Quick's cap hit will be $5.8 million per year.  To put that into perspective, he will have the 7th highest cap hit amongst goalies in the NHL.  Ahead of him: Pekka Rinne (7), Henrik Lundqvist (6.875), Cam Ward (6.3), Ryan Miller (6.25), Niklas Backstrom (6), and Miikka Kiprusoff (5.833).  After looking through the stats and achievements of those goaltenders, it's safe to say that Quick's cap hit is reasonable in comparison.
Security at the Most Important Position:  After an anomaly in 2010, when Antti Niemi and Michael Leighton took their teams to the Stanley Cup Final, the past two years have demonstrated that goaltending is a prime position again.  Tim Thomas was the key to the Bruins Cup run a year ago as he won the Conn Smythe and now Jonathan Quick has performed the same feat this year.  If Quick maintains a respectable level of play, GM Dean Lombardi will have his most important position taken care of for a decade.
Cons:
Unpredictability of Goaltenders: Only two other goalies have received deals of 10+ years – Roberto Luongo and Rick DiPietro.  Luongo is on the trading block and DiPietro has been an injury nightmare, so it is clear that neither long term deal worked out.  Also, a look around the NHL quickly demonstrates how very few goalies are great consistently.  Jose Theodore won a Hart trophy and Vezina at the age of 26 in 2002.  His numbers since then have never come close to matching that award winning year.  Will it be possible for Quick to maintain this level?
Signing While the Price is High: Though the Kings and Quick wanted to get a new deal done this offseason, it wasn't a necessity with a year left on his current contract.  So essentially, the Kings rushed to get this deal done while Quick was possibly at the peak of his popularity and play.  This was a risky move for the Kings because if Quick's play drops off next season (which is certainly a possibility with how extraordinarily well he played this year), they likely paid him more than they needed to at the detriment to their team's salary cap future.  Instead of following the old adage of buy low/sell high, the Kings just bought high.
Another Long Deal:  Quick becomes the 4th Kings player locked up beyond the 2018-2019 season (joining Doughty, Carter, and Richards).  With a new CBA in the works, and cap uncertainty for the future, Dean Lombardi might be handcuffing his roster flexibility in the future.  It may not make a difference now, but it will be something to think about during the next few years as Voynov, Brown, and Kopitar look for extensions that might clash with the others.
Final Thoughts:
– As CBA negotiations get under way, there has been some talk about limiting the length of deals like this one.  Therefore, the Kings and Quick may have lucked out (and planned it out) in agreeing to a long term contract that may not be allowed under the new CBA next year.  This may be one of the last "retirement" type contracts that we see in the NHL.
– Though the future terms of the salary cap are unpredictable, one thing is certain: $5.8 million now is worth less than $5.8 million in 10 years due to inflation and other economic factors.  If the cap continues to rise through the next CBA, this deal may be a downright bargain compared to other goaltenders in a few years.
– Personally, I think it is unreasonable to assume Quick can maintain his level of play from last season and last year's playoffs into this contract.  With that being said however, I believe it will be a great contract for him and the Kings as he will remain a top 10 goalie in the NHL.
So what do you think hockey fans, does this deal make sense?
Meesh is an attorney and one of the Pittsburgh Penguins Contributing Writers for The Hockey Writers. He also writes for ThePensNation.com. You can contact him on twitter @HockeyMeesh or e-mail HockeyMeesh@gmail.com