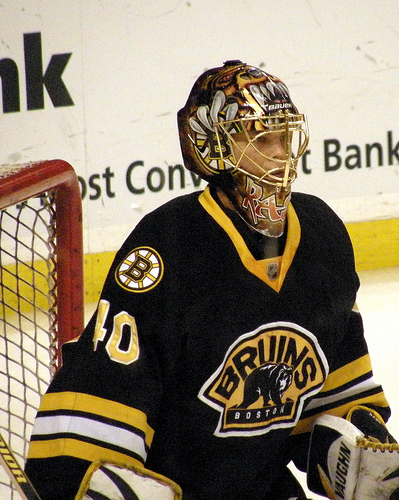 According to TSN's Bob McKenzie, the Boston Bruins have come to terms with goaltender Tuukka Rask on a one-year contract worth $3.5 million.
BOS and netminder Rask agreed to terms on one-year, $3.5M deal.

— Bob McKenzie (@TSNBobMcKenzie) June 28, 2012
Rask would have been a restricted free agent after having been 'qualified' by the Bruins earlier in June. He would have been under the Bruins' control, but vulnerable to offer-sheets from other franchises.
Rask's contract comes just a few days before the start of free agency on July 1 and on the heels of several flagrantly expensive contracts for skaters and Winnipeg's extension of goaltender Ondrej Pavelec (five years, $3.9 million annually).
While Rask has never started even 40 games in any season, he is the current holder of the NHL's highest career save percentage (minimum 100 games), with a gaudy .926%. He owns a 47-35-11 lifetime record with a 2.20 GAA and eleven shutouts.
Why a single season? The Bruins undoubtedly want to see if this talented Finn can hold-up throughout the rigorous grind of the regular season. Additionally, with the future of the CBA quite murky, it's prudent to go short-term at this juncture.
The deal is an 'agreement in-principle' and won't be officially announced until July 1 (like that of center, Chris Kelly.)
Previously signed to a two-year $1.25 AAV (average annual value) contract, Rask will make two-and-a-quarter million dollars more than in either of the past two seasons. He will remain an restricted free agent in the summer of 2013.
This re-signing became essential after veteran 'tender and Conn Smythe-winner Tim Thomas announced he'd take the 2012-13 season off for personal reasons. Rask is now the undisputed number-one in Boston's crease with Anton Khudobin as his primary backup.
One rather unfortunate side-effect of this deal is that it puts even further potential pressure on the Bruins in the 2013 offseason. Now Tuukka Rask, Tyler Seguin, Milan Lucic and Brad Marchand will all be restricted free-agents while Nathan Horton and Andy Ference will be UFAs (and almost all due significant raises). With approximately $38 million already committed to the following season's roster (not including Marc Savard) – and Contract-ageddon 2013 is looking nasty.
Will this deal work for the Bruins? They've taken the safer route with the short-term extension, no doubt. Rask seemed to tire during his only 'heavy'-workload season, 2009-10 and the Bruins won't be on the hook for excessive term or cap-hit.
However, a monster year from Tuukka could find the Bruins all but priced-out of his open-market value. They simply don't have the pieces in-place to replace him in all but the long-term future barring revelatory years from one of Khudobin, Michael Hutchinson or Niklas Svedberg. If Tuukka Rask lives up to the challenge of 55+ regular-season games with a strong playoff performance – he'll have the B's over a barrel.