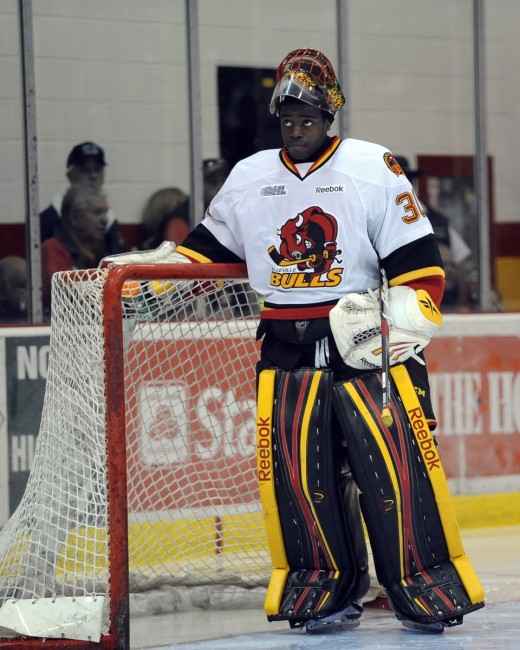 Thursday morning, the sixth annual Boston Bruins Development Camp commenced in Wilmington, Massachusetts. It was a warm summer day in Massachusetts, yet the bright young talents on display were worth braving the cold and crowd at Ristuccia: Close to thirty Bruins' prospects and camp invitees took to the ice in the first of five days of drills, scrimmages and interviews.
All eyes were on a single prospect. With all due respect to top-prospect defenseman Dougie Hamilton, the center stage belonged to goaltender Malcolm Subban, the Boston Bruins first-round pick in 2012 – and boy, he didn't disappoint.
My notes are filled with exclamations of awe at this 'middle' Subban's performance. Goodness – he seemed to be robbing fellow campers left and right with athletic, acrobatic moves in the crease. I had barely finished one note when he'd sprawl to claim another – the only respite for my writing-hand coming when he at last left the crease for a substitution.
His performance today completely affirmed the scouting report that he's an excellent one-on-one puckstopper.
Certainly, Subban's technique isn't as clean as you'd want (some of his most acrobatic denials came after he over-committed to the initial chance or fake) and he gave up his share of 'juicy' rebounds – but there's reason for long-term excitement.
Hamilton was no slouch, either. A spectator within earshot called him 'the god of puck-possession'. No kidding, this nineteen year-old (listed at 6'5 but almost certainly 6'6…) can protect the puck and move it with the best of 'em.
Dougie's got a flair for the dramatic as well. He evades opposition defenders very adeptly and dangles much more proficiently than all but a certain few of the B's forward prospect corps. He looks stronger and his skating even better (if that were possible) than at this time last year.
He displayed some overly-aggressive tendencies on the defensive side of the puck that will likely earn significant attention from the Bruins' coaching staff.
Additionally, one is left wishing he'd bring the fire that certain less talented Bruins brought to the rink on Thursday. There are times when he just won't be denied – and there are times he appears to just be along for the ride. Of course, this may be the result of a long, hard season and acknowledgement of his participation in the upcoming Canada-Russia Challenge.
The Usual Suspects
A few others earned their share of notation:
Ryan Spooner's offense has advanced so far beyond much of the defensive opposition at Camp that he made some of those young blueliners look downright silly. His hands, offensive acumen and speed are all elite.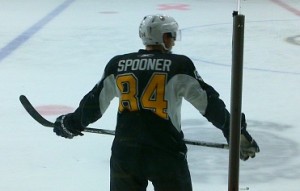 In the two-on-two drills, Spooner took a choppy deflected pass from Rob O'Gara and deftly deflected it through Adam Morrison's pads. Earlier, the Sarnia forward roasted Dougie with an open-ice dangle and burned 2012 sixth-rounder Matt Benning with a speed move to the outside and some nifty stickwork after cutting to the middle.
Jared Knight didn't disappoint. His shot was as quick and heavy as ever (one imagines the opposition scattering in front of it as though Fulton Reed were the shooter) and he appears to have gained a step in spite of his injury.
At times Knight seemed a tad 'off', likely the result of the ankle-sprain that kept him from major minutes in the Memorial Cup. Still; hIt also didn't keep him from putting a nice juke-and-power move on O'Gara in the one-on-one break-out-break-in drills.
Despite rumors of his impending move from the OHL's Windsor Spitfires to Spartak Moscow of the KHL, Alex Khokhlachev was in-attendance Thursday and looked good. Like Knight, he appeared to have gained a step and looked much more confident in these drills than during the 2011 Boston Bruins Dev. Camp. Furthermore, while he's still listed at 5'10, I wouldn't be surprised to learn that he had also gained some height through the year.
Back for Another Year…
Other returning campers made some impressions:
Defenseman Zach Trotman's shot and puck-skills are very impressive. He scored double-digit goals for Lake Superior State (and added one in Providence last spring), so it will be interesting to see how this big (6'3, 200) blueliner does in his first year of pro hockey.
Fellow blueliner Rob O'Gara's skating is outstanding. The Milton Academy grad will attend Yale in the fall.
Tommy Cross may play conservatively, but he's smart and keeps the puck in-front of him. This is the former Boston College captain's sixth season at development camp – when he attended his first in 2007, youngest attendee Matt Benning had just turned 13….
Brian Ferlin looked solid after missing the end of Cornell's season with injuries. The ECAC Rookie of the Year didn't appear hampered at all.
Justin Florek's big, 6'4 frame and soft hands make him extremely hard to dispossess. Add-in his heavy shot and you have the recipe for a nice project preparing for his first full professional season.
Torey Krug's wheels, hands and aggressive play made for some of Day One's more exciting moments. He was paired with Hamilton on a few occasions – a dynamic coupling if there ever was one.
The First Step in Six Professional Careers
Aside from Subban the most impressive of the Boston Bruins' 2012 draftees on Day One was twenty year-old seventh-round selection, Colton Hargrove (formerly of the USHL's Fargo Force). Along with some solid north-south skating and a 'helluva' shot – his hands proved to be Downy-soft! Hargrove caught several explosive passes including a wobbly aerial from Justin Courtnall with ease you wouldn't expect from a 6'3, 210 banger.
Similarly, Cody Payne, the B's second fifth-round selection (#145), displayed his rounded skillset in the day's labors. His first shot of the day beat Lars Volden glove-side and he proceeded to wear-out the post with his rips.
Charlestown native, Matt Grzelcyk (third-round #85) brought his solid wheels and puck-skills to the forefront with some occasionally patient, occasionally dynamic decision-making.'
Seth Griffith's hands are outstanding.
I liked the nasty that Matt Benning brought to the rink today. He got beat by Anthony Camara but proceeded to finish his man after the whistle. Still, his skating was choppy and he lacked any kind of 'jump'.
Operation: Too Many 'Tenders, Commences!
Boston College 'tender Parker Milner (undrafted invitee), last season's NCAA Tournament MVP, made some sweet saves and generally looked like he belonged in this talented bunch. He looked great going post-to-post.
Niklas Svedberg was very economical in-net. Not a ton of movement in his upper-body when he's moving laterally or challenging the shooter.
Having six goaltenders really limited my ability to observe each of them at length. I had solid looks at the previous three, but only bits and pieces of the other three (Volden, Morrison, and Zane Gothberg). Nothing really stood out in any of the glimpses.
Well, that's all from Wilmington! Check back tomorrow for my Day Two recap and as always, thanks for reading!
Bob is a Boston Bruins Correspondent for The Hockey Writers. He lives in the Boston Metro Area with his wife, Amanda and their five-year-old son, Cormac.