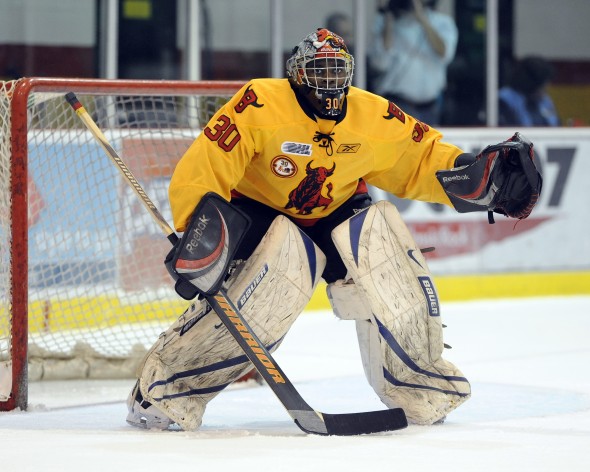 The Boston Bruins shocked many in the media when they selected Belleville goaltender Malcolm Subban with their first pick in the 2012 NHL Draft and setting up the newest sibling rivalry in the game. How should we grade this and the B's other selections? Read on to find out!
Malcolm Subban, G (Pick One, First Round, 24th overall)  
Belleville Bulls (OHL); 6'1, 190 lbs., Catches-L; Born: Rexdale, Ontario, 12/21/93
The Bruins' first draft pick in 2012 can be distilled into one word: Upside. Four or five years down the road, this might be regarded as one of the best picks in the draft. Some consider Subban to be a can't-miss goaltending prospect. He possesses the capacity to make dazzling saves and is one of those rare netminders capable of truly 'stealing' a game.
"Unorthodox" is another word you'll hear in conjunction with Subban's style – but he gets the job done. He didn't allow any shootout goals this season – and understandably was noted as a tough-to-beat one-on-one 'tender.
His athleticism is truly elite (evidenced by his performance at the combine): His reflexes, agility, quickness, He's not huge like some of the goalies in this draft, but has a massive wingspan and fills the net well. The fact that he's relatively far-off diminishes concerns about him challenging recently-established #1, Tuukka Rask.
Following the selection, Bruins' GM Peter Chiarelli said:
"…He's obviously a real good goalie, a tremendous athlete, incredible leg thrust post to post, and he's a real good kid – solid character. This draft is more longer-term, like goalies take longer to develop, so I'm happy to get him. We had him high [Chiarelli later acknowledged Subban was in the Bruins' top-ten], but happy to get him."
Still, projecting goaltenders is an absolute crapshoot at this age. There's significantly less correlation [paywall] between draft-number and success in the NHL for those who patrol the crease than for skaters. Additionally, Subban is very, very raw. His technique needs significant work and some are even concerned about his injury risk.
Furthermore, with plenty of long-term goaltending prospects with upside already in the Boston Bruins' system (Lars Volden, Adam Morrison and in particular Zane Gothberg) – not to mention a young number-one in Tuukka Rask and several young professional goaltenders (Michael Hutchinson, Niklas Svedberg and Anton Khudobin) this isn't exactly filling a major hole.
Finally, with the Bruins prospect corps lacking a blue-chipper after the imminently-Boston-Bound Dougie Hamilton and the impressive 'D' duo of Matt Finn and Brady Skjei available, the B's passed for a goaltender – something I personally deemed a 'secondary need'.
Conclusion: The payoff could be huge, but this is an extremely dicey choice for the B's. If Subban 'hits', you're probably looking at a world-class all-star goaltender; if he misses, he could miss that mark – significantly. That said, with major 'wins' in the last two first-rounds (perhaps last three), they could afford to swing for the fences. Grade: B
Matt Grzelcyk, D (Pick Two, Second Round, 85th overall)
U.S. NTDP (USHL); 5'9, 171 lbs., L; Born: Charleston, Massachusetts, 1/5/94
You can never have enough talent on the blue line, and the U.S. National Team's Matt Grzelcyk oozes it from his pores. Speedy, elusive and intelligent; the prospective Boston University blueliner can dart through the opposition and has the hands to make crisp, effective breakout passes.
Despite his size, he's not an inadequate defender, either. Grzelcyk's impressive four-way mobility allows him to contain enemy attackers and he's not afraid to get his nose dirty with some physical play. With a high-level of 'hockey-sense', he's capable of reading plays and keeping his coverage tight.
Playing behind the likes of Seth Jones, Jacob Trouba, Brady Skjei and Pat Sieloff certainly hurt Grzelcyk's chances to be drafted earlier – some scouting services didn't even have him in their top-200 players. Still, his solid U-18 performance and productive season leave little doubt as to his skills.
Of Grzelcyk, Boston Bruins director of amateur scouting, Wayne Smith said:
"…He's got a Bruin mentality. He plays to win; he plays hard; he's hard to play against; he plays a virtually mistake-free game. His decision-making and his ability to move the puck is second-to-none in this draft…"
Unfortunately, now the Bruins have two defensemen with size-issues among their top-five defensive prospects: David Warsofsky and Torey Krug both stand sub-5'10. Grzelcyk's addition undoubtedly makes it three. In 2011-12, there were only three defensemen who played half the season listed at 5'9 or lower: Jared Spurgeon, Marc-Andre Bergeron and Francis Bouillon… and just four others managed to see any time whatsoever.
Additionally, there were many defensemen still on the board with significant value, selected in the next thirty-plus picks: James Melindy of Moncton, Rhett Holland of Okotoks, Brett Kulak of Vancouver, Trevor Carrick of Mississauga, Mikko Vainonen of HIFK and Calle Andersson of Färjestads; none of whom come in anywhere shy of 6'1.
Conclusion: This is another heavy risk/reward selection for the Bruins. I definitely liked what I saw from Grzelcyk this season, but with so many small options in Providence already, one gets the distinct feeling that the Bruins are putting too many eggs in a 5'9 basket. Grade: B-
Seth Griffith, RW (Pick Three, Fifth Round, 131st overall)
London Knights (OHL); 5'11, 185 lbs., R; Born: Wallaceburg, Ontario, 1/4/93
For the first time in 2012, Chiarelli dipped into the 'overager' pool, selecting the once-passed-over Seth Griffith with the pick he acquired in the Benoit Pouliot trade (with Tampa).
This kid can score. Many were surprised when he was passed-over in 2011 after scoring at nearly a point-per-game clip for the Knights. This season, that wasn't going to happen. Griffith tallied forty-five goals and eighty-five points to lead the OHL-champs and tie for eighth overall (third in goals).
His hands are pro-plus, his puck pursuit is fantastic and he has the skillset to be a solid secondary scorer (both in the distribution and finishing game) at the next level. His offensive acumen rates highly and he has the killer instinct to force a key turnover, make the ideal pass and finish with authority.
Aside from the departure of Benoit Pouliot (who was very decent for the Bruins), the selection of Griffith has limited drawback.
Concerns include and underwhelming defensive game and mobility which remains below-average for a player his size and it will limit his offensive and defensive impact at the NHL level (though some observers have alternatively noted impressive speed and quickness from Griffith).
There's a hefty helping of 'bust' potential in Griffith as a result. He'll be a top-nine scorer in the NHL fall into minor-league hockey. Seth exhibits minimal 'grit' and with his size, the perimeter player label will likely follow. Still, as a fifth-rounder, the risk/reward balance of this pick tilts heavily in Boston's favor.
http://www.youtube.com/watch?v=bLj6Ufypi98
Conclusion: At the price of Beniot Pouliot, the Bruins made their savviest selection in 2012. Time will tell, but this could be the B's key 2012 pick. Grade: A-
Cody Payne, RW (Pick Four, Fifth Round, 145th overall)
Plymouth Whalers (OHL); 6'2, 205 lbs., R; Born: Maple, Ontario, 1/14/94
Payne is a big, mean kid with some sneaky upside. The offense hasn't come (yet) but there's some solid potential in his hefty frame. He played for the U.S. at the 2011 Ivan Hlinka Memorial Tournament but didn't manage a point.
Obviously, there's some real nasty to his game: He dropped the gloves fourteen times in 2011-12 and surpassed the century-mark in penalty minutes. The Bruins love his tenacity and toughness. Payne plays a simple, north-south game and takes the puck to the net heavily.
Payne skates well. He's a 200 ft. player with good 'energy-line' attributes. His 'rawness' coupled with being stuck on the Whalers' fourth line may have hidden some of his loftier upside.
He didn't have a big role for either Oshawa or Plymouth this season and his minutes and production suffered as a result. His scoring line (5-11-16 in 60 games) is wholly underwhelming.
Some argued that Payne's minutes were the main reason for his productivity (or decided absence thereof) while others pointed to his hands as a major question-mark going forward.
Conclusion: This is another 'upside' pick. Plymouth was a very good team this season with some excellent forward talents (Noesen, Wilson, Miller, Rakell, Heard among others) which forced Payne into a peripheral role.
http://www.youtube.com/watch?v=I_ziNQhM4es
In some ways, this reminds me of Chiarelli's third-round selection last season, Anthony Camara, a tough kid and solid skater with some long-term power-forward and offensive upside not obvious on the stat-sheet… Keyword: Long-term. Grade: B-
Matthew Benning, D (Pick Five, Sixth Round, 175th overall)
Spruce Grove Saints (AJHL); 6'0, 216 lbs., R; Born: St. Albert, Alberta, 5/25/94
The B's kept it in the family with their sixth-round selection of Matt Benning, a defenseman from Alberta's Junior-A Spruce Grove Saints. Benning is the nephew of Bruins' Assistant GM Jim Benning and son of 500-game NHL vet, Brian Benning.
The 176th-ranked North American prospect by Central Scouting, Benning, a former second-round WHL Bantam Draft-selection, has some solid upside to go with his solid frame.  He'll be playing for Dubuque of the USHL in 2012 (spurning both his WHL draft-team of Kootenay and the Tri-City Americans who acquired his rights pre-season).
Benning's strength is strength – he's a burly 216 pounds at just six feet, even. Scouts seem equally impressed by his hockey-IQ and vision, along with some decent puck-moving skills. Obviously, his NHL bloodlines impress and there's some decent long-term upside in this pick.
He's also one tough hombre, said Smith: "… He's the kind of guy that… gives you a shot in the head just because you looked at him…"
Smith continued, "[He's] a big, strong kid. He's very raw right now… He moves the puck extremely well. He has a chip on his shoulder… Real good puck mover… We were really excited about this pick because again it was a guy that was sort of a late bloomer, wasn't sure that he wanted to play hockey because of the pressure of the family, of the legacy that goes on, and now he's fully committed to playing. I believe he's a National Hockey League player."
'Nepotism' aside, he wasn't exactly a significant producer at the junior-A level against mediocre competition. Six goals and twenty-one points in fifty-five games in the AJHL? Not exactly world-beating totals.
The B's are calling him a puck-moving talent – and that may be the case – but it's hard to see this being a major diamond-in-the-rough pickup unless his development trends northward in a hurry. He calls himself more of a "stay-at-home" type, in any case.
Conclusion: There's some upside here, but it's a long way off. The B's definitely like this kid's potential and certainly all bets are off this late in the game – but with some major fallers like Gianluca Curcuruto, Nick Ebert and Matt DeBlouw still on the board, it's difficult to be too ecstatic. Grade: C+
Colton Hargrove, LW (Pick Six, Seventh Round, 205th overall)
Fargo Force (USHL); 6'2, 210 lbs., L; Born: Rockwall, Texas, 6/25/92
Colton Hargrove will celebrate his birthday today – his twentieth – making him almost two years older than the B's youngest new member (Benning). The Texas native's contributions to the USHL's Fargo Force were often of the fistic and physical varieties – but he chipped-in 38 points in 54 games as well.
He plays heavily on the forecheck with some nasty (he was ejected from games on several occasions). Hargrove potted sixteen goals – six of which were game-winners for the Force. These totals underscore his prime offensive asset – a good shot – which hopefully will be on-display at Development Camp this week.
Attending Western Michigan in the fall, Hargrove will hopefully continue to develop his all-around game and give the Bruins their second seventh-round steal in the past three drafts (Zach Trotman – 2010).
Unfortunately, while Hargrove – much like Payne – is a north-south gamer with competitive fire, he's two years older and the chances of any increased 'offensive upside' are resultantly diminished.
The B's don't exactly shy away from no-nonsense gritty power-forwards. You can add Hargrove to a list that includes: Lane MacDermid, Justin Florek, Jared Knight, Anthony Camara, Tyler Randell, Cody Payne… and that's just the minors and juniors. With that in mind, Hargrove has a long hill to climb.
Conclusion: The last few rounds provide a great opportunity to swing-for-the-fences at some kids with high-upside potential. No future is set in stone on draft-day but a NHL career is still a longshot for Hargrove. Grade: C+
Overall: The Bruins got some significant value late with Griffith, which certainly brightens the picture. Subban and Grzelcyk have some hefty upside but similarly hefty 'bust' potential. Unlike last year when they grabbed two first-round-caliber prospects in Hamilton and Khokhlachev and excellent value late in Ferlin and O'Gara; or in 2010 when they got Seguin plus Knight and Spooner – I'm not as impressed this season.
I  believe this was a fairly modest draft-year for the Bruins. The true value of this and previous drafts will be written in the years to come, but for now Grade: B-