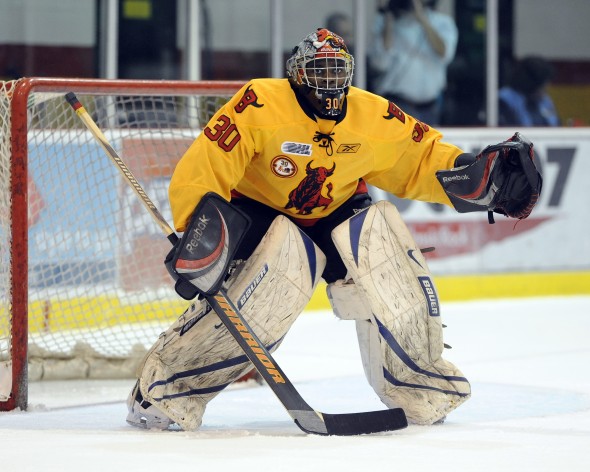 The Boston Bruins surprised many observers with their first-round selection of Belleville Bulls' goaltender, Malcolm Subban on the opening night of the 2012 NHL Draft.
Many had pegged the B's to target a defenseman with their pick (twenty-fourth overall) and with several seemingly-desirable blueliners available (Brady Skjei and Matt Finn in particular), the plan to do so appeared to be in-order.
However, after thanking Pittsburgh and congratulating Los Angeles, Bruins' GM Peter Chiarelli dropped a bomb. "… but most importantly, we'd like to announce our selection – and it's Malcolm Subban from the Belleville Bulls."
Considered by many to be one of the best netminders available in 2012 (if not the outright top of the heap), Subban's athleticism, reflexes and poise were expected to attract considerable attention in the early rounds.
Subban's outstanding lights-out performance for Belleville in 2011-12 had really opened eyes. For a mediocre club who played in a big Euro-style rink, he posted an incredible .923 Sv% and was arguably the Bulls' best player in their six-game first-round exit.
Why – if Subban was so good – was this pick so surprising? First of all, several sources had identified Sweden's Oscar Dansk as the B's prime target in-net (if they were to go that way).
Secondly, despite Boston's penchant for drafting OHL properties, the B's hadn't drafted a goaltender earlier than the third-round (Mike Hutchinson, 77th overall) during Chiarelli's tenure in Boston. Many analysts have pointed-out the hefty inherent risk in drafting crease-patrollers early and Subban isn't exactly the 'safest' selection.
Furthermore, while the B's lacked any surefire 'elite' talents in their system, they had several solid prospects (Zane Gothberg in particular) and considerable depth – not to mention a young, elite goalie as the franchise's #1 starter, Tuukka Rask.
Finally, with the Montreal Canadiens' PK Subban among B's fans most detested opponents, the idea of grabbing his brother is a shock to the system. The idea of a Subban nameplate surrounded by the black and gold seems like a fantasy.
All that said, the Bruins have one hell of a prospect on their hands. While there's some 'bust' risk, his outstanding bloodlines and excellent athleticism point to a prospect that will make it. This kid can make even the best highlight-reel saves look almost routine. Malcolm Subban's calm demeanor and composure in the face of adversity only help his case.
There's significant 'home-run' potential here. In fact, he might have the highest 'ceiling' of any of the goaltenders in the draft.
Despite being a relative-newcomer to the position (he picked up goaltending at age 12), he's fairly well-developed. He's more of a save-maker than a shot-blocker thanks to his phenomenal lateral speed and agility – his side-to-side push-offs are elite.
The selection will certainly help to fuel the consistently-contentious rivalry between the Bruins and Habs. Asked about future competition between the brothers, Malcolm Subban said with a smile, "…the rivalry is just about to begin. I don't know if he [brother PK] is going to like me that much – but to be honest – I never liked him that much…"
Don't forget that there's another Subban brother on the way: Youngest brother, Jordan, is a defeseman with Belleville and eligible for the 2013 NHL Draft. Some imagine a pick by Toronto would 'complete' the circle.
Subban's probably a few years away from the pros at least, as most eighteen year-old goaltenders are in their draft-seasons. He must iron-out some of the flaws in his technique. Still, Malcolm Subban has the skills and mentality to get it done in-net. Time will tell if he's the next great Boston goaltender or a major misstep by the Chiarelli regime. But with Subban between the pipes, the future in Boston looks even brighter.
For more NHL Draft news, profiles and insight: Head over to THW's Dedicated 2012 Draft Page – The Next Ones 
For even more Boston Bruins 2012 NHL Draft news, follow Bob Mand on Twitter at @HockeyMand