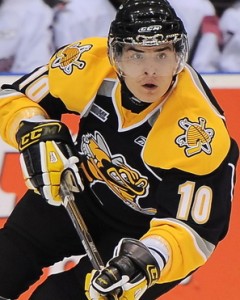 After months of speculation, rumors and prognosticating, the Edmonton Oilers have their man. Sarnia Sting forward Nail Yakupov, a Russian winger with wicked speed and skill, was the first player to hear his name on draft day, and for the third straight year, it was an Edmonton Oilers jersey that was donned before any other. Based on yesterday's comments from the Oilers, the fact that they held onto the first pick wasn't all that surprising. General Manager Steve Tambellini had taken some time on Thursdays to speak with the media in Pittsburgh about fielding trade offers for the number one pick:
"I've had more teams call me this year, but at this point I would say nothing that makes me feel that I have something to present to Kevin and our ownership that makes sense for the hockey club. I'm very comfortable if we hold onto our first overall pick." (Edmonton Oilers)
Very comfortable indeed. Clearly, the Oilers and their scouts just couldn't pass on the consensus best player available. Despite the team's high regard for defencemen Ryan Murray and Griffin Reinhart, there simply wasn't an offer to trade down that the Oilers felt would be in the best interest of the organization. While it's no secret that the Oilers are weak on defense, there are still a few UFA possibilities to help shore up the back end. They also have some promising defensive prospects in their pipeline, so help from within could be on the way. Choosing Yakupov will certainly excite the fans, as their current forward crew will a force to be reckoned with in years to come. So what can the Oilers expect from their newest prospect?
"Yakupov is a gifted goal scoring forward, something that really doesn't seem to come around that often, so when one does he is a hot commodity. His explosive bursts of speed and understanding of scoring principles off the rush is very similar to that of what we saw from Taylor Hall a couple years ago, but also has some people thinking Pavel Bure. He is a dynamic and electrifying player that can bring fans to their feet and is a prime talent for marketing the sport in any locale or market. He is a player that should be able to step into the next level very quickly and continue to progress." (International Scouting Services)
The Oilers hope that they will not be in this position next year, and that all the talent they are stockpiling will finally translate into success on the ice. Yakupov is believed to be NHL ready, and assuming the new CBA is settled in time for the season to begin as scheduled, expect some skill to be on display in the city of Edmonton.