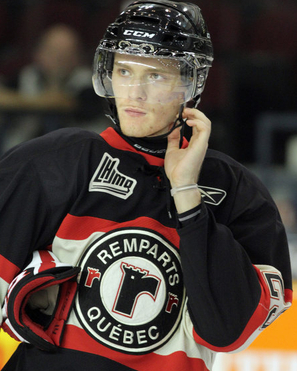 Having a player drop so rapidly down the draft charts can be a great thing for a team who sits outside the top 10.    But for teams who sit in a position like the Toronto Maple Leafs at no. 5 overall, passing on this player can be a moment that they come to regret for years to come.
In this year's draft year, most scouts, media types and fans had Quebec Ramparts pivot Mikhail Grigorenko going 2nd overall and the only thing that would have made him skip from 2nd to 3rd was the fact that Columbus who holds the 2nd pick has had a terrible time with drafting Russian players with their high picks.
Although Grigorenko played a full season and played well in the QMJHL, his draft stock has just plummeted.  In just 59 games this season, Mikhail had 40 goals, 45 assists for 85 points.  These are great numbers.  So why did his stock fall so much?
Here are some of his highlights.
There was a rumor that Grigorenko was more like an Viktor Kozlov than he was like Evgeni Malkin.
There was also news that Grigorenko suffered from Mono Nucleosis.
There was that fact that Columbus wouldn't likely take him.
But maybe it has nothing to do with the player himself, but really because of the other players who have climbed the ladder.
The Defensemen who have emerged such as Griffin Reinhart, Jacob Trouba, Morgan Rielly, Cody Ceci, Olli Maata  and Matthew Dumba have really pushed him down.
There have also been some forwards that teams may take a bit of a risk on like Radek Faska, Teuvo Teravainen and Brendan Gaunce.
At any rate, his stock has fallen.  This means that the Leafs will likely not take him at the #5 spot.  Will they be mistaken?
There is no question that the Leafs will get a decent player at #5, but could Grigorenko be a great player that they miss out on?
Stay tuned!
Twitter: @StonemanStephen | Email: stoneford@yahoo.com | Stephen's archive
For every Maple Leafs article on THW, follow @THW_MapleLeafs  on Twitter
Stephen is a writer for thehockeywriters.com covering the Toronto Maple Leafs and other Hockey Matters. Stephen attended Canadore College in North Bay, Ontario where he studied Broadcast Journalism and covered local sports for both Radio and Television. This included news coverage for the OHL's North Bay Centennials. In his personal time, Stephen blogs for his several fantasy hockey leagues.