Anton Slepyshev THW Close-Up:
Date of birth: 5/13/1994
Place of birth:   Penza, RUS
Ht:  6'2″ Wt: 187
Shoots: Right
Position: LW
NHL Draft Eligibility: 2012 1st year eligible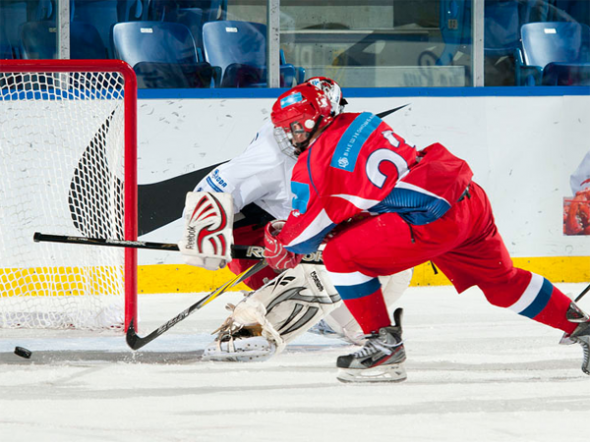 THW Final Rankings: 47th
THW Fantasy-based Rankings: 20th
Other Rankings:
Craig Button: 57th
ISS: 35th
Hockey Prospectus: 17th
NHLNumbers: 38th
The crafty offensive forward was the 1st pick overall in KHL's 2011 draft mainly because of superior puckhandling ability and a great set of hands.
He is also an above-average skater who could use some polishing on his technique to take advantage of potential explosiveness. Slepyshev can play the playmaker role, but is more of a goal-scorer at this point utilizing a deceiving shot.
Every draft year seems to have one and Anton fits the bill this year – a highly skilled dynamic Russian forward who is a draft day wildcard because of the dreaded Russian Rouletter Factor.
Slepyshev is already is decent defensively, but lacks consistency and maturity.
There's a chance he sneaks into the back end of the first round, but he seems destined for the second round. It wouldn't surprise anyone to even see him fall to the third round.
He landed 44th to the Buffalo Sabres in my final mock draft of this season.
***
*Click here for Notes Up Front for various topics covered below in the live updated NHL 2012 Entry Draft Guide – The Next Ones home page – your quintessential draft resource.
***
Scout's Honour:
"Anton probably shines in practice and he looks great in warmup. The problem we saw, is he really doesn't produce as much as we expected based on the talent level he possesses. He seems to be one of those guys who leave you wanting more. He looks great and real flashy buzzing around the ice, he just looks like a pro. He has moves and stickhandles well but tends to not get involved enough in anything resembling physical play. He tends to play a perimeter game.  Skating and shooting are areas where Slepyshev shines. He has a good powerful stride and generates good speed. He moves well laterally and does a good job shaking defenders. His shot is very good, he flashed some great one-timers in our viewings."
***
"Slepyshev is one of the rare 17-year-old forwards who has been able to step into the KHL and produce, albeit at a marginal level. His production is along the lines of what elite prospects Evgeny Kuznetsov and Vladimir Tarasenko did in their 17-year-old seasons, though, for example. Slepyshev is an above-average skater who is tremendously agile and is also able to get up to a notable top gear. When you combine his great agility with the fact he has high-end puck skills, he really is a nuisance to check. Slepyshev is very effective at dodging opponents and creating space for himself. I've seen times on penalty kills where he would dance around the opposing zone for 15-25 seconds because several opponents keep missing him. Slepyshev has a plus if not near that shot and he knows it, as he has a shoot-first mentality with the ability to score from way out. He can still make plays and doesn't have tunnel vision, but I wouldn't classify him as a playmaker. Slepyshev's physical game needs some work as while he's average-sized, he's got a bean pole frame and can easily be pushed off the puck. He will show some physical effort, although that at times could be better, and has some defensive value too, but his strength level is way behind where it needs to be."
–       Corey Pronman, Hockey Prospectus
***
"One of the premier forward talents available this season, Russian winger Anton Slepyshev has already shown his scoring touch in the second-best league in the world, the KHL. After getting off to a hot start, he cooled off significantly in large part due to the minimal ice time he received (under nine minutes a game) but the early offensive outburst mirrors how past top prospects have fared in the KHL.
Slepyshev's talents with the puck are beyond reproach. His ability to weave through traffic and dangle the puck past opposition defenders are among the best in this class. He protects the puck very well and is only rarely dispossessed.
Once he gets through the opposition he has a wide array of options to score with. His fakes are very deceptive and he can juke effectively at top speed."
–       Bob Mand, NHL Mock Draft
"Slepyshev is already a very good skater, and with a bit of refined technique could become a great one.  Slepyshev has very good top end speed, and quick acceleration despite a stride that is a little bit too short and choppy.  A small bit of work would change Slepyshev from a very good skater to a great one.  He already possesses the balance, agility and strength on his skates that is necessary to compete at the next level.
Slepyshev is a talented offensive player.  He loves to shoot and has a very good array of shots.  His wrist shot and snap shot both are hard, accurate, and feature a quick release.  Slepyshev has very good hands, and is able to dangle around defencemen.  He's not afraid to drive the net and generated chances in close with his quick hands.  He is a hard worker engaging in and winning numerous puck battles along the boards, and is willing to take abuse in front of the net.  Slepyshev could however use some work on his playmaking."
–       Ben Kerr, Last Word on Sports
Statistics:
International Tournaments:
ETA = 3-4 years
Risk-Reward Analysis:
Risk = 2.5/5   Reward = 4/5
NHL Potential:
Top 6 forward
Strengths:
*See "THW Close-Up" section above.
Skating
Puckhandling
Puck protection
Shot
Dynamic offensive upside
Flaws/Aspects He Needs To Work On:
Continue to train to increase strength and add mass to frame to handle the rigors of the NHL.
Continue to develop his defensive zone acumen.
Consistency
Russian Rouletter Factor
Maturity level
Fantasy Hockey Potential:
Offensive = 8.5/10   Defensive = 7/10
NHL Player(s) Comparison:
–       Alexander Semin
Video(s):
Off The Iron (Interesting Notes):
Slepyshev was drafted in 2011, round 1st overall by Metallurg Novokuznetsk in the KHL Draft.
He plays with the number 47 on his jersey because 94 wasn't available. I had to pick from some numbers and I decided 47. But this is not related to [Predators' Alexander] Radulov." (Hockeys Future)
Regarding his plans for the future, when asked if he'd pick the Stanley Cup over the Olympic Gold Medal, Slepyshev wasn't too quick to give an ultimate answer, "I truly can't name just one of these great awards. I can just say that if I'll ever win one of them, I'll be the happiest person on Earth." (Hockeys Future)
***
THW's The Next Ones prospect profile template design architect: Chris Ralph
***
Christopher Ralph is THW's prospect and draft analyst as well as a managing editor.
*Follow ChrisRalphTHW on Twitter as he infiltrates, dissects & analyses all happenings of hockey prospects & the NHL entry draft.